Top image: God of War Ragnarok. Console is hit-driven and a lack of AAA releases hurts the market. Blockbusters such as Call of Duty Modern Warfare II and God of War Ragnarok won't offset the decline of the first half of the year.
2022 just went from a potentially record-breaking year to the first year in a long time that will see a decline in revenues. According to the latest numbers by Newzoo it's all due to 'a slower than expected year for console and mobile.'
Earlier this year we reported that revenues for 2022 would reach $203.1 billion via consumer spending. It would be the first time that the games industry broke the $200 billion barrier. But later this year Newzoo adjusted the forecast to worldwide revenues of $196.8 billion. So no milestone, but still a slight growth by +2.1% year on year. Now it seems that another downward revision in the forecast is necessary. 2022 turns out to be 'a corrective year after two exceptional years' and will show a negative growth of -4.3% year on year. Total revenues are expected to reach $184.4 billion.
Biggest loser
If we break down the numbers to the different platforms, it seems PC and VR are doing well. PC is showing a slight growth of 0.5% to $40.5 billion. Meanwhile VR is booming with a +26.4% year-on-year increase of revenues to $1.8 billion. The console games market will generate $51.8 billion in 2022, a decline of -4.2% year on year. But the biggest loser is the mobile games market. It's expected that mobile will generate $92.2 billion this year, down -6.4% year on year.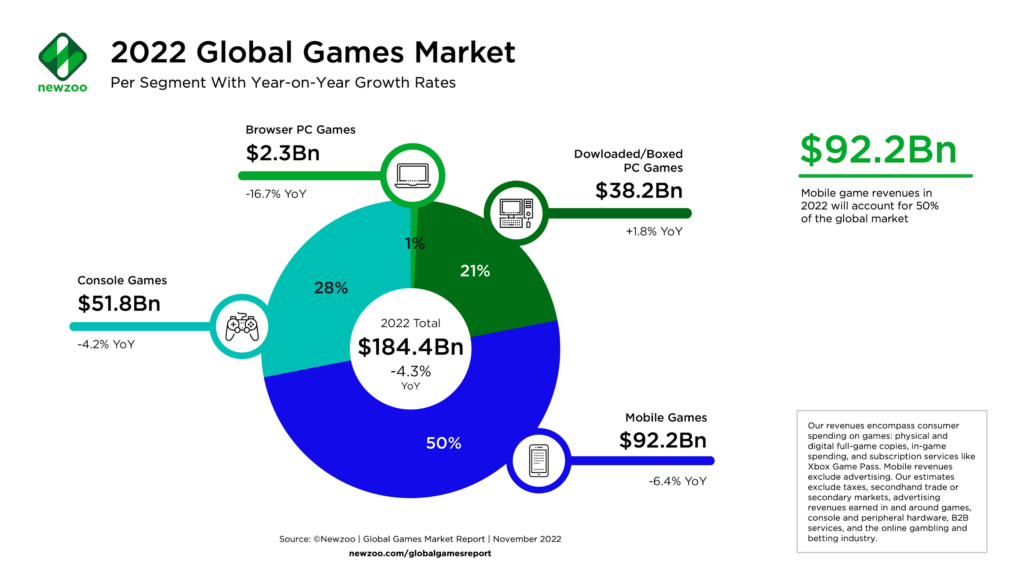 There are two main factors contributing to mobile players' behavior this year. First, other forms of entertainment and leisure spending compete for players' time and budget. Most players haven't stopped gaming completely, but they play less and, therefore, pay less. Moreso, the current economic climate, especially inflation, limits people's disposable income. These two drivers theoretically affect all spending on gaming, but research shows that it hits mobile more than PC and console.
Future is still bright
So have we reached the summit and is it all downhill from here? Not according to Newzoo who thinks 2022 is just a speed bump on the way to new record heights. "2022 is a corrective year following two years of lockdown-fueled growth. Our long-term outlook for the games market remains positive." How positive? "The games market will grow from $179.1 billion in 2020 to $211.2 billion by 2025, growing at a +3.4% annual growth rate."