According to a report earlier this year Newzoo predicted that revenues for 2022 would reach $203.1 billion via consumer spending. But it seems we have to hold off popping the champagne bottles for now. 'Due to market conditions, including supply constraints and AAA game delays' Newzoo now estimates that revenues will reach $196.8 billion. Still up slightly by +2.1% year on year though.
So what is responsible for the delayed growth? According to the 2022 Global Games Market Report it's not mobile because that's the biggest driver of growth. Mobile makes up 53% of the games market with revenues breaking the $100 billion mark for the first time. A year on year growth of 5.1% brings revenues to $103.5 billion.
PC is also in the clear, however slight with a year on year growth of just 1.6% to $40.4 billion. It makes up 20% of the total market.
Short supply
So it seems consoles are to blame for not making that magic 200 billion number. While it takes 27% of the market, console will decline by -2.2% year on year to $52.9 billion. Short supply of the PlayStation 5 and Xbox Series X almost two years after launch are partly to blame. Disrupted supply lines and studios adjusting to work-from-home environments leading to countless game delays are other reasons for the decline. Meanwhile the semiconductor chip shortage will likely remain until late 2023, at least.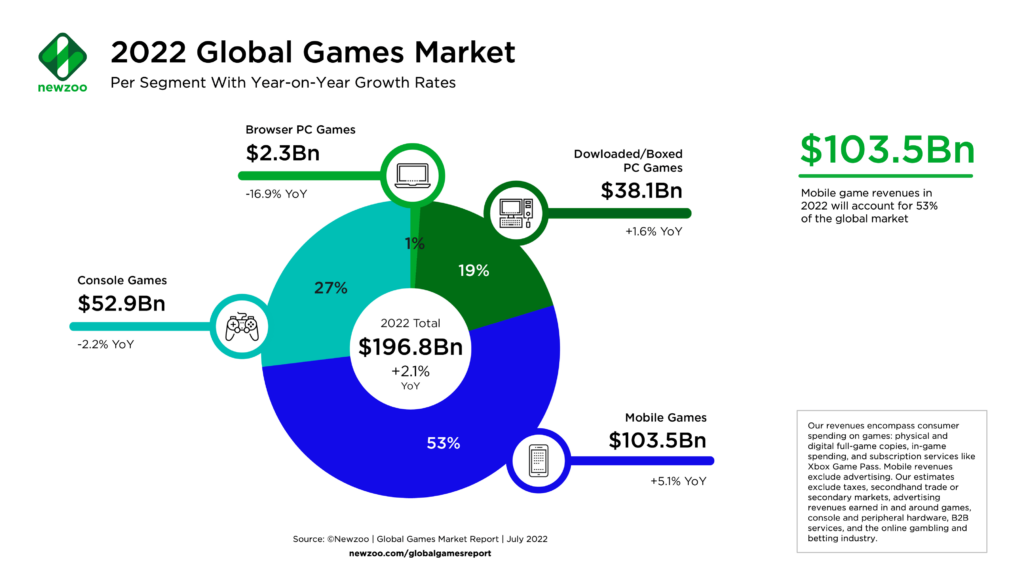 But the outlook for the future remains positive. The games market will continue to grow in the following years, reaching $225.7 billion in 2025.
More players
Player numbers keep growing this year with +4.6% to reach 3.2 billion. It's the result of gaming's growing popularity among younger generations. Regions like Latin America (315 million), Asia-Pacific (1.7 billion), and the Middle East and Africa (488 million) will drive much of this player growth in 2022 and onwards. Better (mobile) internet infrastructure, affordable access to (mobile) internet and a growing middle class are the biggest growth drivers in these regions.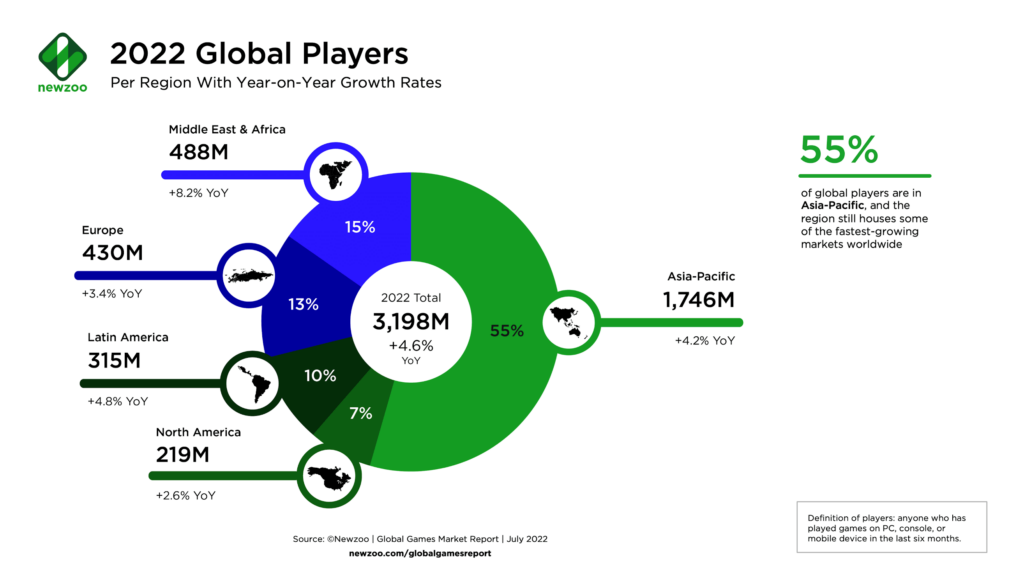 The largest region in the world with 55% of global players is Asia-Pacific, and the region houses some of the fastest-growing markets worldwide.