The year 2022 is on its way to become a record breaking year according to Newzoo's Global Games Market Report. We will see quite a few 'firsts' this year. 
Revenues will reach $203.1 billion via consumer spending, that's +5.4 year on year. It's the first time the video games market breaks through the $200 billion barrier. Last year generated $192.7 billion, +7.6% year on year. Another first is the number of global players. It will pass the three-billion mark for the first time to reach 3.09 billion players by the end of the year.  Yearly mobile game revenues will pass the 100-billion-dollar mark for the first time in 2022, growing +5.1% year-on-year to $103.5 billion. 
So where do the revenues come from? In terms of consumer spending the US overtakes China this year, generating $50.5 billion (compared to $50.2 billion of China. The overtake makes sense, as the Chinese government has been cracking down on gaming in China. Because of fewer new game releases and cut backs on young people's gaming time, the market is beginning to show the impact of these regulatory pressures. Nevertheless, Asia-Pacific remains the biggest region by revenues by a big margin.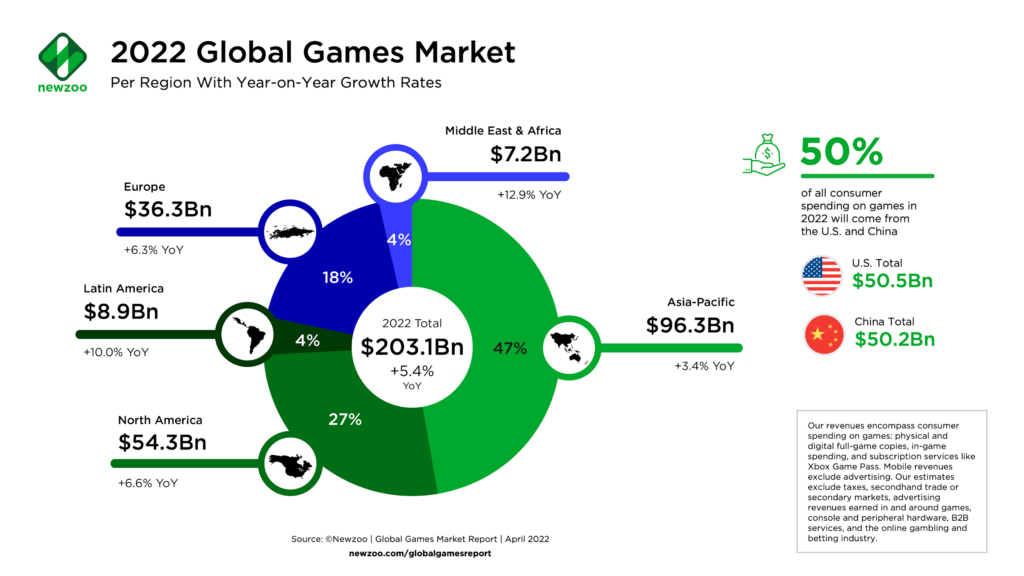 Mobile still the biggest
Mobile remains the highest grossing platform by a long way. The $103.5 billion in mobile game revenues account for 51% of the total games market. Its yearly rise is notably lower than its 2020 and 2021 growth numbers though. Therefore mobile's market share will drop one percentage point this year (from 52% in 2021 to 51%). Emerging markets across Latin America and Southeast Asia will be the biggest contributors to mobile's 2022 revenues growth. Thanks to increasing access to games and (smartphone) devices and improvements to mobile internet and payment options.  
Console shows biggest growth
Despite ongoing supply chain constraints, console games will generate $56.9 billion in 2022,  growing +8.4% year on year. That's 29% of the total market. This growth will be driven by the growing new-gen installed base, big first-party releases (Horizon Forbidden West) and highly anticipated third party releases (Elden Ring). Live-service games continue to perform well (Fortnite, GTA Online).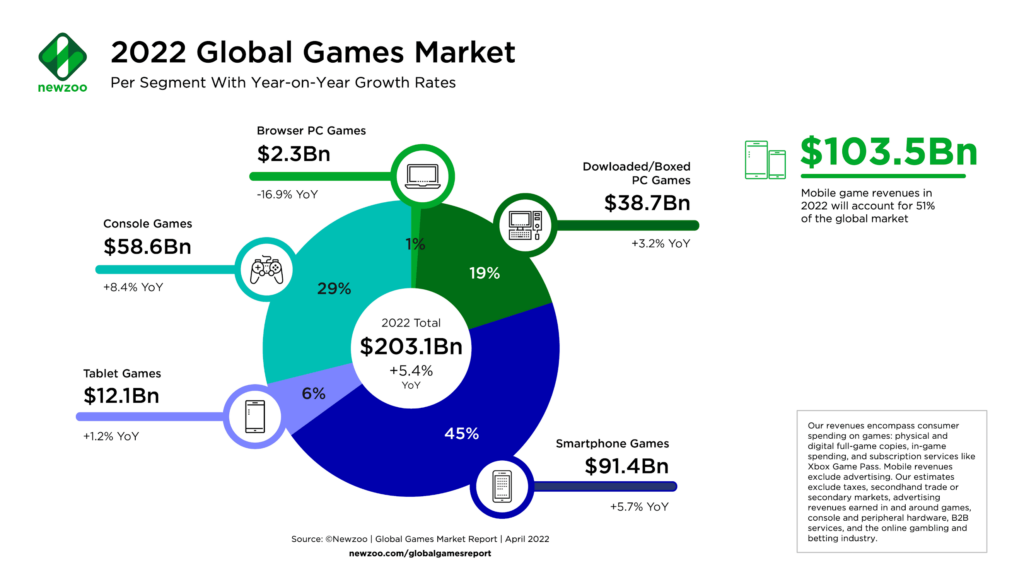 PC grows slowly
PC game revenues will grow slightly slower than console. It will still show a +1.9% increase to $41.0  billion in 2022 though.  Making it 20% of the market's total. Ongoing revenues from established live-service titles, and new games like Elden  Ring and Modern Warfare 2, contribute most to the growth. PC's growth is still lower than console's, because PC has fewer high profile first party titles. 
Meanwhile, downloaded and boxed PC game revenues will grow +3.2% year on year to $38.7 billion. That's mainly driven by the West's biggest markets and emerging markets in other territories.  Newzoo attributes much of Europe's games market growth (+6.3%) to its stronger-than-average PC  market. The region's growth potential has been somewhat limited by the ongoing conflict in Eastern Europe though.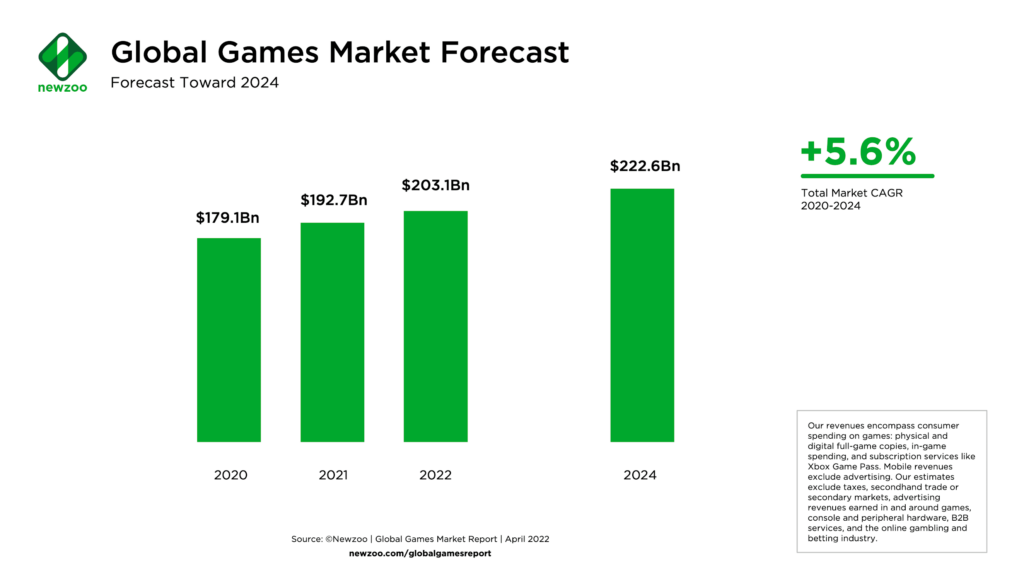 The Future
According to Newzoo, the games market will continue to grow in the following years. It will reach $222.6 billion in 2024, a +5.6% CAGR (2020 to 2024). With growth expected across mobile, PC, and console alike.