We keep a close eye on all initiatives that gather the vast amount of information about our industry and turn them into something readable and searchable. There's the 2022 Free Video Game Publisher List from IndieGameBusiness and the International Games Industry Overview from MeetToMatch. 
And now there is the extensive Global Games Industry Guide 22/23 by indie gamedeveloper Liam Twose. It features over a thousand entries in categories like accelerators, creative incubators, crowdfunding, diversity, inclusion & equality, education, engines and much more. (We only got to the letter E with this summary, so you can imagine how many more categories there are.)
Too hot to sleep
"The guide actually started as a potential map for myself", says Twose. "I hit a point where I saw benefit to it. During one summer when it was just far too hot to sleep, I decided to turn it into something others could benefit from as well.' He calls it 'a snapshot of the global games industry' and says it's by no means definitive.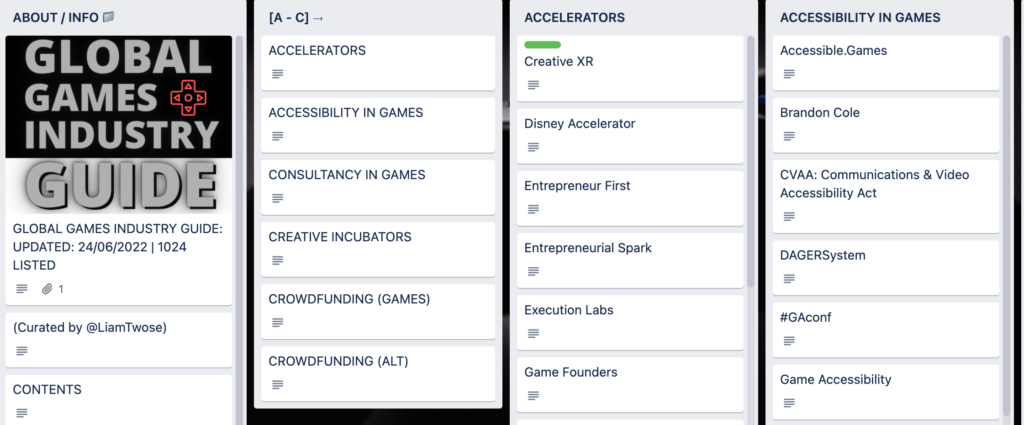 "It's designed to give a solid foundation for people just starting out in the industry or for people already working in the industry. But also for anyone looking for a means to kick start research into publishers or funding and more." The guide is hand-curated by Twose himself. All submissions are sent via a form on Trello you can find here. "That's the place where the guide lives and how I manage between official digital editions."
#PitchYaGame

Liam Twose is also the driving force behind #PitchYaGame, an online contest where thousands of indie developers pitch their new game on Twitter using the aforementioned hashtag. "This guide and #PitchYourGame are just some of the many things I do to give back to the industry", says Twose.