The latest gamer report by Newzoo shows just how much games are integrated in the lives of people around the world. Over a period of 2 months (Feb- April 2022) over 75.000 respondents across 36 countries have participated in the survey. The results give a fascinating insight in the lives and habits of gamers of all ages. 
Gamers are no longer just playing games or watching gameplay videos online. Gaming has become a much larger part of people's everyday life. Being members of gaming communities, following influencers and streamers, meeting up in virtual game worlds, watching TV shows based on gaming IP and buying gaming-related clothing and merchandise are very much part of that.
Definition of Generations
Gen Alpha (born 2010 or later / 10-12 y.o.)
Gen Z (born 1995-2009 / 13-27 y.o.)
Millennials (born 1981-1994/28-41 y.o.)
Gen X (born 1965-1980 / 42-53 y.o.)
Baby Boomers (born 1946-1965 / 54-65 y.o.)
With every new generation, gaming becomes a bigger and more important part of daily life. Games are now the main source of entertainment among Gen Alpha. Even more than social networking and streaming movies/series. In fact, 94% of Gen Alpha are defined as 'games enthusiasts'.
But games are no longer used just to play. 74% of players are using virtual worlds to connect with others while not playing. This also holds true for non-gamers. 44% of them are meeting up with others in game worlds without actually playing the game. According to Newzoo it's this widespread acceptance of a virtual world as a valid way to socially interact that has led to Big Tech's infatuation with the metaverse.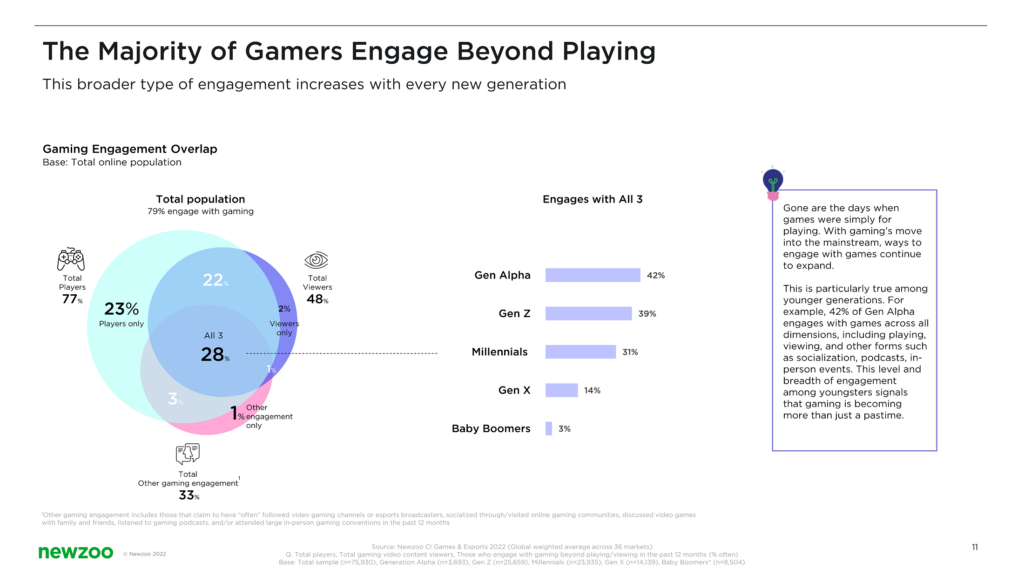 More insights on how gamers compare to non-gamers and across generations you can find it here.