On his company Twitter account Next Game Level, he introduces himself with a great sense of humor. 'Game developer from Italy! And yes, my name is…Mario!' We're talking about Mario Malagrino, developer of the upcoming Crude. He's operating as a solo developer because he works at a different pace than most others. "I'm really very fast at creating artwork and assets. This could pose a problem for the average coder or any team member", he says. Also, he really appreciates the freedom of working alone. "I can be extremely creative, and the only person who will judge my choices is myself."
Even as Crude, the game he's currently developing, already amassed thousands of wishlists on Steam, Malagrino admits to sometimes struggle with motivation. "Self-doubt is a significant issue because big decisions depend on your own confidence in yourself. And there's nobody to cheer you on or motivate you. That's a big deal", he says. "The reality is that game development is really hard, and the psychological pressure is the worst part of it."
Why did you become a solo developer?
"I have been a solo developer from the beginning. I'm also an artist, and my speed may not be compatible with everyone. I'm really very fast at creating artwork and assets. This could pose a problem for the average coder or any team member. I'm fine with being a solo developer even though Crude is a very big game to develop."
What are the biggest advantages of working solo?
"One of the biggest advantages is surely the freedom. I can be extremely creative, and the only person who will judge my choices is myself. As an artist, I see games as works of art, not just as interactive entertainment. It's important to try many things that have never been done before. In a team, you are often forced to cut things if people do not agree with your ideas. That's why Crude looks so unique, and why I have so many fans and thousands of wishlists on Steam."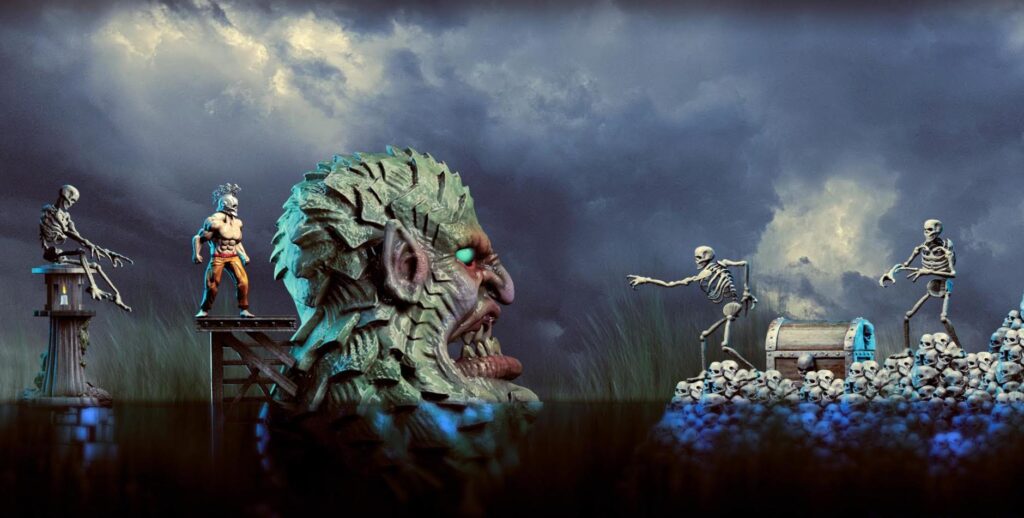 And the biggest pitfalls?
"The biggest challenge is surely dealing with doubts and solving problems on my own. Self-doubt is a significant issue because big decisions depend on your own confidence in yourself. And there's nobody to cheer you on or motivate you—that's a big deal. I have to constantly motivate myself with little tricks, such as posting stuff on Facebook and receiving compliments. On the other hand, when your code finally functions, when fans reach out to you expressing their admiration for the progress they see, and you receive thousands of wishlists on Steam – well, those are the moments when self-doubts instantly dissipate. So let's be clear, there are certainly challenging moments throughout the process, but there are also plenty of extraordinary moments during game development."
What's your creative process?
"The most important things are a sheet of paper and a pencil. I sketch many times, not only my concept art but even game mechanics. On paper, it looks very clear. Then, after that, I code the stuff and do a lot of test plays. That's my routine. Test playing is a big help. But throughout the development process, I play and play and play… That's also a way to engage myself."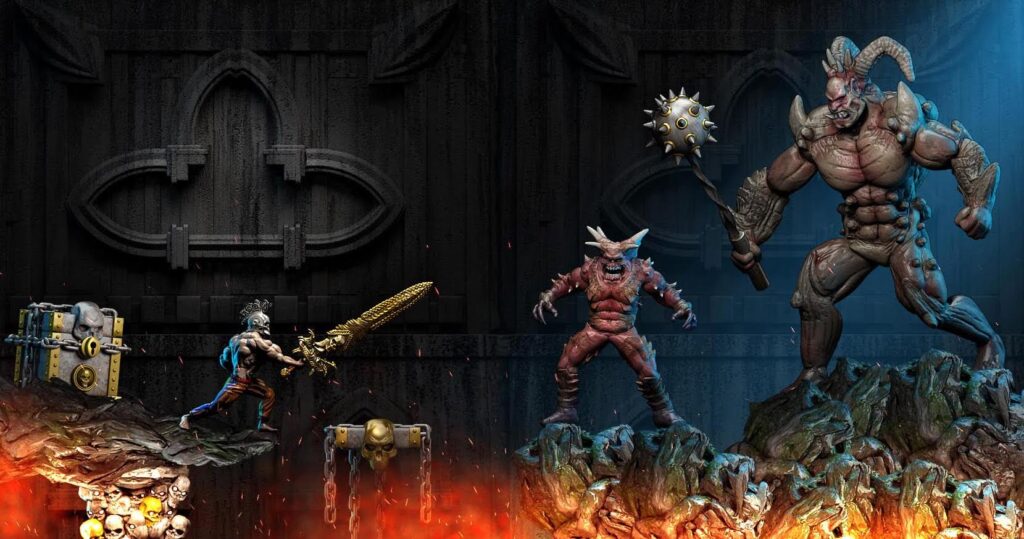 How do you stay motivated through (years of) development?
"Honestly, it's hard to say. I can see that with each passing year, motivating myself becomes harder, perhaps due to being a solo developer. I think there are no magic tricks. However, I've learned that when I'm not motivated, I simply do not work on my game, sometimes for many days at a stretch. Going out for a walk sometimes gives you a boost of motivation."
Will you ever work in a team or is it only solo for you?
"No idea… it's hard to tell. Surely, if there's a big offer, I would consider working on a game as part of a team. But I would not move from where I live for family reasons."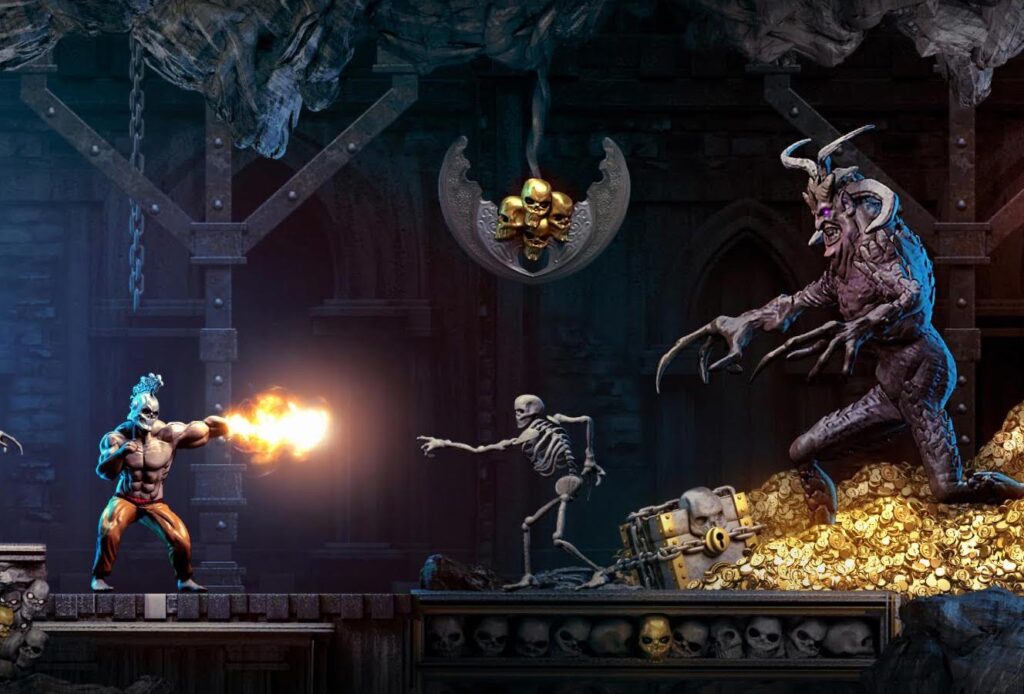 How did you get the idea for Crude?
"I'm a retro gamer, and basically, I've incorporated all the elements into my game that I loved from arcade games. Additionally, I love fantasy movies, which is why the entire game is themed around a fantasy world."
What's the biggest lesson learned from this project?
The fact that you can create entire worlds with a game and get so immersed that you live as a character within it… I think that's the core appeal of playing games."
What do you think about using AI in any part of your development process?
"I'm not using AI, but yes, why not? It's a new way to make art. Let's see what the future will bring us. Probably it's a bit too early to tell something precise about. I guess in 5 years we will have clear vision of how this new tool will help developers."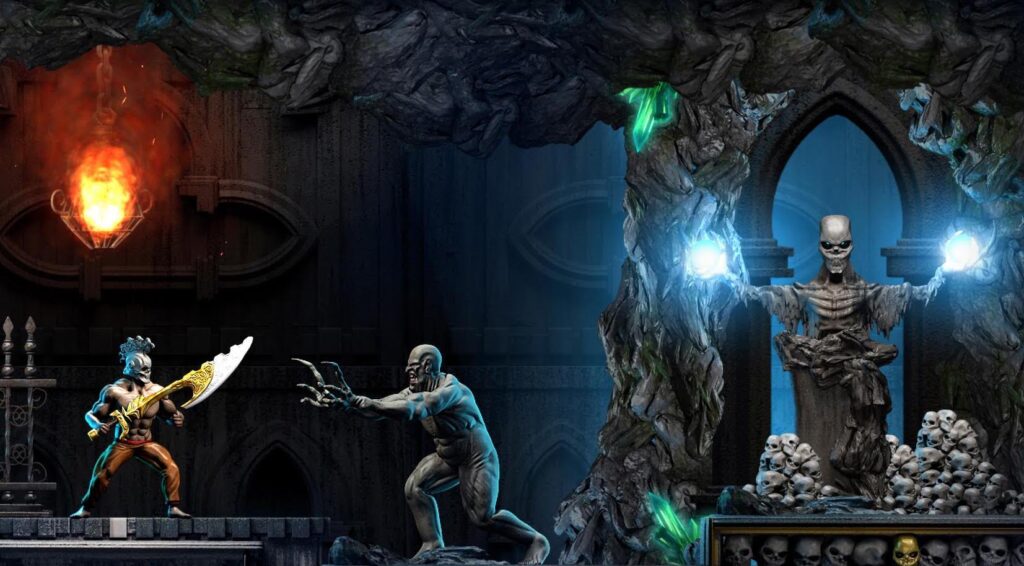 The toll on your mental health can be quite high. How do you deal with that?
"It's important to underscore that this is a well-known issue for game developers, affecting nearly everyone in the field. Game development is composed of numerous subtasks that culminate in a tremendously daunting challenge, especially for solo game developers.That's a big deal, being constantly under pressure, filled with doubts. Waking up and asking yourself: What am I doing? Will people even like it a bit? These thoughts are always in your mind. It's strange and somewhat paradoxical since I receive so much praise for CRUDE !. Game development can be depressing, and I would never recommend it to people who can't spend hours and hours in front of a screen. But the reality is that game development is really hard, and the psychological pressure is the worst part of it."
"It's worth mentioning that game development is a creative process, and creating a game, designing characters, gameplay, assets, the story, and an entire world brings immense satisfaction and happiness. While it's true that game development is not an easy task, and the pressure to deliver a great game can lead to psychological challenges, I would argue that this pressure is present in any large-scale project. It's undeniable that game projects often involve long-term commitments (excluding mini-games that can be completed in a few days or weeks). With that said, I want to encourage you not to be discouraged from creating your own video game. It's a long journey that offers countless moments of joy. The accomplishment of creating a game is a significant achievement, and the knowledge you gain week after week as you develop your game and acquire new experiences is worth all the challenges. So what are you waiting for? Start today on this great journey! Make your own Dream Game!
Crude will release on 22 December 2023