Following several weeks of turmoil at game engine maker Unity, the announcement of its CEO John Riccitiello leaving the firm feels like an unsatisfying sacrifice. It also doesn't bode well for everyone else.
After first revealing its new pricing structure for game developers, which didn't go over well, Unity was forced to walk it all back and apologize. But to many the damage had been done and the trust was gone. How quickly a culprit was found.
Despite the notable absence of Riccitiello throughout the entire saga, a string of previously incriminating decisions and comments made him the obvious corporate bad guy to many. It earned him the moniker "most hated man in gaming", which tells you the games industry's deep-seated toxicity is thriving. (Question: does this mean there's also a 'most hated woman' in gaming?)
Leaders are accountable
The suggestion that it was Riccitiello who single-handedly came up with and forced the decision around Unity's new revenue model is naive. Yes, leaders should be accountable. But they don't operate in a vacuum.
Consider this: the three largest shareholders of Unity shares are one venture capital firm and two private equity funds: Sequoia Capital Global Equities with a position currently worth $1.7 billion, Silver Lake Partners ($1.5 billion), and CVC Advisers ($1.0 billion). Combined they control $4.2 billion, roughly 31 percent, of the $13.4 billion in total outstanding shares.
Lost billions in value
Next, two of these firms have lost substantial amounts of money since Unity's initial public offering in September 2020. Over the past two years, Sequoia Capital has held a position of roughly 38 million shares in Unity, whose value has declined -70 percent from $5.7 billion in late 2021 to $1.7 billion today.
Similarly, Silver Lake has held around 35 million shares and saw its value drop by $3.5 billion during the same period. Between them, Sequoia Capital and Silver Lake have lost $7.5 billion in value.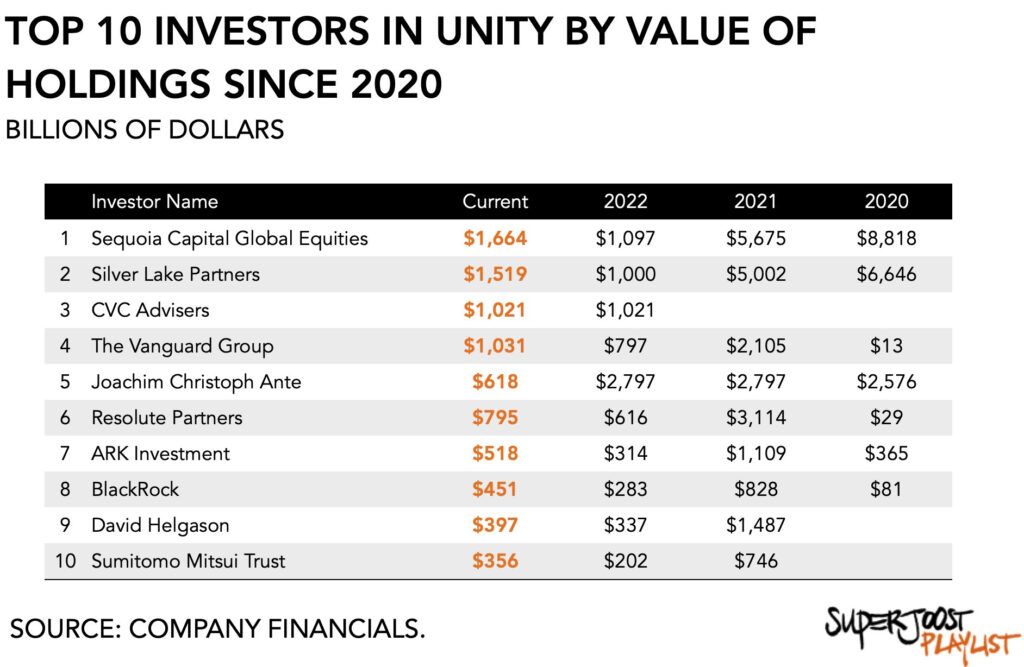 To maintain momentum, Unity has deployed a variety of strategies. One involved a string of acquisitions, including Vivox for $123 million in 2019, deltaDNA for $53 million, Artomatix ($49 million), Finger Food Advanced Technology Group ($47 million), Parsec ($320 million), Weta Digital ($1.6 billion), and ironSource ($4.4 billion).
XR, AI and the Metaverse
Another was its push into novel technologies, including XR, the metaverse, and AI. This approach amounted to little. And that's likely where its largest shareholders started to get nervous. Despite spending ample amounts of cash on acquisitions and innovation, Unity had yet to clearly define its path to profitability.
Either Unity is a shining example of a well-functioning market economy in which even the marbled office of the CEO is subject to scrutiny and the consequences of their leadership, or things are about to get worse.
Across the board, developers accepted the blood offering and called it a step in the right direction. But pay attention: the interim CEO, Marc Whitehurst, is also a special advisor at Silver Lake. Basically, the second-largest shareholder appointed one of their own to run Unity in the meantime. Wall Street analysts aren't so sure. Despite a 5 percent increase in Unity's share price, some analysts downgraded the stock.
Possible take-over
I expect the incoming CEO to start by making deep cuts in Unity's senior management, accompanied by spin-offs of assets considered unprofitable or not quite delivering the synergies once hoped. The money spent on R&D will likely be reduced as will hiring and M&A activity. While likely more profitable, it will also render Unity more vulnerable. Already there are emerging rumors of competitor AppLovin revisiting the idea of acquiring Unity. It tried in August last year but withdrew the offer once it became clear that it was, in fact, a stupid idea. Hell, it's possible even that Apple scoops up part of Unity, because of its importance in mobile game development. It is already working on a beta program for visionOS, the operating software for Apple's upcoming Vision Pro, and entry into a new device category.
Maybe.
The sudden exit of Riccitiello may satisfy the call for blood. But with "the most hated man in gaming" gone, Unity now sits at the intersection of imminent cuts, spin-offs, reduced R&D spending, and a possible take-over. All of those push the interests of shareholders and platform holders but not those of creators and consumers. I think gamemakers are going to hate the underlying issue of predatory venture capital even more.