Even as creatives in other entertainment industries continue to fight to make fair wages, a new front has opened in gaming as developers figure out what to do about Unity's new fee structure.
Starting in January 2024, Unity will introduce what it calls a 'Runtime Fee'. Based on the number of users installing a game, the platform will trigger a fee depending on specific revenue and installation thresholds. Marc Whitten, president of Unity's Create division, defended the decision arguing the continued updates necessary to evolve its technology are costly.
As you may have noticed from the massive online uproar, game developers are not pleased.

Because the fee is based on the number of installs—not monetization like Unreal Engine—developing free-to-play titles is at risk of suddenly becoming much more costly. Digitalization has resulted in a glut in gaming content and increased marketing expenses. By charging for installs, Unity is imposing on the cost structure of, especially, smaller devs.
Scumbag move
But what got one studio head to call it "an astonishing scumbag move" is that the policy allows Unity to apply the new charges to "eligible games currently in the market." For instance, a small developer keeping a free-to-play title alive that generated over $200,000 in aggregate over twelve months, would end up owing Unity money retroactively.
Unity's game engine is a popular developer tool and, by comparison, easier to master than Epic Games' Unreal Engine. But to smaller studios, the updated fee structure is a financial threat. Mobile game makers and indies can get mired in a host of different costs and expenses as component licensing arrangements—by relying on different service providers for specific technologies (e.g., cloud infrastructure, localization, customer support)—often lead to revenue fragmentation. And larger publishers already locked into the platform now face increased costs to their titles.

Unity's decision to raise its prices, however, should not come as a surprise.
Large platform companies often initially subsidize third-party content creators to ensure widespread adoption of their technical standards. Once critical mass has been achieved, platform holders tend to gradually alter their policies, including fee structures.
Tight spot
Unity is in a tight spot and has been trading down since its peak of $197 per share in late 2021. A few months later, the firm discovered its advertising algorithms had been based on "bad data" leading to a $110 million revenue write-off to fix the problem. Further exacerbated by softening demand for games, Unity's share price lost about three-quarters of its value despite doubling revenues since 2020 to $1.4 billion last year. Wall Street analysts now forecast Unity will double its revenue again over the next two years to over $3 billion, based on its increasingly aggressive commercialization effort.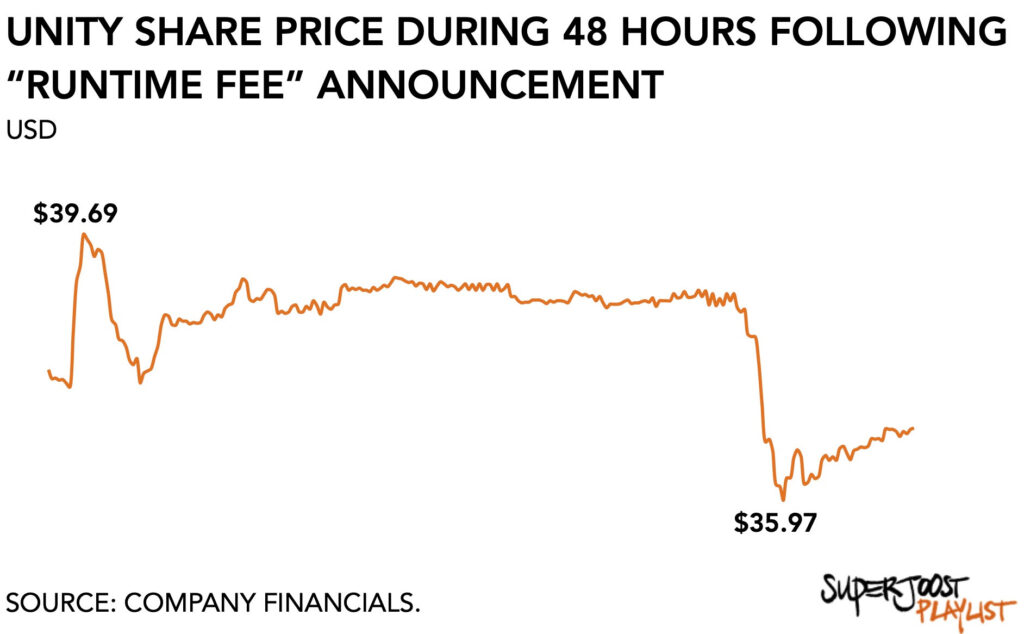 Investors initially responded positively and Unity's share price increased 5 percent on the news to almost $40 a share. According to some estimates, the updated fee structure would bring Unity an additional $140 million in revenue in 2025 even after one in five developers abandon the platform.
There are market conditions to consider, however.

Aggressive rent-seeking behavior
Aggressive rent-seeking behavior is a tough sell and will likely bolster the position of the other game engine provider, Epic Games. Despite targeting different market segments—Unity is more popular among mobile game developers whereas Epic's Unreal Engine is favored for high-end productions—Unity's decision set a clear tone for what's to come, even if it increases its revenue prospects in the near term. It makes other game engines more attractive.
While Unreal Engine charges 5 percent for games that generate over $1 million in revenues, other engines like GameMaker ($50 annual license without additional fees) and RPG Maker ($25 one-time fee, no additional fees) become more reasonable alternatives. Beyond Epic, there are also Godot, GameMaker, Amazon Lumberyard, and RPG Maker to name a few. It is naive to expect these to become existential threats to Unity overnight, but their collective popularity is likely to increase which will blow back on Unity.
Moreover, game production is changing rapidly. Specifically, I expect the dream of becoming a game developer to shift away from the ultra-competitive mobile ecosystems to the much more friendly pastures of popular multiplayer universes. The push into user-generated content and the emergence of small, professional outfits creating experiences inside large online worlds means that game engine providers now also compete with the likes of Roblox, Minecraft, and Fortnite. As publishers and franchise holders move to engage their audiences in novel ways, including by encouraging them to create content inside a game world, these aspiring amateur developers will rely on whatever editor a publisher provides.
Soul-binding
Beyond the bad press, Unity's changes make life substantially more costly for small and medium-sized studios. The corporate logic rhymes with shareholder interests. But for creatives, the creeping monetization practices that exist in other platform-based businesses, mean overall returns will diminish.
After initially experiencing a spike in its share price, Unity has since traded down to a low of under $36 a share. Rolling out a monetization strategy that many perceive to be too aggressive may hurt Unity in the long run as creatives adjust the risk profile associated with soul-binding themselves to a single engine provider. And for tiny devs, it may be time to untie themselves from Unity altogether.