AppMagic has released a new quarterly report with an overview of the most successful hypercasual games on the market right now. 
Comparing total downloads of Q2 2023 to Q1 2023, we see a decrease of about 5%. The market has shrunk from 3.9B to 3.7B installs over the past three months. A larger drop can be identified if we compare Q2 2023 to Q2 2022. Last year, the number of downloads in the same period reached 4.2B; therefore, we are witnessing a 12% decline. However, this downtrend from Q1 to Q2 has been consistent over the years.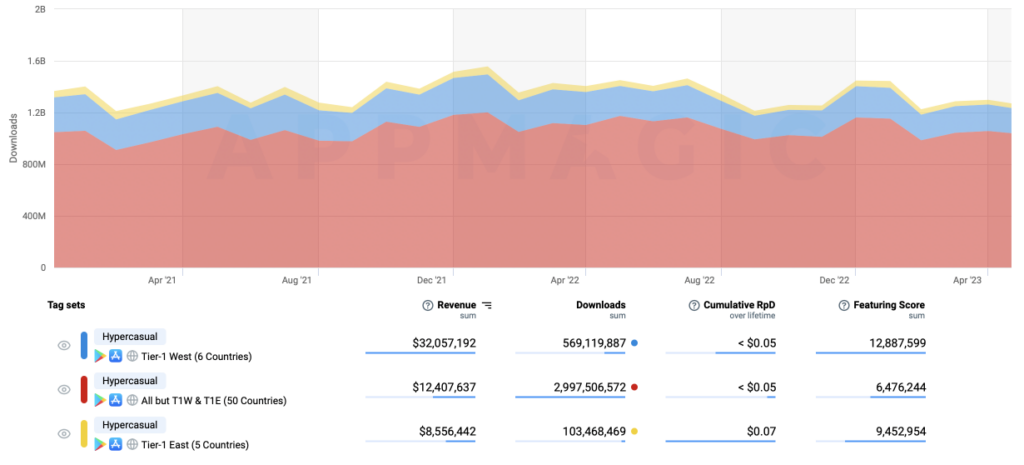 In terms of regional split, the largest decrease is attributed to the Tier-1 East market: it went down by 22%, compared to a 15% drop in the previous quarter. The Tier-1 West segment has also declined by a notable 13% (against a mere 2% slump in the winter months). The smallest fall of 6% concerns all the other countries combined (similarly to Q1 2023).
Top 10 Games By Downloads
Now, it's time for a deep dive into the top 10 hypercasual games by downloads.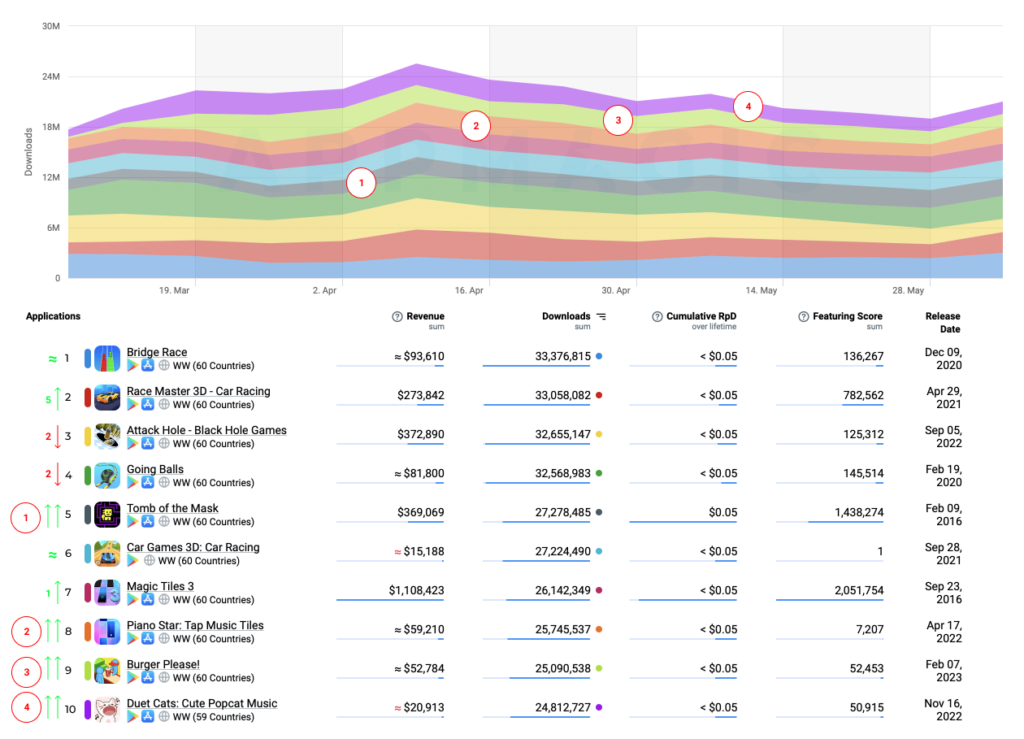 As one might have expected, we can see several oldies on our list: Bridge Race, Going Balls, Race Master 3D – Car Racing and Car Games 3D: Car Racing. Let's focus instead on the games that are new to the top ranks of the most downloaded hypercasual titles.
Vertical labyrinth
The one to kick off with is Tomb of the Mask that has reached 27M installs over these three months! First released in 2016 by Happy Magenta, it was subsequently published by Playgendary, and it seems like the March version turned out to be pretty popular with the users.
Here, players are offered a game inspired by the classic arcade with the main goal of navigating through a series of vertical labyrinth Pac-Man-style levels, avoiding traps and enemies while collecting treasures and power-ups. Each level is procedurally generated, meaning that both layout and obstacles change every time, keeping the gameplay fresh and unpredictable.
The game features different modes and progressively more challenging levels. Players can also unlock various masks with unique abilities and customize their character through the in-game shop. Thus, when every pixel of the old games seems to be explored up and down, DLC (downloadable content) might become a good option to sugarcoat things. Another option is to create a high-quality parody which will attract the old fans, as well as bring in new ones riding the hype wave. For both of these cases, pixel games often work as a great basis.
Time-sensitive touch
Next in our selection is Piano Star: Tap Music Tiles with 25.7M downloads. Released back in 2022, the game takes its inspiration from the widely popular Piano Tiles series by Umoni Games. The gameplay uses a simple time-sensitive touch mechanic where a user needs to activate 2D tiles to match the beat of various music tracks being played.
The game offers its players a difficulty range of Hard, Expert, and Crazy. By watching reward videos with ads, the user can also unlock more famous artists or import music from their own audio library. It seems like the rhythm games have been generally successful lately, especially after their emergence in the VR format.
Delivering burgers
Idle arcade newbie, Burger Please! gained 25M installs over the spring months. We all know that, at first, major popularity of the idle genre was related to the experience of progress that the user gets when playing these games. Over time, however, idle gameplay started to increasingly develop their meta as well, where a player is also offered various events and mini games.
It's the case for Burger Please!, too: the user is offered to complete various small tasks, from delivering burgers and cleaning tables to collecting all the cash, which helps expand their Burger Empire. Map expansion is a great touch, too, allowing the player to keep track of their future options. For those who want to go deeper into the hybrid of idle and arcade genres, we invite you to check out the Homa Games' report.
Hungry cats
We wrap up with Duet Cats: Cute Popcat Music. It is breathing down the neck of the previous title with its 24.8M installs. It's yet another music-based game by arguably the king of music-themed publishers: Amanotes. They are famed for such titles as Dancing Road: Color Ball Run!, Tiles Hop: EDM Rush!, and one of the clear inspirations behind Piano Star: Tap Music Tiles—the Piano Tiles 3.
Whilst its gameplay is, in essence, very similar to the aforementioned Piano Tiles 3, the controls of Duet Cats: Cute Popcat Music are very different. Here, using a hold and drag control system, the user needs to place two thumbs on the left and right sections of the screen to move both hungry cats left and right independently. The general goal is to catch all the sweets without missing a single one to score the level.
Seems like the unspoken game design rule has yet again proved itself here: anime, girls, and cats usually make content way more attractive to users. Speaking about content, this game is very much resemblant of what some DJs used to do: making music by recording their cats meowing and remixing the heck out of it.