Two years after its initial release, Sixth Extinction is now free to play on mobile and Steam. Developer Juha Salo, working under the name Polte Games, hopes to find a new audience for his cautionary tale about climate change and mass extinction. "Does your game exist if no one is playing it?"
When Juha Salo read news stories about the sixth mass extinction he felt the need to share the news with others. Earth has undergone mass biodiversity extinctions five times before, but this time it's caused by us, humans. Because of our actions and behaviour, the climate is changing and we are slowly making the world inhabitable. And yet, many people, countries and organizations are unwilling or unable to make the necessary changes. Salo wanted to take action, but how?
"I like to think of games as a means of communication", he says. "I had the idea of packaging information on the mass extinction crisis in a game where you solve puzzles and problems. I thought it would be a good combination and players might be able to contribute in solving the issues we encounter in the real world." With no experience in game development, other than some hobby projects, Salo's plan was noble, but also a tad naive. 
Professional Voice Actor
He spent the next two years working on the narrative-driven puzzle game. "When I first started doing Sixth Extinction, I didn't have any understanding how much work it requires", Salo says. "I started writing the story that the player hears while progressing through the levels. I probably spent most of my money on the professional voice actor, but overall development cost me a couple of thousand euros."
Despite a few favorable reviews, Sixth Extinction struggled to find an audience when it released. Salo: "My expectation was to at least break even, but that didn't happen. There were about 50 purchases, and the majority of it was from iOS." He hopes that offering the game for free will bring in new players. "I would like to get as many plays and feedback as possible."
Do-it-yourself Experiment
Looking back at his debut as a game developer, Juha Salo is mostly positive. "Even though money- and player count wise the game was a huge failure, I still had a great time", he says. "I don't regret going to the Finnish national park to record sound effects during the winter or buying an electrical piano to come up with some tunes for the game. I felt like I learnt something and the time was definitely not a waste."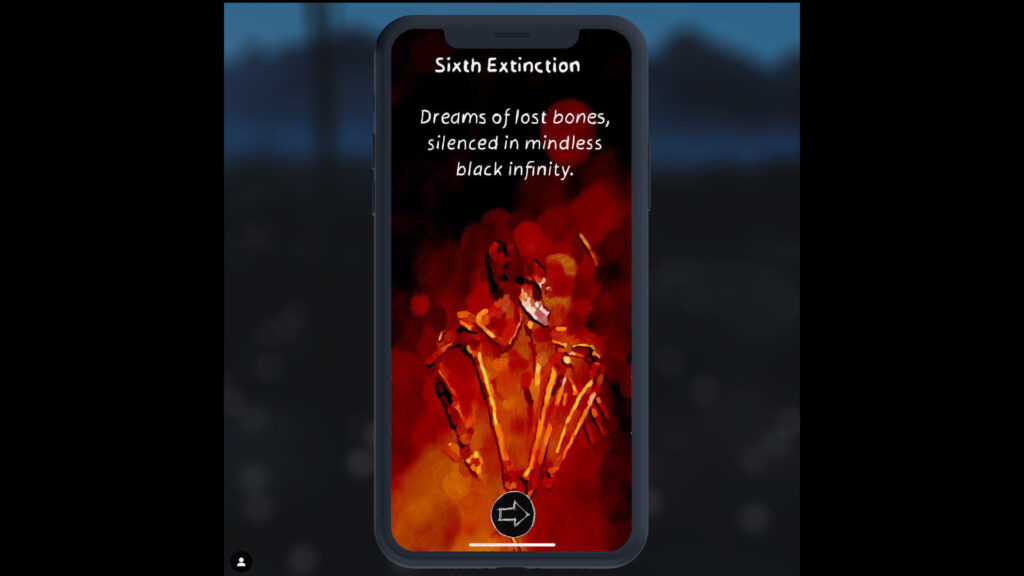 "The whole project was a do-it-yourself experiment. Many decisions I took were quite illogical during the development. For instance, it is not really necessary to draw the texts by hand instead of using text fields. So, I would not repeat some of the experiments. On the other hand, sometimes illogical decisions help to keep the energy or mood productive. Also, being part of a community of devs helps a lot. I was very happy to discuss with a Daisy Games developer on Twitter and join his Discord. When you work on a project completely alone, it helps you to focus if you have some contact with other game devs.
Mental Barrier
Juha Salo is currently working on a new PC game. "It is still in very early drafts, but I am liking the direction it is going." He has learned his lesson though and treats the development more as a hobby than anything else. "I guess there's a bit of a mental barrier to dedicate myself to a new project due to the amount of time and effort it takes. I do my best to utilise the learnings from the first attempt to the new one. For instance, adapting the story more in a way that the player can live it, instead of telling it via narration. Plus, I feel there is a lot to be discovered in serious games."