When looking at the Top 10 hypercasual games in the first quarter of 2023, AppMagic noticed some interesting trends. This quarter's top 10 features some newcomers that have been around for a while, with one even as long as 2016. Yet they have managed to maintain a steady downloads rate, sometimes even surpassing their past performance.
Hypercasual Q1 regional split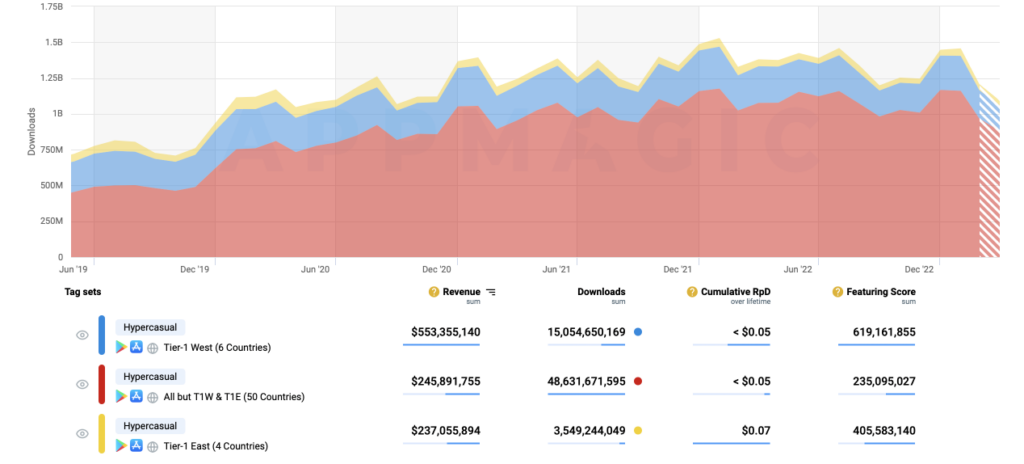 Comparing the total downloads in Q1 2023 with those in Q4 2022, we see a decrease of 5%. The market declined from 4 billion installs in the previous quarter to 3.8 billion installs in Q1 2023. However, an even more significant downtrend can be noticed when comparing Q1 2022 to Q1 2023. Last year, the number of downloads was 4.2 billion in the first quarter, which is 10% higher than this year.
In terms of the regional split, the market has decreased by as little as 2% in the Tier-1 West region and by 6% in all other countries. At the same time, the Tier-1 East region has, in fact, grown despite the overall downtrend in 2022, demonstrating a 15% increase.
Top 10 Games By Downloads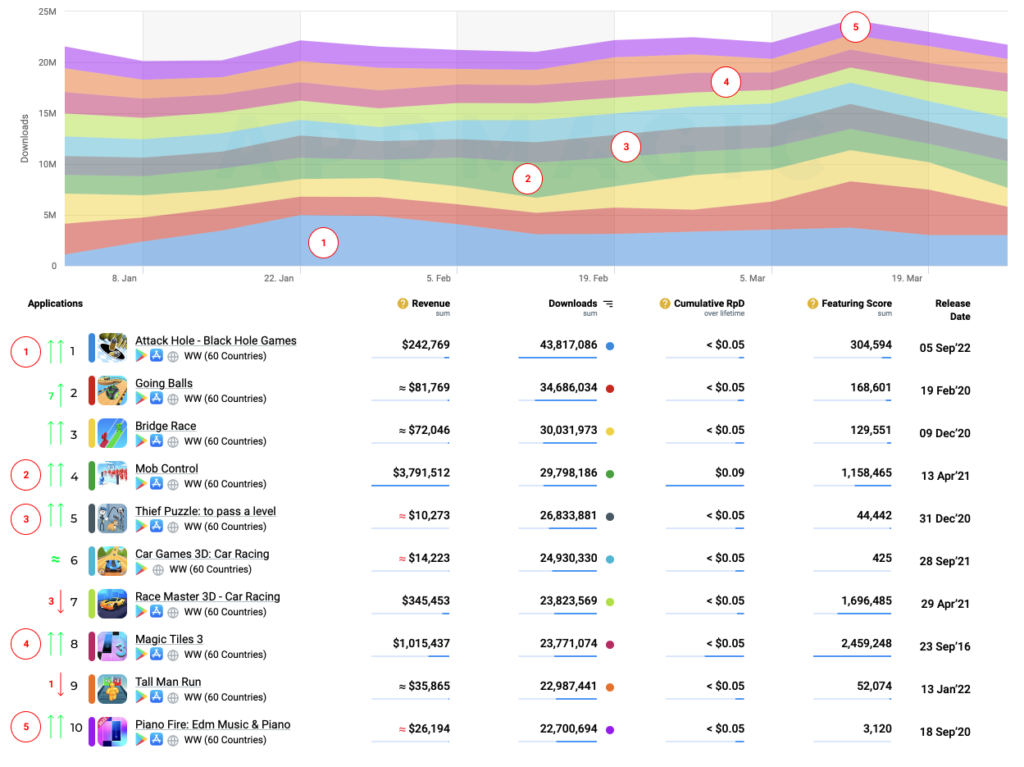 The top 10 downloaded games of Q1 2023 shows a couple of old-timers that don't want to give up their positions: Going Balls, Bridge Race, Car Games 3D: Car Racing, Tall Man Run and Race Master 3D – Car Racing. You can read about these games in more detail here. 
Monetization practices
First of all, all the top ten games use the Meta Audience Network as their in-app ads monetization partner. As for the five newbies, most of them use hybrid models with both In-app Ads with a few In-App Purchase Offers (IAPs). Usually In-app Ads are focused primarily on the Rewarded Videos, which allows users to move on to further levels, earn in-game currency, get tips on completing levels, customize their character or boost skills. 
Another mechanic to get all of the mentioned above that two games out of five use is the Fortune Wheel. As is rather self-explanatory, it involves spinning a virtual wheel to win a prize or reward, which adds an element of chance and excitement to the game.
Players are also shown Banner Ads quite often: they usually have a bottom placement and are visible all the time. Another monetization trick employed by many is Interstitial Videos: the common practice is to show them after the user has completed several levels and still hasn't watched any Rewarded Videos.
As for the In-App Purchase Offers, they're usually focused on skipping Rewarded Videos, No-Ads Offers, and Offer Packs that remove ads and give additional rewards. In most cases, it's a one-time purchase, while in one of the games the subscription approach with a 3-day trial is suggested instead. Not only does it allow removing all the ads, but it also unlocks additional game features.
Top 5 Newcomers
1. Attack Hole – Black Hole Games
Attack Hole – Black Hole Games scores big with 44M installs. The game is inspired by one of the most successful titles by Voodoo, Hole.io, where players' efforts are focused on growing the black hole and absorbing the city. 
In terms of monetization strategy, it includes In-app Ads with Rewarded Videos, Interstitial Videos and Banner Ads as well as a few In-App Purchase Offers, which remove ads and give additional rewards. Thus, using non-intrusive rewarded videos, Attack Hole – Black Hole Games maintains a high retention rate while personalized IAP offers increase its LTV.
2. Mob Control
Mob Control has 30M downloads. On the market since the year 2021, it only made it into the top 10 in 2023 thanks to a new set of ad creatives. Its gameplay looks like a mix of Count Masters (an arcade with multiplying gates) and City Takeover (a tower strategy). 
The monetization strategy employed by Mob Control is quite "traditional": in the short term, it uses 10+ different Rewarded Video ad placements and monetizes skipping them. The game's RPG-like inventory gives a variety of Rewarded Videos' impressions. In the mid term, Mob Control promotes the Battle Pass to both increase retention (no ads, more rewards) and boost the LTV.
3. Thief Puzzle: to pass a level 
Another new hit with 27M downloads is Thief Puzzle: to pass a level. The game's monetization strategy is focused primarily on In-app Ads: it has short levels with a big amount of post-level and try-again Interstitial ad placements that allow Thief Puzzle: to pass a level to generate high LTV. 
Additionally, players can use Rewarded Videos to get tips or to skip (essentially, win) the level, as well as customize their character's hand. As for the main screen, users are occasionally offered audio ads of big brands as an addition to banner ads. IAPs are integrated via the No-Ads Offer which turns off Interstitial and Banner Ads. Thus, while the mid-term retention might not be high, short-term ROAs are driving the monetization up.
4. Magic Tiles 3
Another new entry in the top 10 is Magic Tiles 3 with 24M installs. The game is what you could call "old but gold": it has been on the market since 2017, harvesting quite a few downloads over quite some time. 
Leveraging its extensive catalog of content, Magic Tiles 3 uses Subscriptions to drive LTV from day 0. In the mid term, active non-paying players see a lot of Rewarded Videos to unlock certain segments of certain songs only, which gently pushes them towards buying the Subscription to be able to play premium songs. Additionally, given the way that its arcade-like levels are designed, players lose a lot and watch many ads in the "lost level" scenario until they buy a Subscription.
5. Piano Fire: Edm Music & Piano
Last but not least is Piano Fire: Edm Music & Piano that reached 23M downloads in Q1 2023. It is similar to Magic Tiles 3 from the gameplay perspective, but its monetization is IAA-driven.
In the short term, Piano Fire: Edm Music & Piano generates revenue via Rewarded Videos by offering its content one-by-one. It also has a Lucky Spin meta feature available for Rewarded Videos and Banner Ads in a few screens, such as Coins, Gems, and Settings. In the mid term, the game converts active players into Battle Pass buyers to boost its LTV. 
It's worth noting that this quarter's top 10 mostly features newcomers that not only did not hit the market in 2023 but had done it even earlier than late 2022. Some of these games have been around since as long as 2017, yet they have managed to maintain a steady downloads rate, sometimes even surpassing their past performance.
This is a departure from the typical trend in the hypercasual games segment and raises the obvious question: is it about the oldies making a comeback—or about the new hypercasual games simply no longer being as addictive as their predecessors managed to be?
When it comes to monetization strategies, most of the titles we've discussed rely heavily on rewarded ads as their main source of in-app advertising. Some games also mix in banner ads or interstitial videos on the main screen, while others offer subscriptions as an additional revenue stream. In the long run, game developers may offer users the option to pay for an ad-free experience with extra rewards, hoping to generate more revenue from converted players.