Social media has a knack for bringing niche topics to the attention of a large audience. You thought you were alone in your appreciation of tie-dye or pop-its? Think again.
Lately, we see more and more games inspired by these social media trends making it to the top charts in terms of downloads. AppMagic investigates the rise and fall, successes and failures of these specific types of games. This is part 2, check out the first part here
Do It Yourself (DIY)
To provide some perspective on how large this trend is, let's quote a few numbers. For example, the DIY home improvement retail market was valued at $848.20B in 2021 and is expected to grow at a compound annual growth rate of 4.73% from 2022 to 2030.
DIY gives people a sense of community and achievement. Plus, it's a healthy way to escape everyday stress and explore creativity. No wonder it scores so well as mobile games.
Phone Case DIY
The first sub-trend here is Phone Case DIY, whose hashtag has so far collected 4.8B views on TikTok. There's a bunch of games inspired by it, and you can check out the most important ones in the dashboard below.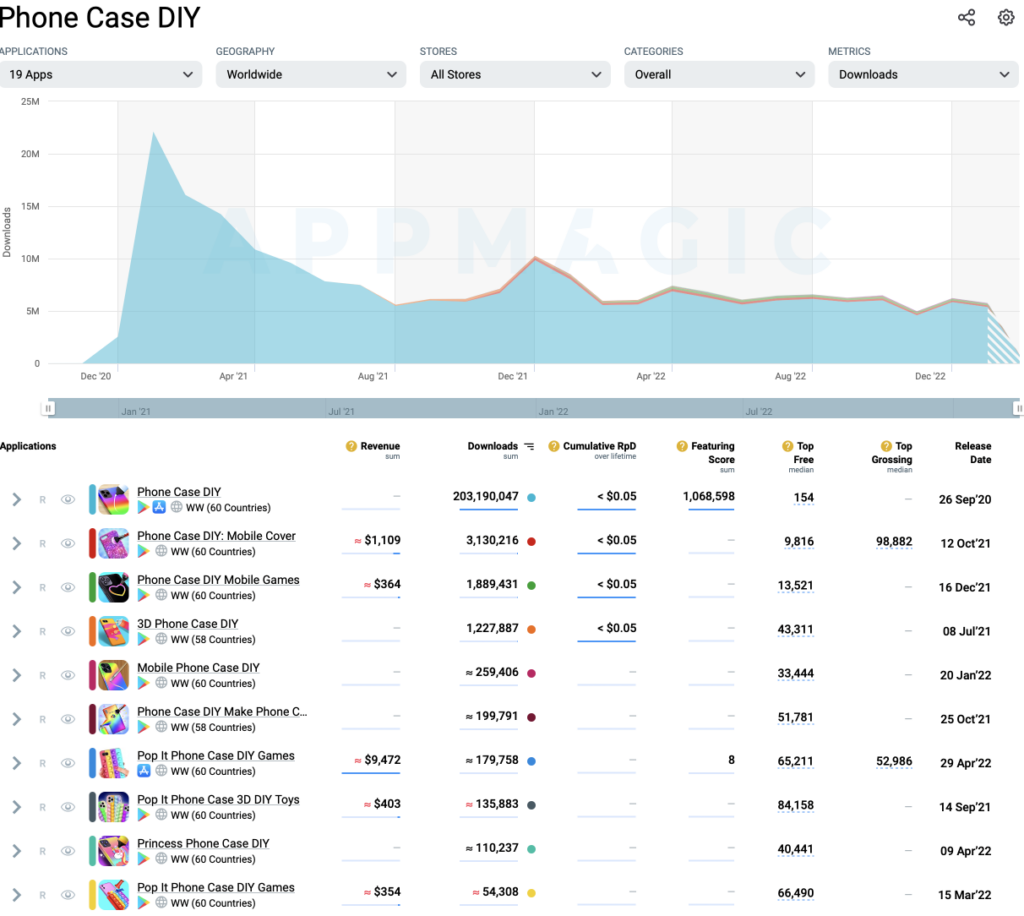 There's an undisputed leader that has earned 65 times more installs than their closest competitor. It's a hypercasual arcade title by Crazy Labs called Phone Case DIY. The game started harvesting downloads in November 2020, peaked in January 2021, rolled back to about 6M monthly downloads and has been fluctuating around this number since, hitting a lifetime total of 203M installs. As for competitors, three of them have made more than 3M installs over their lifetime.
Tie-Dye
The next sub-trend is Tie-Dye. Often associated with hippie culture of the 60's the 'Tie-Dye' hashtag has 148.1M views on TikTok. The number of games who have attempted to reach similar success is comparatively large. However, there's one leader in the crowd. Tie Dye is a hypercasual arcade by Crazy Labs with a total of 147M installs, which is more than 300 times(!) more than the closest competitor.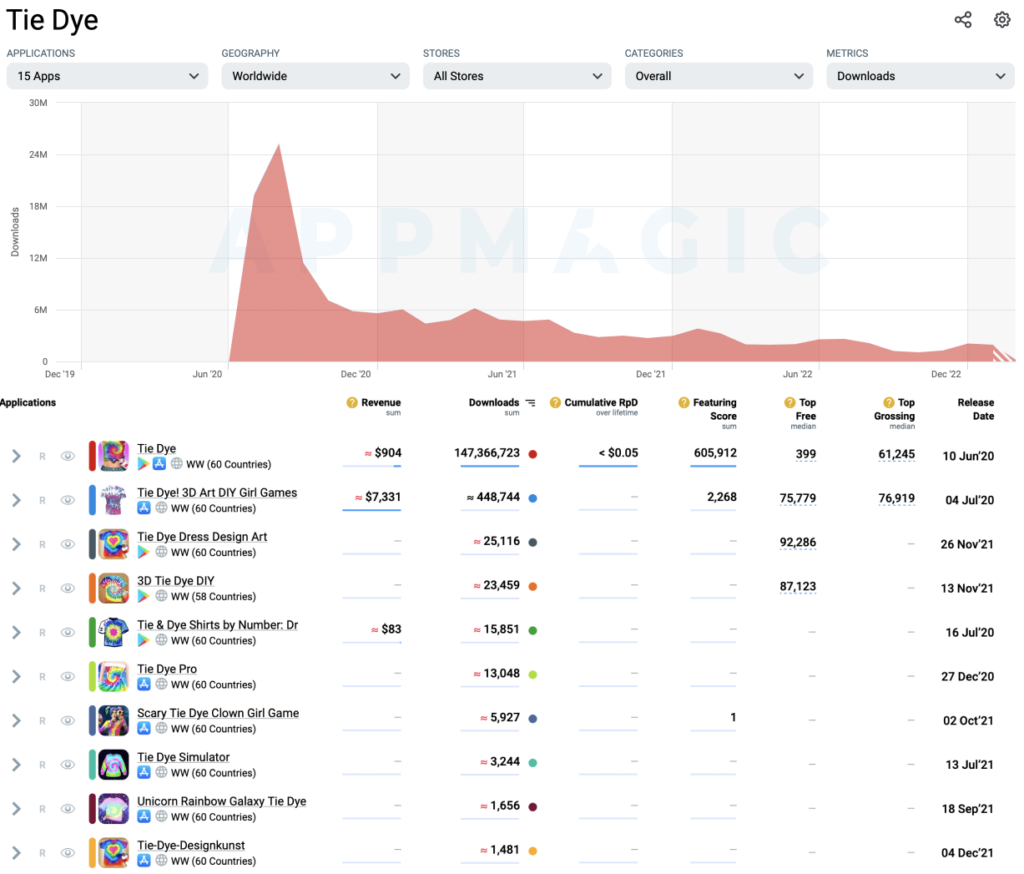 As for the game's dynamics on the market, it peaked two months after its release in early July 2020 and quickly went down to 5.58M monthly installs. Since then, its downloads have been decreasing gradually. In January 2023, the game generated 1.9M downloads.
Dessert DIY
The final sub-trend is Dessert DIY, which has 15.1B views on TikTok. People love watching hacks on preparing cakes they'd never consider making themselves. Now they can try it at least. Online, playing one of the games from this list.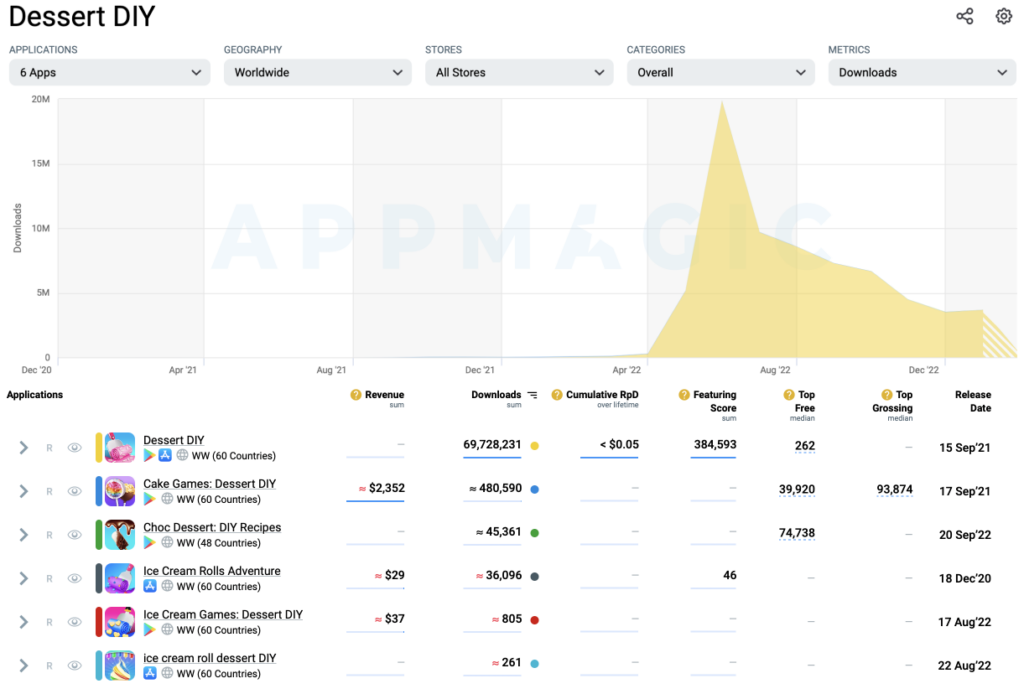 There's a clear winner here as well generating 150 times more installs than its closest competitor. Dessert DIY, another hypercasual arcade by the very same Crazy Labs.
The game generated downloads from April 2022 and peaked at 21.5M monthly installs in June 2022, facing a downtrend from then onwards.
String Pull
A trend for art-lovers is String Pull. The idea of the trend is to take a rope, dip it into paint, place it on a piece of paper and then pull it around. This gives you unique unusual prints that can later be drawn into something larger or just stay as they are. 'String pull painting' has 84.7M views on TikTok, and it also has a 'simulator' following in the mobile games industry.
The most popular game you can find is String Pull, a hypercasual arcade by Crazy Labs again. It started generating downloads in September 2021, peaked in December 2021 and continued its descent until it reached 250K monthly installs, where it's been hovering since. As of today, the game has generated a total of 15.9M installs. Looking at its competitors—well, there are barely any.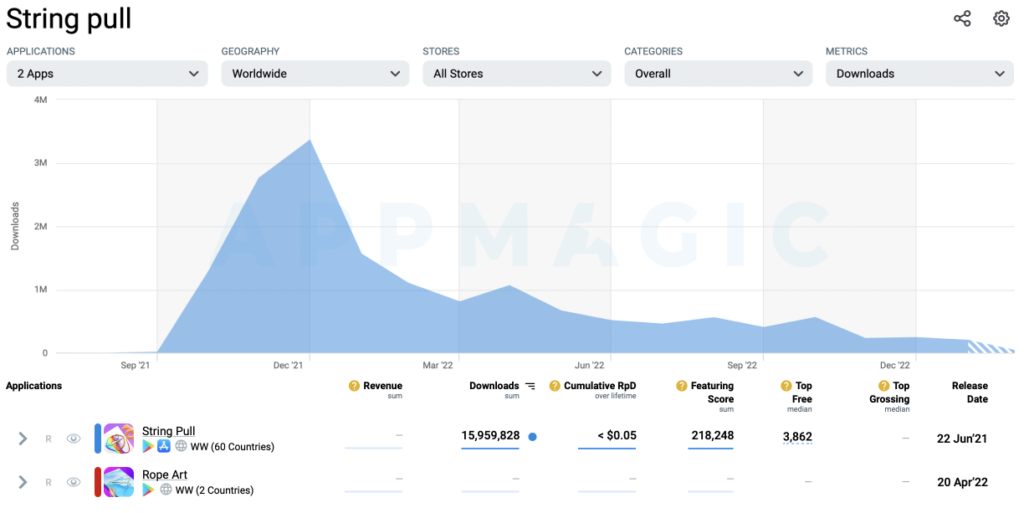 Pop It
Apparently, Pop It was created ages ago by a company that is known for its board games: Theora Design. At some point, Ora (one of the founders) had a dream about a field of breasts, and when she mentioned it to her son, who is the CEO of the company, he decided to develop a prototype. The toy debuted in 2013, but it only became a hit after the owner of the monkey named Gaitlyn Rae (who currently has 8.2M followers on TikTok) uploaded to the platform a video about this monkey playing with a Pop It.
Coming back to these fidget toys themselves, they gained wide use as a tool for helping kids struggling with ADHD to still their minds and focus. However, it didn't stop there, and videos of trading fidget toys on TikTok started going viral. The game was so popular that you could even order a special playing field on Amazon. To substantiate our statement, we've created a dashboard with a bunch of games inspired by the trend.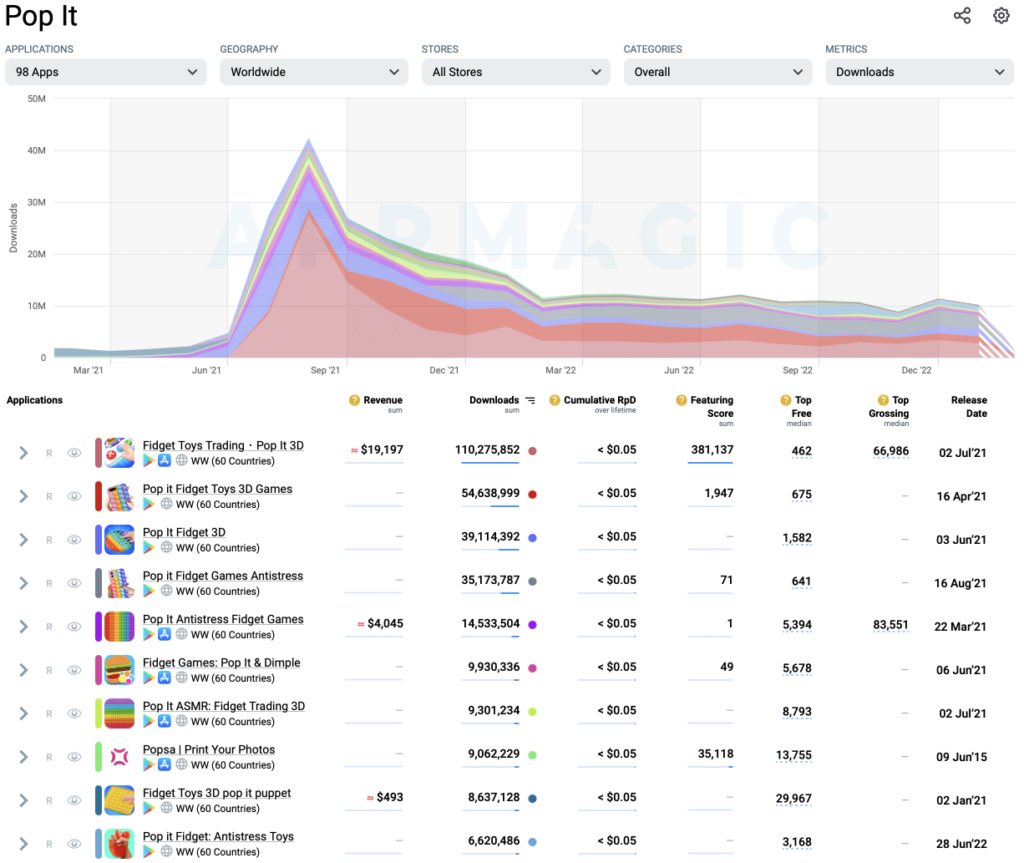 Fidget Toys Trading: Pop It 3D is a hypercasual simulator by FreePlay. It peaked 3 months after its release and then went down, reaching 3.5M monthly downloads and staying level since February 2022.
Pop It is a trend where there are a number of other successful games. For example, Pop it Fidget Toys 3D Games and Pop It Fidget 3D have generated 54.6M and 39M downloads respectively over their lifetimes. However, a crucial difference between these games and Fidget Toys Trading: Pop It 3D is that they only offer digital antistress toys, while in FreePlay's game you can actually trade these digital toys to build a collection of your own.
100 Mystery Buttons
The 100 Mystery Buttons Challenge?is quite popular on TikTok with 32.7M look-ups. In the challenge, the player is placed in a 'mystery box' full of different buttons, and only one will let the player out. The result of tapping on others is either reward or punishment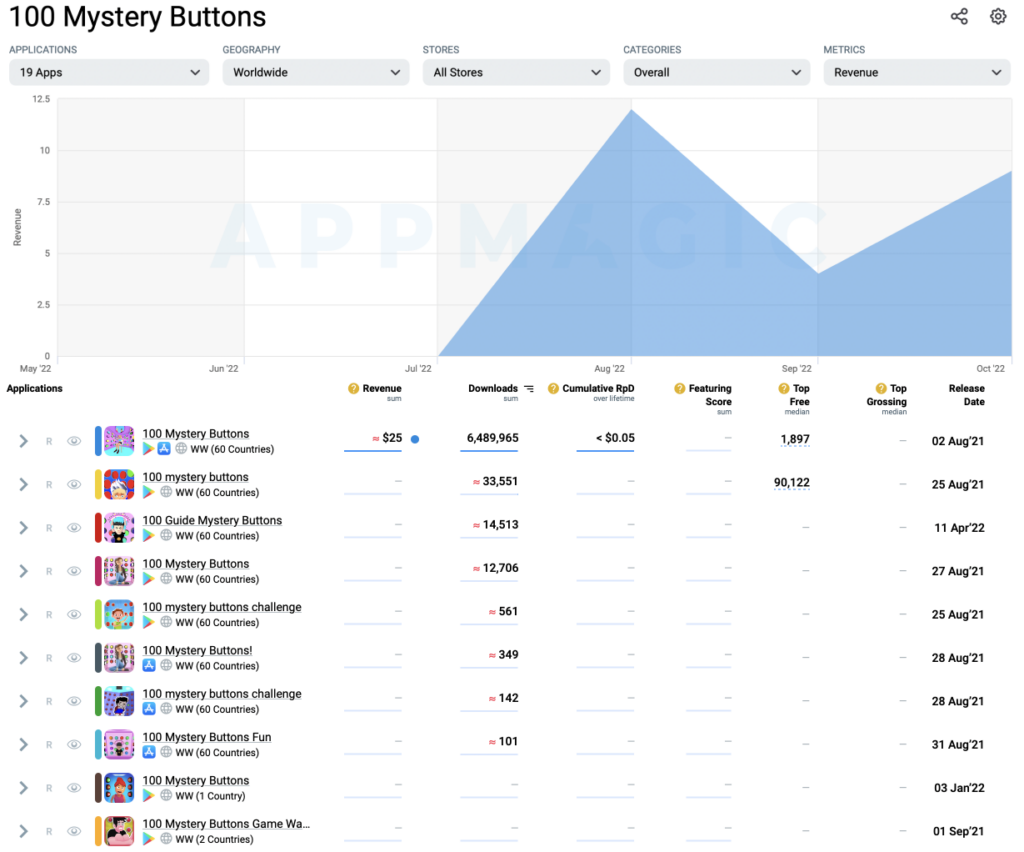 This trend didn't go unnoticed by game developers. So far, Panteon is the studio that has reaped the most benefits from it with its 100 Mystery Buttons: 6.5M downloads since the release in August 2021 and still counting! The studio combined the general concept of the challenge with additional mini games, such as classic runners. Interestingly enough, the game made it to the top charts once again after a 4-month break after its initial success (which is rather rare for hypercasual titles) thanks to optimisation towards D1 ROAS and a mix of both playable ad creatives and video ads. 
Color Match
The general idea of the Coloring Match trend is to mix colors in a way so that they match the chosen object. The trend itself comes from Reddit, where there was a post about a man painting on canvas and trying to get the perfect color for the sky. TikTok didn't stand aside, and soon it was flooded with similar videos. The "Coloring Match" query currently sits at 2.6B views.
The most successful title in this category is a hypercasual arcade game by Supersonic called Color Match. Its downloads began growing in November 2021 and reached their peak in February 2022; then they started to roll back, reaching 3.5M monthly downloads and proceeding with a steady decrease. In January 2023, the game still generated 2.8M installs.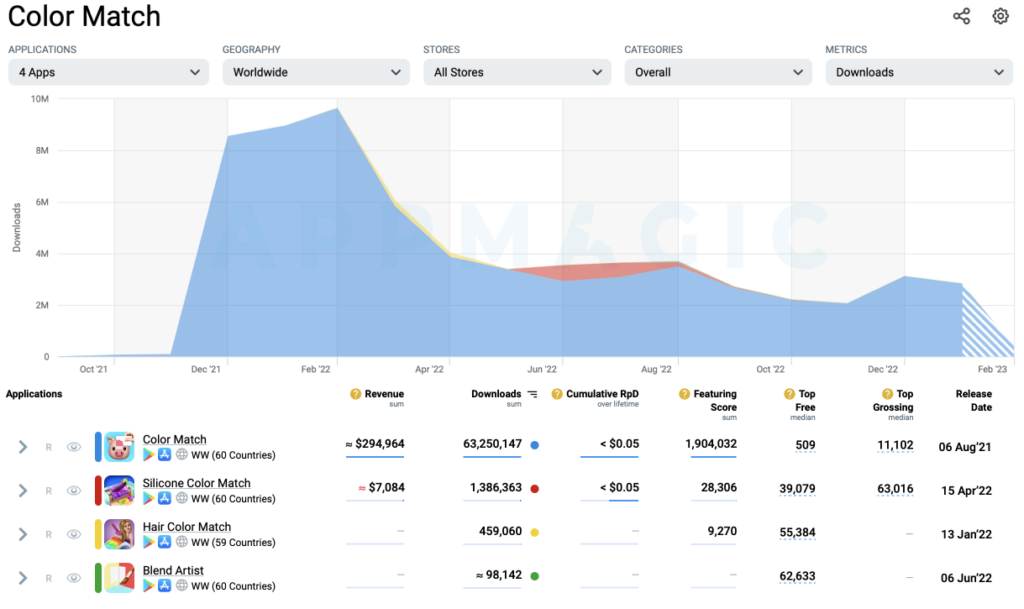 Road Marking
And then there is Road Marking. The idea is simple, people color in the asphalt markings on parking lots or along roads. This search on TikTok has 455.5M views, and even though the trend might seem a bit unusual, we can still see several games that took some inspiration from it.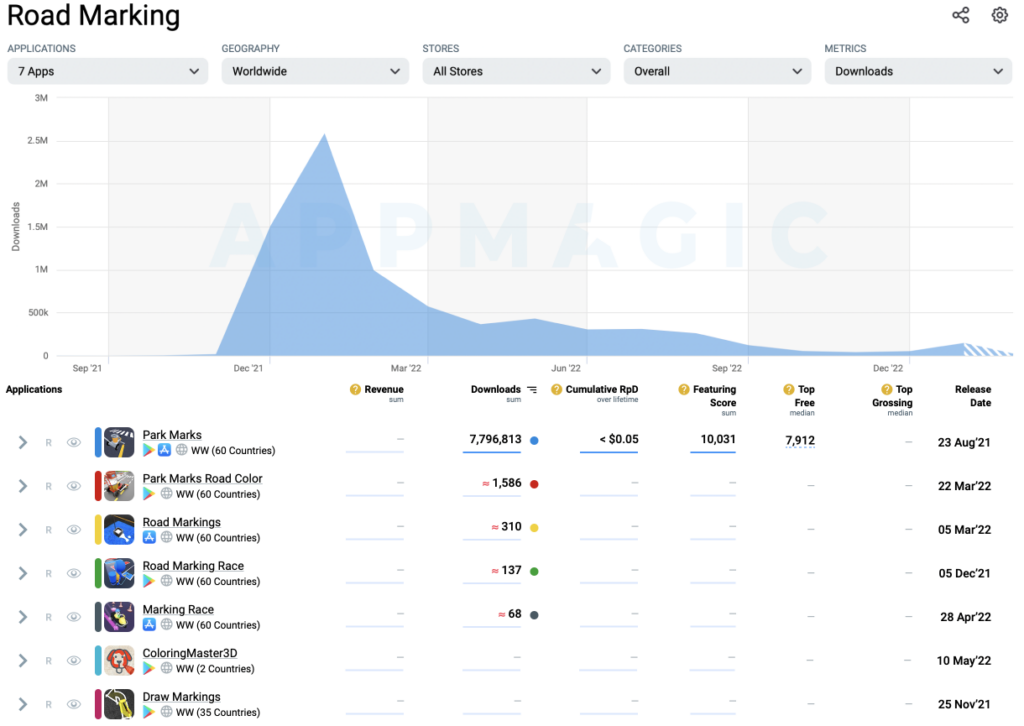 The list is led by Park Marks: a hypercasual simulator by Supersonic. The game peaked in three months after its release as it started generating some hefty downloads, and then the metric dropped rapidly, reaching 300K monthly installs and stagnating there until September 2022, when its further downfall started all over again. As of today, the total number of installs is 7.8M.