Social media has a knack for bringing niche topics to the attention of a large audience. You thought you were alone in your appreciation of popping pimples or cutting bars of soap with a knife? Think again.
Lately, we see more and more games inspired by these social media trends making it to the top charts in terms of downloads. AppMagic investigates the rise and fall, successes and failures of these specific types of games.
ASMR
The first on our list, and probably one of the most well-known social media trends, is ASMR. The term stands for "autonomous sensory meridian response", which is basically light euphoria. The trend established itself back in the beginning of 2010 when it was mostly about YouTube videos with placid sounds. The popularity of these videos can be explained by their effect of anxiety and depression relief, which is directly linked to the fact that, while you're listening to their sounds, the brain doesn't focus on anything in particular, the mind sort of drifting, which proves to be a good stress-relief mechanism.
ASMR is generally divided into 4 categories: sound, visual, tactile, and situations when a person experiences individual attention (e.g. brushing hair). Since the trend itself is quite broadly defined, it can be further divided into several subtrends.
Soap Cutting
Soap Cutting with its 3.6B views on TikTok is the first sub-trend on the list. One of the earliest games inspired by it was Soap Cutting – Satisfying ASMR by Crazy Labs, a hypercasual arcade. It has gained 114M downloads since its release on December 31, 2019.
This dashboard includes other games inspired by the Soap Cutting trend in order to compare the metrics. It turns out that Soap Cutting – Satisfying ASMR is an undisputed leader. Its closest competitor has about 300 times fewer installs. The hit peaked for three months with 14.6M monthly downloads and then gradually faced the downtrend except for one more little spike in May 2020. For the last couple of months, the game has been generating just under 1M monthly downloads. What is quite surprising, the title has been on the market for over three years, and it is still being downloaded by quite a lot of people every month, which is not very typical for hypercasual games.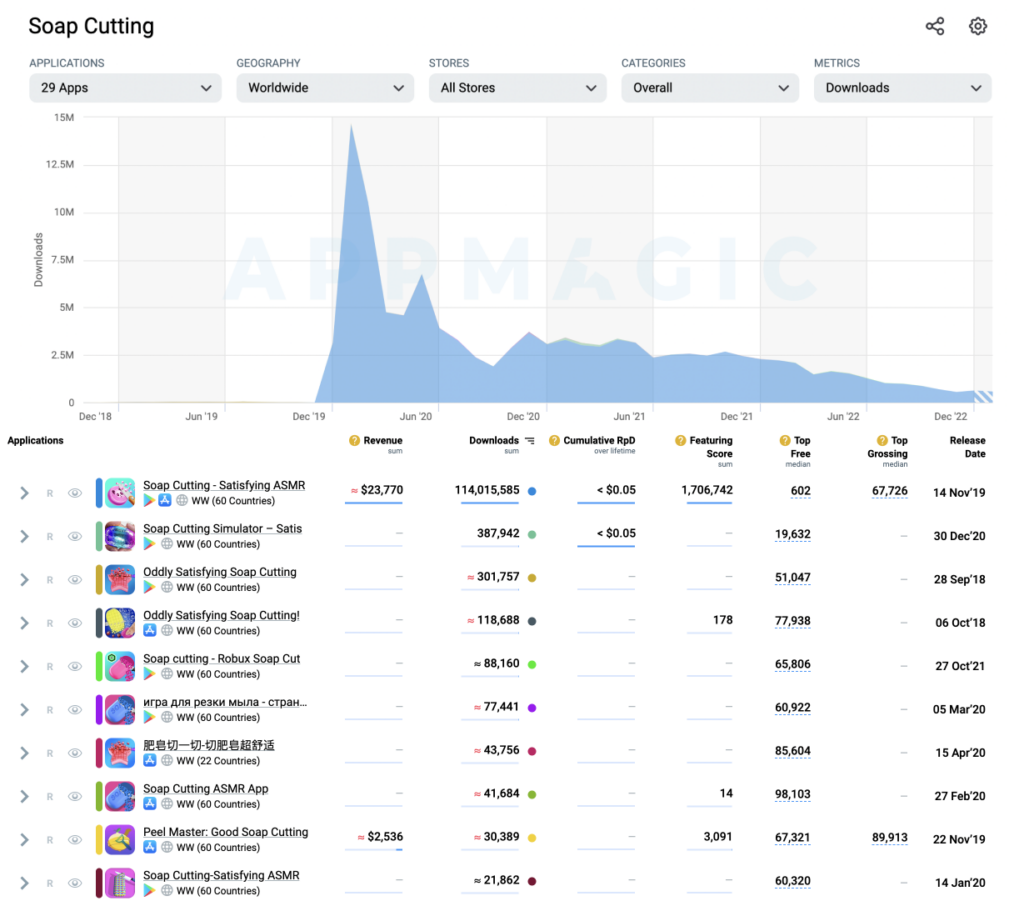 Shredding
The next subgenre: Shredding. So far, it has 1.6B views on TikTok. The leader of this segment is Will It Shred? Satisfying ASMR by BoomBit Games: another title in the hypercasual arcade genre. Starting from February 21, 2020, it has amassed 16M downloads so far, peaking with 8M monthly downloads in March 2020. Its growth subsided two months later, and it has barely been generating any installs after December 2020. However, its competitors haven't even hit more than a couple thousand downloads for the time being.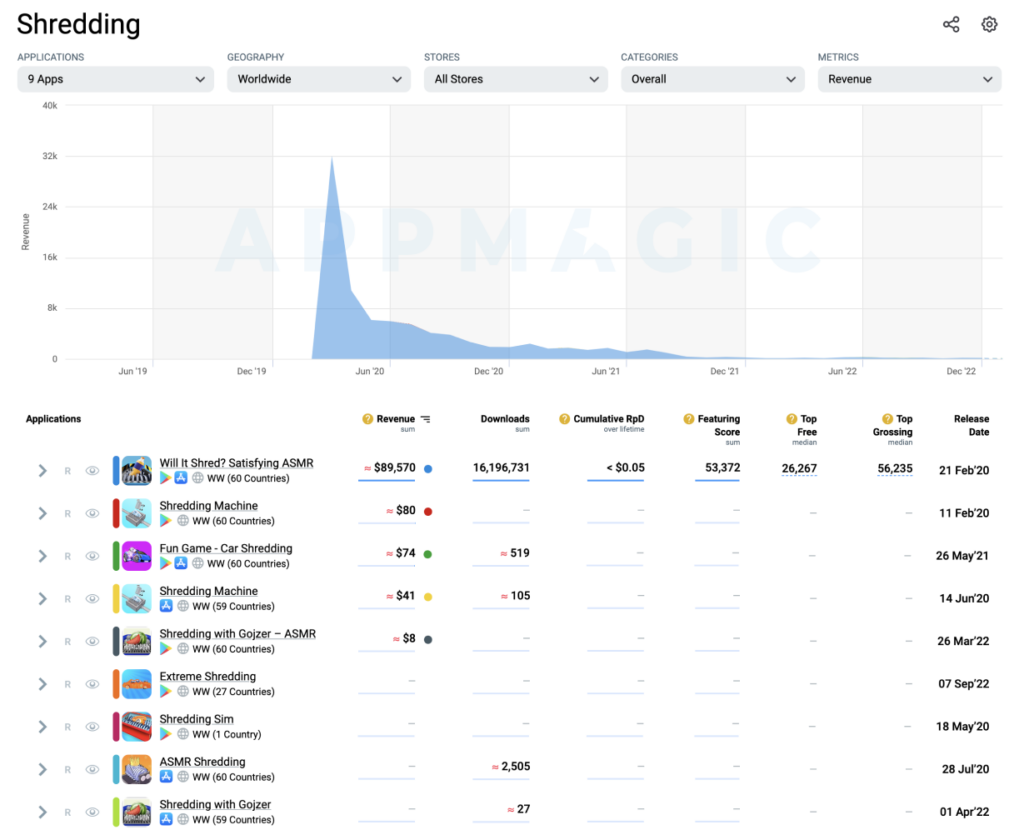 Hydropress
Continuing the destruction trends, let's check out Hydropress. It's extremely popular on TikTok as well, with a total number of views at 3.5B. The leading title inspired by this trend is yet another hypercasual arcade hit by BoomBit Games, You Crush!, that has generated 2.78M installs over its lifetime after its release on March 28, 2020. As for You Crush!, it had shown impressive results for about three months at some point, peaking and falling back down quite quickly. From February 2021, its metrics have dropped drastically, remaining roughly level since.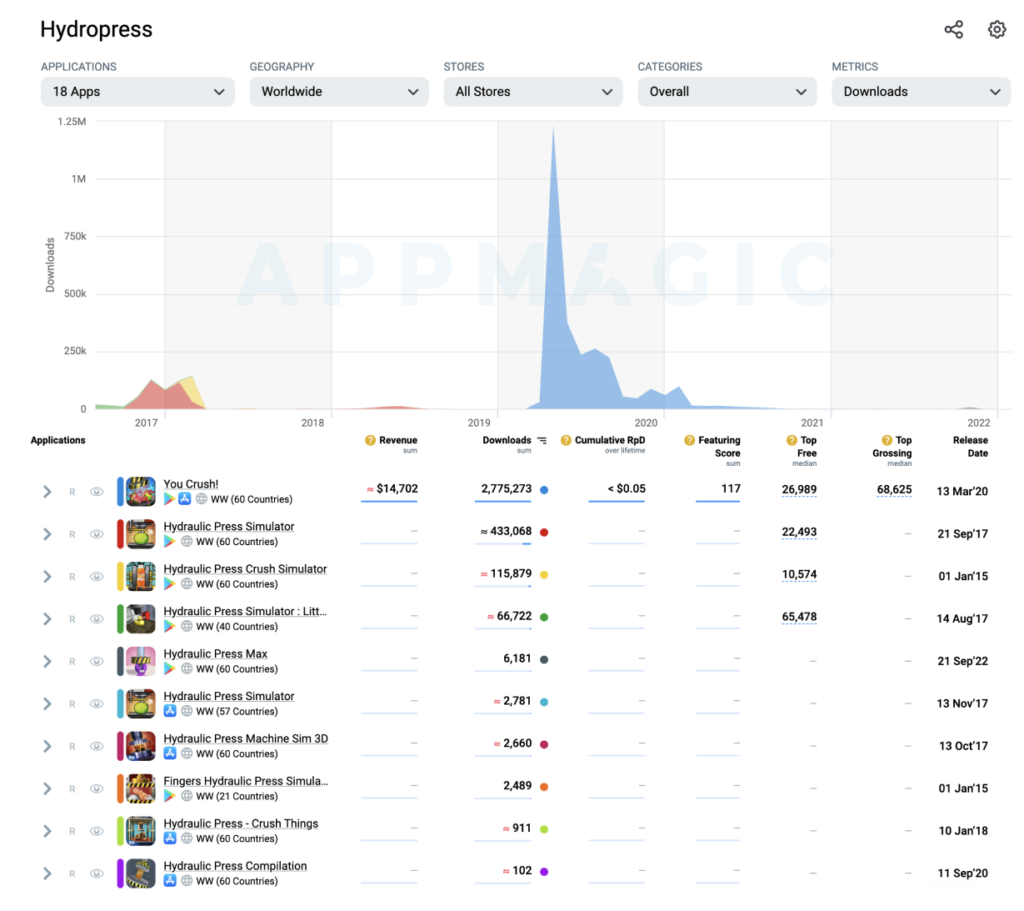 Steaks Cooking
Apart from destroying things, ASMR can also be about cooking. One of the most interesting examples is Steaks Cooking. It has 14.9B views on TikTok. This trend has also found its way into mobile games, although there are still way more timer apps for cooking steak rather than apps that use steak as an ASMR tool.
Our short top chart is headed by another Crazy Labs title: King of Steaks – ASMR Cooking. It is a hypercasual simulator released in May 2022 and peaking for the second time with 0.5M monthly installs. Let's give it some time to "breathe" and come back to its download statistics in 2 to 3 months. As for its competitors, as you can see, there's not much to talk about.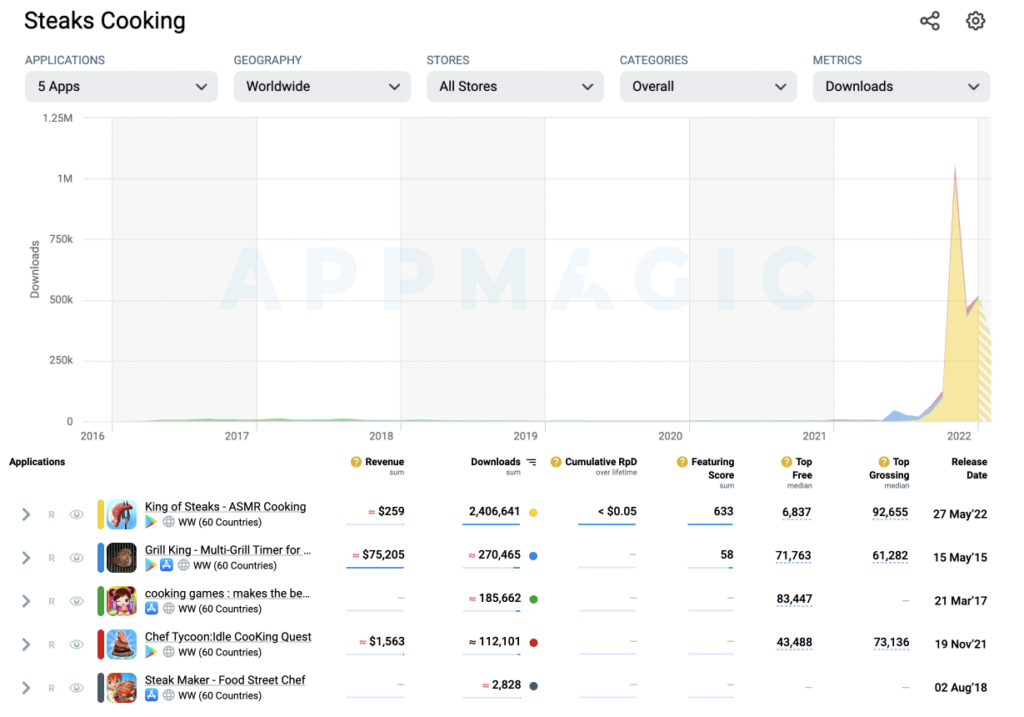 Frozen Honey
Another ASMR food trend which might not be as exquisite but is still very popular: Frozen Honey. It has 2.2B views on TikTok and has also seeped into mobile games. The most popular title on the list is Frozen Honey ASMR by Crazy Labs (seems like these guys are really into the whole social media trends thing). This hypercasual simulator started getting traction in January 2022 and, as of today, has 46M downloads overall with 2M a month.
What about its competitors? Well, the second game at the top has just about scraped 0.5% of Crazy Labs hit's downloads. As for the Frozen Honey ASMR itself, it lasted for three months and then jumped on the downtrend wagon rather quickly. In April 2022, the title slowed down and has been decreasing steadily since. Nevertheless, as of October 2022, it was still at 1.75M monthly installs.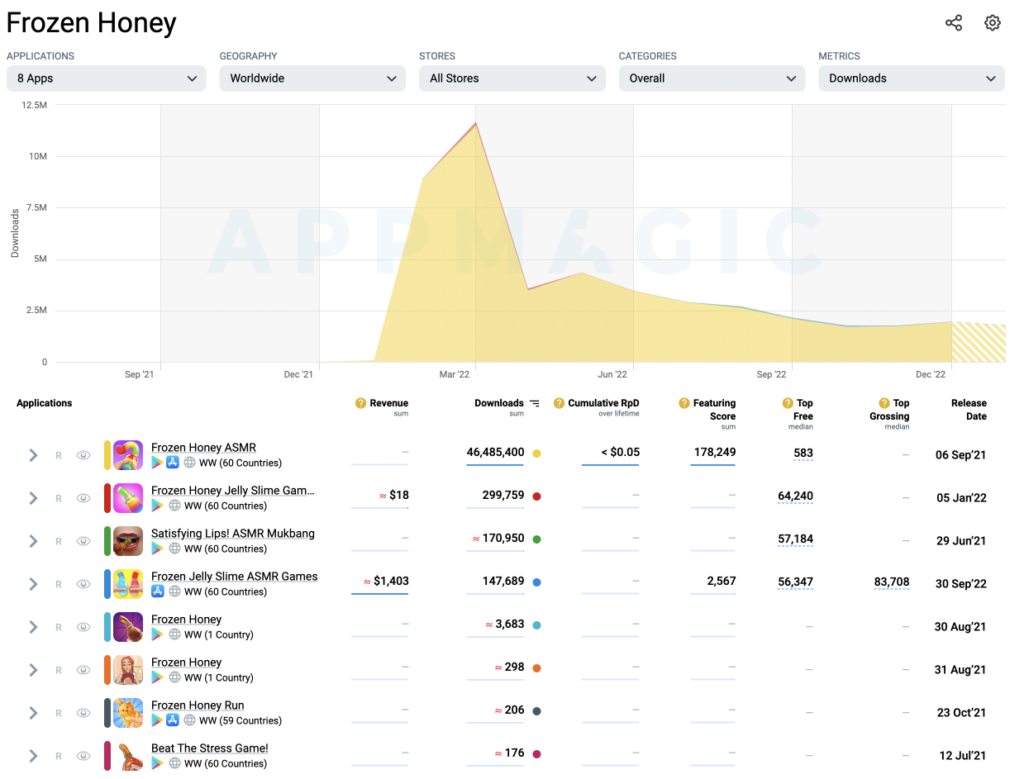 Slapping
Slapping is an actual sport where opponents take turns in slapping each other in the face until one of them falls unconscious. There has even been some legal activity in Nevada lately concerning how to regulate this sport. While 'competitive slapping' itself emerged back in the 2000s, it only became popular during COVID-19 thanks to viral videos online. We're talking tens of millions of views on YouTube. The slapping query on TikTok even has 1B views.
For those of you who are not quite ready to try it out in real life, there's a bunch of mobile games where you can slap away without injuring yourself. However, if we look at the list, we will notice that there's one title feeling the global love way stronger than the others: Slap Kings by Lion Studios.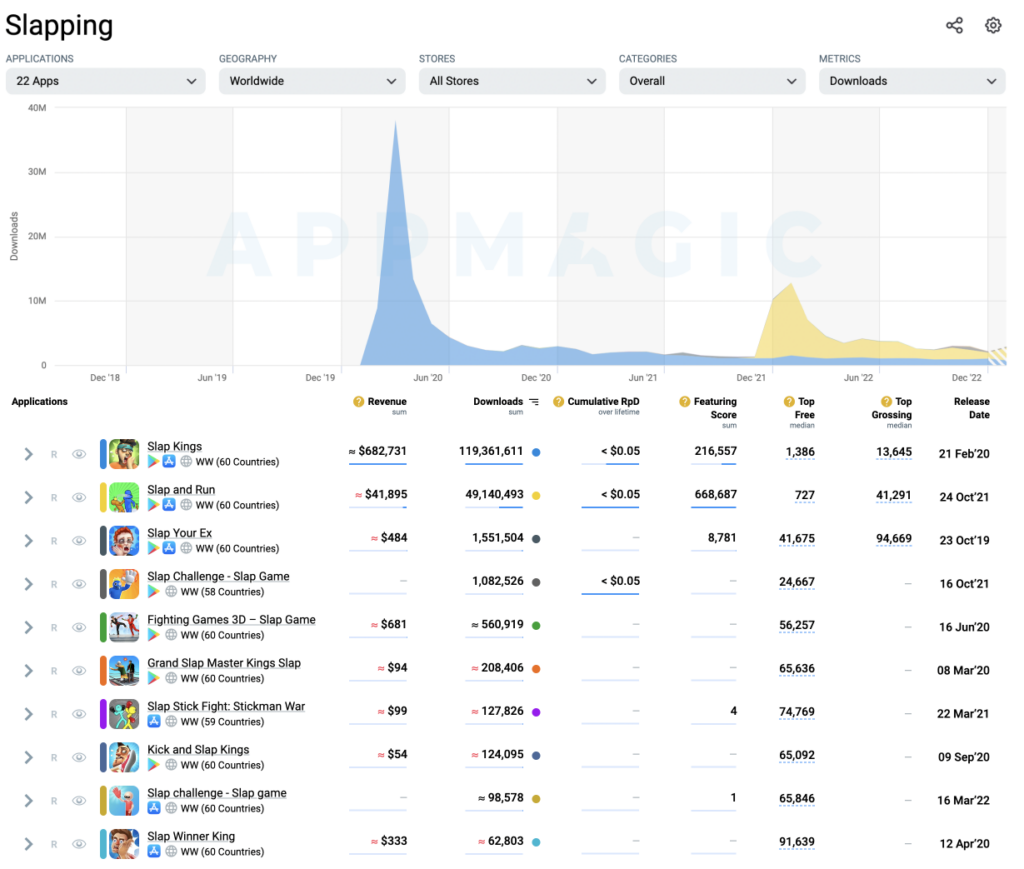 This hypercasual arcade has reaped 119M downloads since its release in February 2020. It peaked in March 2020 and then tumbled down rather fast. In September 2020, it settled at an average of 2M monthly downloads; since then, its downtrend has slowed down. As of today, the game is still gaining about 1M downloads a month.
Looking at its two closest competitors, Slap and Run and Slap Your Ex, we can see that both of them took a tiny bit of inspiration from this trend and mixed it with a couple of typical mechanics of a runner. Speaking of Slap Kings' direct competitors, they have hardly generated more than a couple thousand downloads over lifetime.
Pimple Popping
Next Pimple Popping. Videos of people popping their pimples have been hanging around the internet for more than 7 years. One of the most famous video makers for this type of content is Dr. Pimple Popper, who now has 16.2M followers on TikTok and 7.6M on YouTube, which she started back in 2014.
If the name sounds a bit familiar to you, there's a high chance you've come across Azur Games' Dr. Pimple Pop. It is the first casual (!) simulator in our article. The game has generated 2.3M downloads after its release on August 17, 2020, peaking in September and then gradually going down. After that, it seems like the public completely lost interest in the game, as its number of monthly downloads dropped to 20K.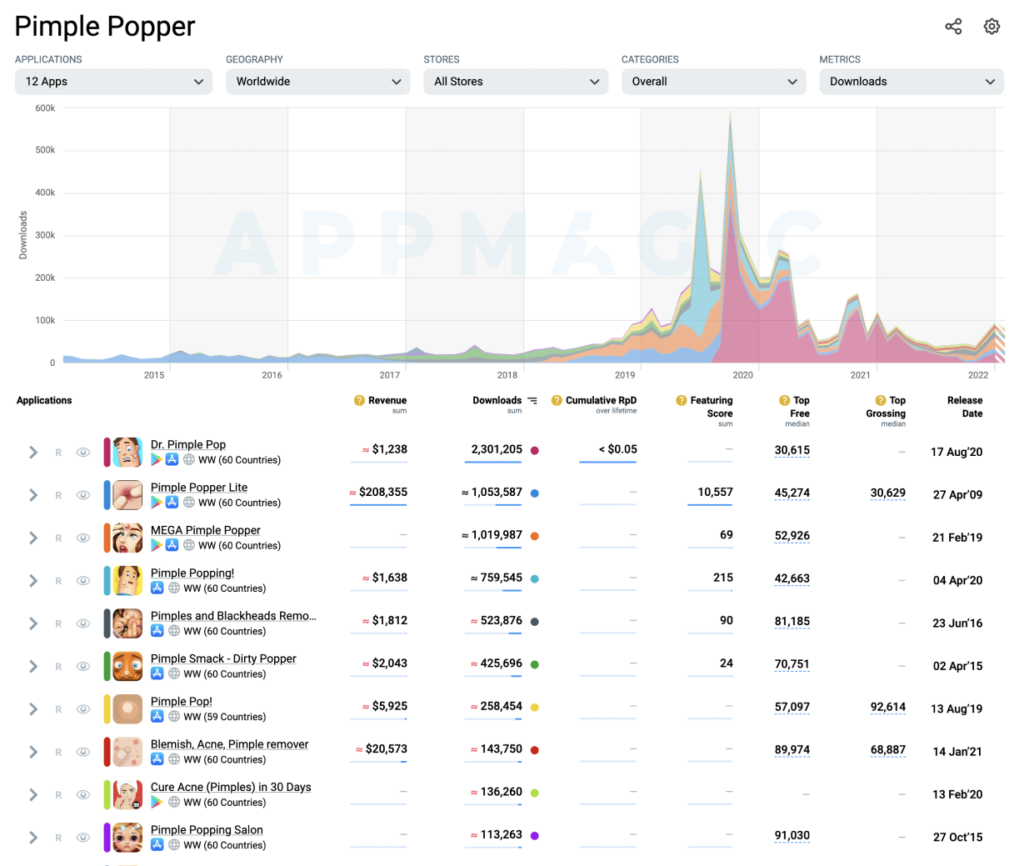 Dr. Pimple Pop was the leader of the pack of games inspired by this trend. As for its competitors, a couple of them had their moments of fame, e.g. MEGA Pimple Popper or Pimple Popping! None of them reached similar numbers of downloads over their lifetime as the hit by Azur Games though.
Sneaker Art
From health to creativity, the next trend is Sneaker Art. Sneaker culture is big and it has over over 265M views on TikTok. In the mobile games industry, the leading title has clocked 33M downloads. Sneaker Art! is a hypercasual arcade hit by TapNation. The game peaked in July 2020 with 3.5M monthly downloads and then started rolling back; after a short-lived relapse at 1.7M installs in September 2022, it continued its slow decline. All that said, it is still pulling in more than half a million installs monthly, while its competitors are barely making it to 1K downloads for the time being.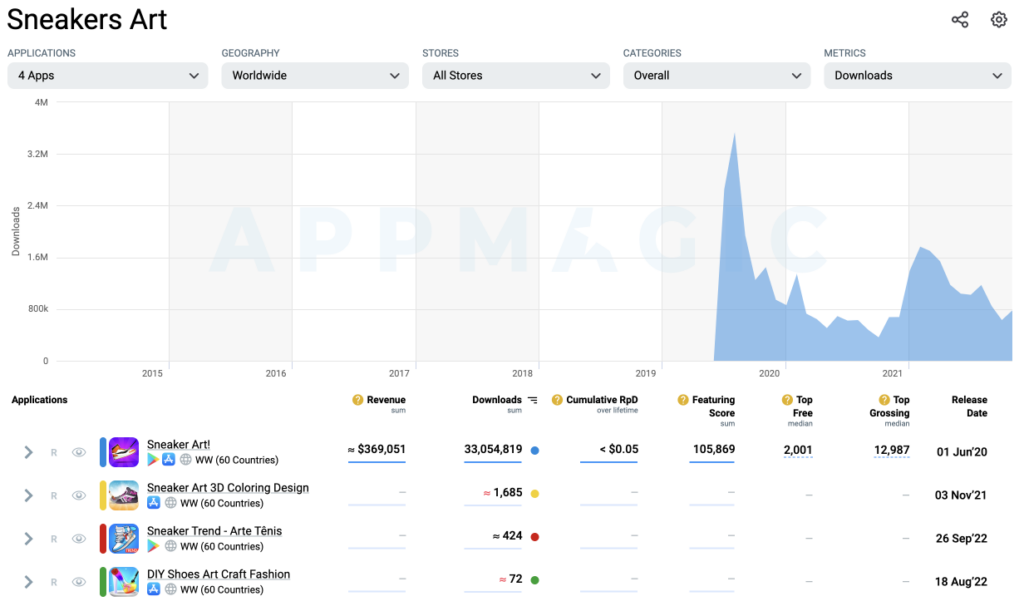 Sculpt People
The 'sculpting people' hashtag has 1.4B views on TikTok. The biggest hit in this category is the Crazy Labs' hit Sculpt People. Not only has this hypercasual arcade game claimed 144M installs over lifetime (it was released in October 2020), peaking in February and March 2021, but it still generates about 3M downloads each month. Believe it or not, it seems like no one dared copy its success, and instead of creating clones, developers came up with guides, tips and walkthroughs to the original games.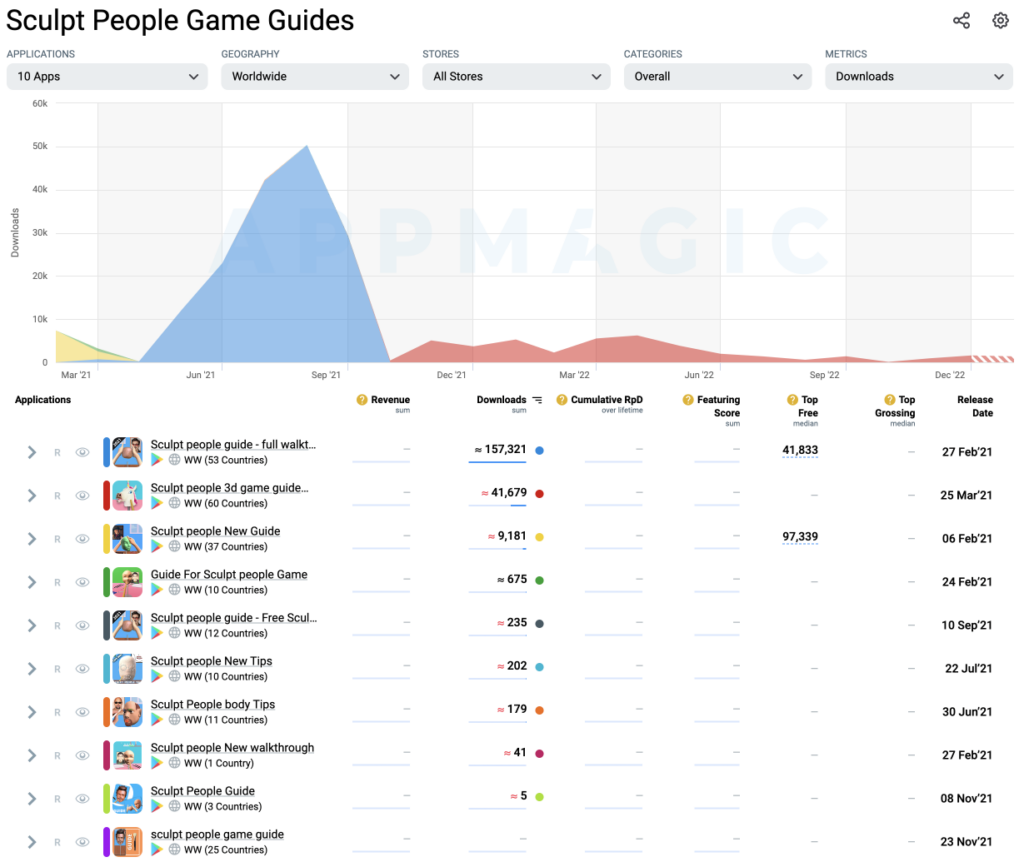 When it comes to the trends chosen by developers, almost all of them have at least 1B views on TikTok. As for the games, the vast majority are hypercasual, either arcades or simulators. Their dynamics are, give or take, the same: they peak a few months after the initial release and then experience an abrupt downfall to settle at some relatively low level; their downloads then either stagnate or continue to slump. Another noticeable trend is that there's only one leader among all the games inspired by one social media trend, and it always has a significantly larger number of downloads than its competitors, even if they were released earlier than said leader.