The idea struck indie game developer Adriaan de Jongh when he was dancing at a house party one night. Looking around he saw the person next to him dance in a very strange way. So strange in fact that De Jongh wondered if he was listening to the same music at all. If there ever was a lightbulb moment it was there and then.
"I immediately wanted to make a game where you have to guess whether you and another person are dancing to the same music", says De Jongh. "So, later that same week I put together a quick prototype of the idea, played it with two friends, and found that it was really fun." Secret Shuffle was born. But it would take another 7 years to get the game into app stores.
Because of its unique concept, Secret Shuffle went through countless iterations. "For a game that was fun from the very first prototype, I think the creative process has been long and ineffective! Iteration is part of every component of making and selling Secret Shuffle. We do a lot of work and try a lot of things, test it, continue with what sticks, cut away what doesn't, and we just keep at it."
Fakers and Statues
De Jongh made that first prototype in 2015. He continued working on the game on and off for 3 years before reaching out to others to join him. Secret Shuffle was made by 5 people. Graphic designer & UX designer Sim Kaart, music curator & sound designer Yero Pharaoh, creative producer Sandy Seifert, cameraman & video editor Gilles van Leeuwen, and game designer & programmer Adriaan de Jongh.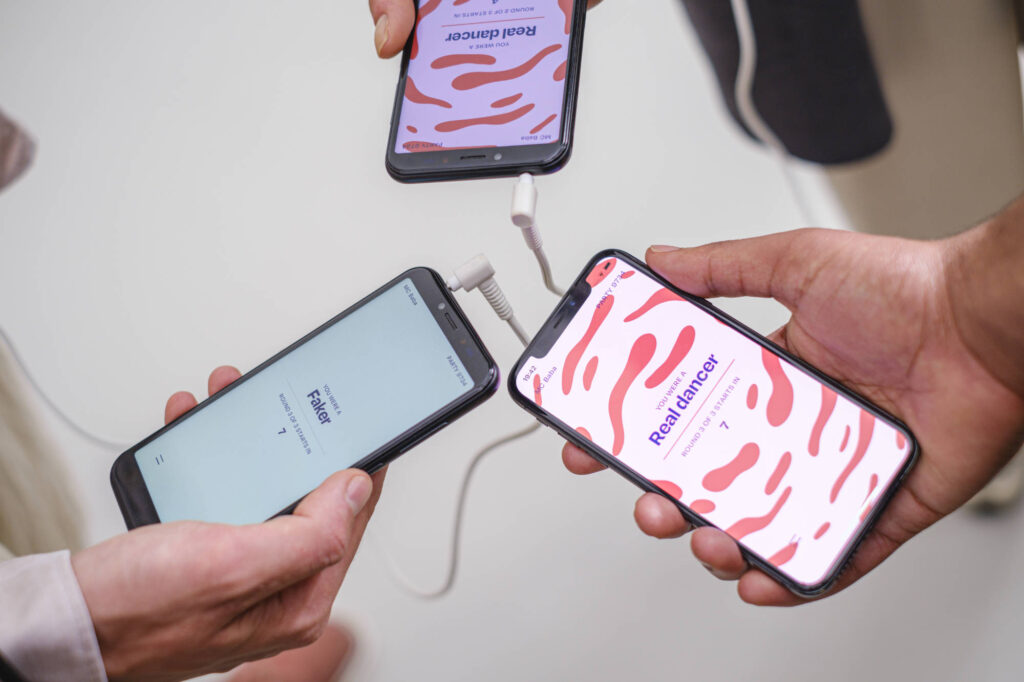 Ideas were flying and creativity was flowing until covid slowed everything down. Nonetheless over time, the concept evolved and the team came up with many more different game modes like Fakers, Statues, and Possessed. They all require the headphone setup but are not only about finding the odd one out dancing to a different tune.
Hiring 100 Musicians
"And we just kept iterating", says De Jongh smiling. "On the game modes, on the user interface, on how we assemble the music into packs, on the complicated technical backend. But also on marketing. We kept finding better words to describe the game and better images to explain it. The release of Secret Shuffle in December 2022 was also far from our final act as we continue to figure out how to best sell the game and improve the game's user experience."
It's obvious that for a dancing game music is one of the key components. It's also the part that caused the most headache. "We spent months researching every possible solution – from hiring 100 musicians ourselves, to working with streaming services or huge record labels such as Sony and Warner. But all these options turned out to be either too expensive or just plain impossible because of many restrictions both technical and legal. The game will unfortunately never have integrations with services like Spotify or Apple Music."
Level the Dancefloor
But because the concept requires many different kinds of music, with emphasis on 'many' and 'different', De Jongh and sound designer Yeroh Pharaoh kept looking for a solution. They found it on online music platforms like Artlist, Audiio, and Audio Network. "They feature really high quality songs in all possible genres and allow for the music to be used in our game", says De Jongh. "The songs are all originals and therefore unknown to the general public, but we figured this actually helped level the playing field between players. Everyone is dancing to music unbeknownst to them. So then Yero had to listen to every song on the platforms. With great care and careful consideration he put together the 18 music packs currently in the game. We have a few more music packs in development, mainly surrounding holiday events."
Secret Shuffle is not the first game about dancing and human interaction from Adriaan de Jongh. The Dutch developer may be best known for his game Hidden Folks but well before that he experimented with -what he calls- the social layer of video games. "The first game I designed, Fingle, started kind of as a joke. I would draw people in thinking they'd play some sort of conventional cooperative video game on an iPad, and then moments later have them rub each other's fingers in awkward ways."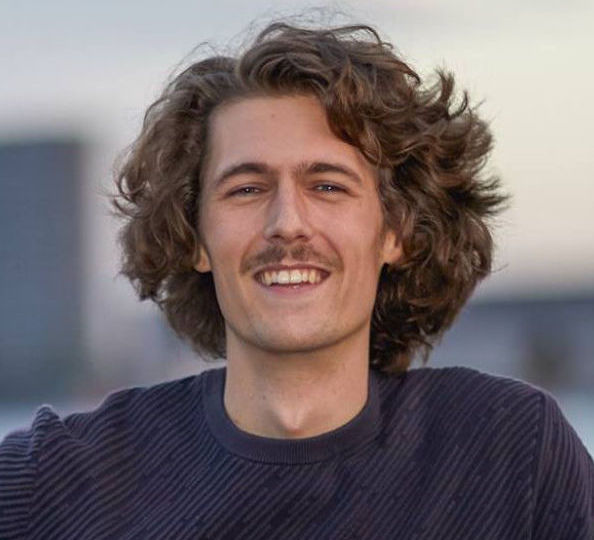 Human-to-human connection
"I discovered that you can add this social layer to a game by literally putting a part of the player's personality – or their body – in the game. To great effect! Some people feel exposed or vulnerable, others giggly and energetic, and maybe some find it too awkward. But being part of a game like Fingle or Bounden or Secret Shuffle always adds or changes the relationship between the players, and I think that's ultimately the goal. We all crave human-to-human connection, and it almost feels like my responsibility to keep exploring these types of games. Or otherwise nobody else will!"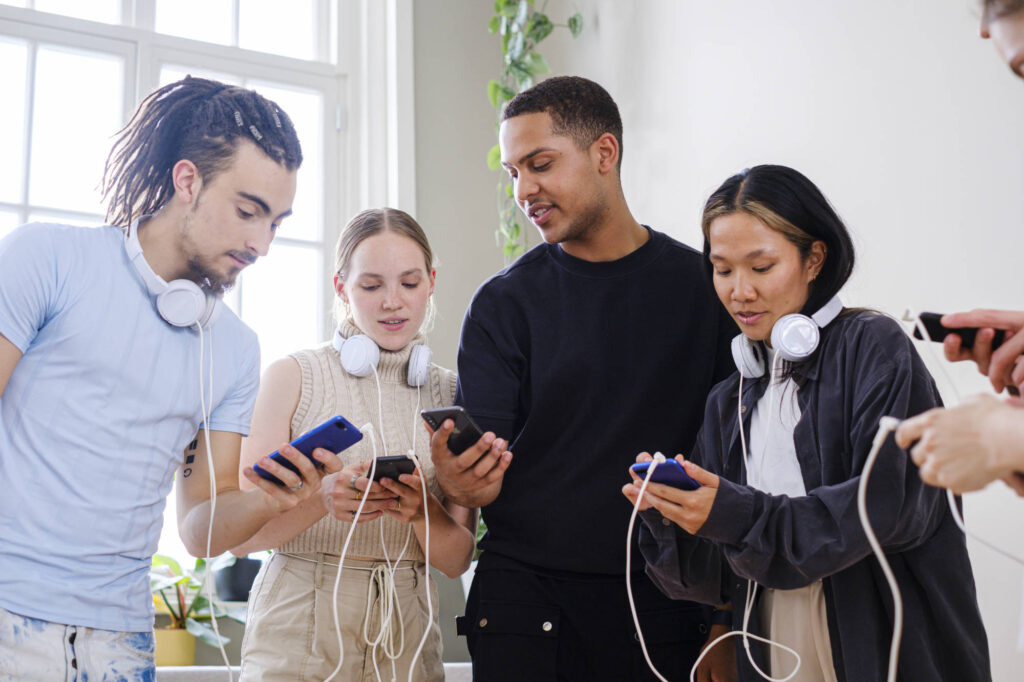 With Secret Shuffle available in the Google Play Store and Apple App Store the work is far from over. De Jongh: "We will have to continue to put a lot of hard work into making this game a financial success. Through user acquisition and marketing or improving and adding to the game. My team and I are still very excited about the actual work, about all the game iterations and the continuous reinvention of our marketing ideas. I think that's not going to go away any time soon."