Top image: Game of the Year – Elden Ring
It's time to look back at what the year 2022 has meant for the games industry. According to Newzoo this year will go down in history as 'one of the most tumultuous years in gaming'. The research company had to adjust their 2022 revenue forecast downward twice this year. Now landing at the final forecast of $184.4 billion generated by 3.2 billion players across the globe. That's down 4,3% year-on-year. 
Initially thinking that the immense lockdown-fuelled growth of the pandemic years of 2020 and 2021 would bring a record-breaking revenue of $200 billion for the first time ever, it now seems that 2022 was a 'corrective year'. 
Mobile takes a hit
Mobile will take the biggest hit this year with revenues declining faster than other segments. It's expected that the mobile games market will generate $92.2 billion in 2022, down -6.4% year on year. More than PC and console gaming, spending on mobile games seems to be  affected by the recession's impact on people's disposable income. Mobile's lower barrier to entry is also a lower barrier to exit it seems.
Console gaming will also see a -4.2% decline in spending year on year due to fewer releases, whereas PC gaming is not as hit-driven as console gaming and will see slight year-on-year growth (+0.5%) this year.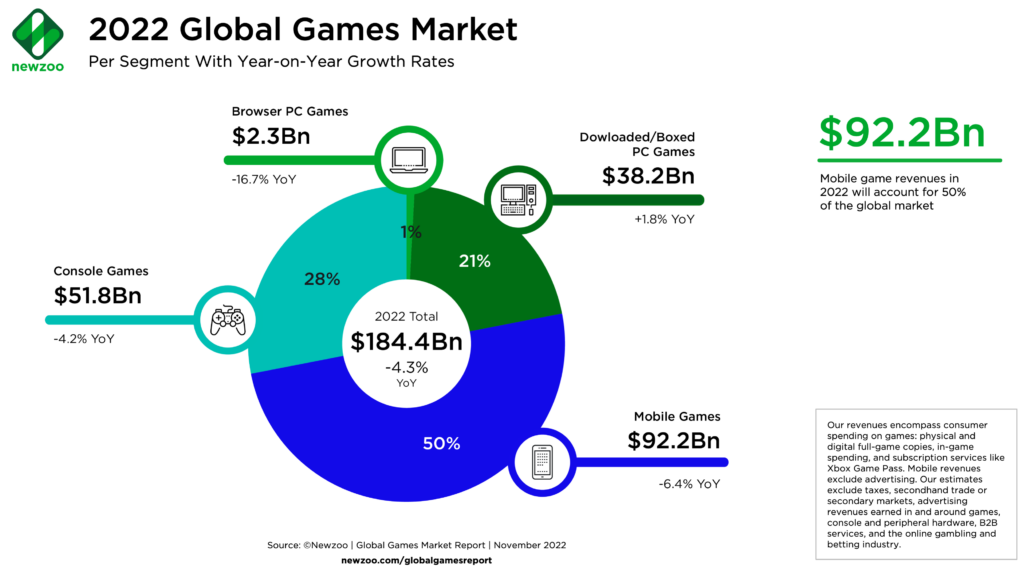 Cloud gaming is one of the bright spots in this year's market. Newzoo forecasts that over 30 million paying users will spend a combined $2.4 billion on cloud gaming services—and games played via the cloud—in 2022. They expect these revenues to grow to $8.2 billion by 2025.
VR gaming is doing great as well. Growth has continued even after 2020's resurgence. The active VR install base is growing faster than ever—from 27.7 million this year to 46.0 million by the end of 2024. Meanwhile, yearly VR game revenues are also due to rise, from $1.8 billion this year to an estimated $3.2 billion by 2024.
While blockchain games and game-related NFTs experienced a spectacular 2021, the severe correction in the crypto market and fears of a global recession have led to public interest and coin valuations substantially waning throughout 2022.
Top 10 PC/Console games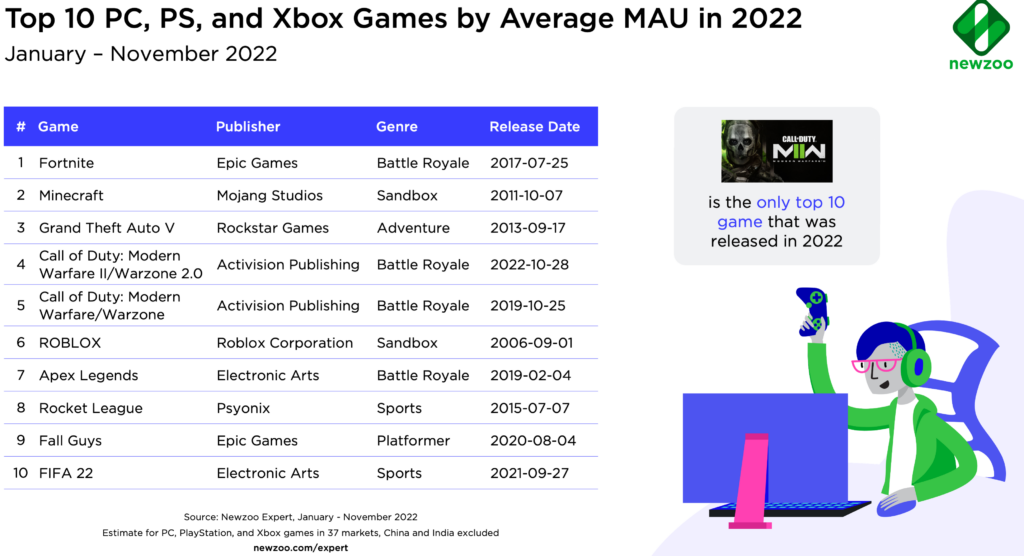 Of the top 10 games by average monthly active user (MAU), only one was released in 2022: Call of Duty: Modern Warfare II, which was also packaged with the 2.0 release of Call of Duty's battle royale mode Warzone. Only three entries this year weren't featured in last year's top 10, with Fall Guys and FIFA 22 being the other two.
The fact that the list has seven repeat entries isn't shocking. After all, these are live services games designed to retain players and keep them engaged, as opposed to premium, pay-to-play titles where the developer also wants to incentivize players to buy their next release.
Future is bright
Looking ahead, Newzoo believes the future is bright. In 2025:
• The global games market will generate revenues of $211.2 billion.
• Mobile games alone will generate $103.1 billion via consumer spending.
• Cloud gaming will generate $8.2 billion.
• VR gaming will generate $3.2 billion by 2024.