In the run-up to Christmas, Steam Data Suite shares some clever insights into the inner workings of PC's biggest distribution platform Steam as well as some handy tips and tricks to get the most out of it. Check out the rest of the tips here. 
New tags in 2022
Game trends keep shifting. To keep up, the available tags on Steam keep evolving, 2022 not being an exception. Welcome 14 new tags! Sometimes based on a big game like Musou or emergence of a new genre like Hobby sims, these tags usually fill an obvious gap. New tags are not necessarily very popular, but if they fit your niche they could help your discoverability.
Most of them, 11 to be exact, describe a genre. Sports and board game genres were Volleyball, Cricket, Snooker, Rugby, Mahjong and Tile-Matching. Although the latter is a bit ambiguous, which makes for an interesting category page. Other genre tags were Shop Keeper, Coding, Hobby sim, Job Simulator and Musou.
For themes & moods we gained Jump Scare, Wholesome and Cozy. The last two tags mentioned saw a strong uptake, with over 300 games associated with each.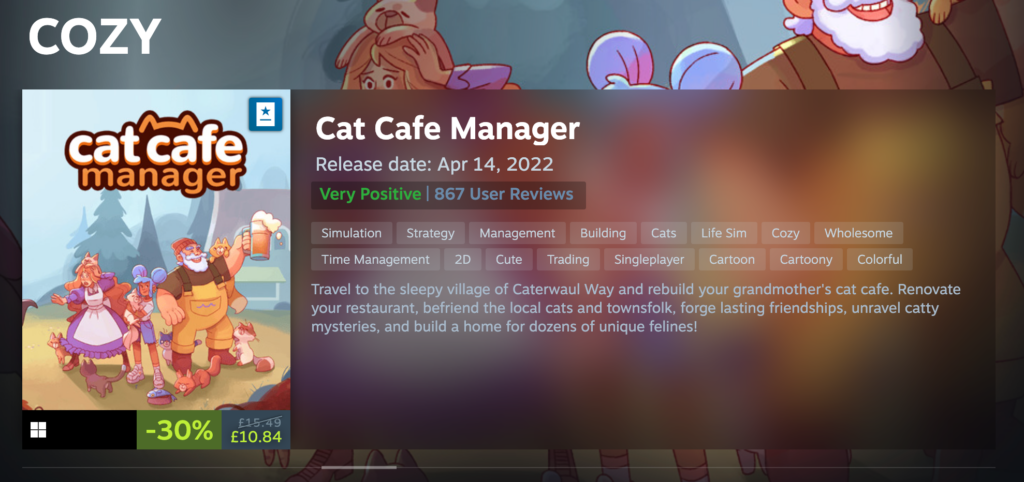 Gross to net price factors
Looking at 400k transactions in August 2022 Steam Data Suite found that the average share of a Steam price that goes to taxes is 15.58%. Depending on your specific audience this can differ, but it's a handy number to calculate with when you're looking to set your price point.
Dissecting the listed price further you can say that at a 30% revenue share, 25.33% of the gross price goes to Steam, since the 30% is calculated based on net revenue. That leaves 59.09% of the listed price to be paid out. So roughly;
Net = sales price x 0.84
Net net (payout) = sales price x 0.59
These calculations exclude F2P games. Both full price and discounted sales were included because the difference was minimal.
Calculating change
There's a few usual suspects when calculating percentages from absolute numbers. The father Christmas of them all, as far as we're concerned, helps you understand the relative growth between two data points, and should be included in everybody's mathematical toolbox.
This looks at the absolute change as part of the old value, and indicates the relative increase, or decrease in case the outcome is negative. The result will be a ratio where 1 means 100%. This connects perfectly with how spreadsheets store percentages, but in other cases you may want to multiply the outcome with 100% to make the ratio into a proper percentage. Do remember to put in the brackets to make sure the subtraction happens before the division.