Author: Dr. Paul Tapper, founder and CEO of Fruity Systems. Fruity Systems is a self-funded indie game studio working on Space Salvage, a darkly comic 80's sci-fi, VR game for the Meta Quest 2 headset - involving space flight, combat and refuse collection
Early on in development of Space Salvage we created a one-level free demo of the core gameplay. The initial motivation for this was to use it as a marketing tool, increasing our audience pre-launch of the full game. Our demo has been live for over a year now, and we have secured publisher funding to complete the development of the game.
The demo has proven to be the gift that has kept on giving to us in many ways that we didn't anticipate at the beginning.
Reality check / Wake-up call
We used the demo extensively during conventions EGX 2021, Gamescom 2022 and EGX 2022, and learnt A LOT for standing next to new players trying to play our game, especially the first time. There's no better reality check / wake-up call than spending all day watching members of the public not figure out how to grab the flight stick right at the start of your demo, over and over again. But, also, once someone had managed to play the demo, it's great to hear their feedback. It's really motivating and encouraging to hear about what they did like.
As well as use at conventions, we have the demo live on SideQuest VR, which has been download approx 45k times at time of writing (which is a pretty decent number in the VR games world). We added hotlinks within the demo, which are click-able within the headset, linking out to our community Discord server and a form to join our mailing list, which has resulted in a steadily growing audience base.
Interesting results
We also added a feedback form for players to go to after they had completed the level in the demo which asked a bunch of qualitative questions, enabling us to identify areas of the game which needed the most work, and which areas were already working well.
In addition the form collects data on how the player first heard about Space Salvage, with
interesting results. A lot of the players identify SideQuest VR (which is not a surprise), but
the next largest group came from TikTok which was unexpected. TikTok was a surprise
because, although we were and are posting content on our TikTok account, we weren't really making much special effort to appeal to that medium, and we felt we didn't understand it very well.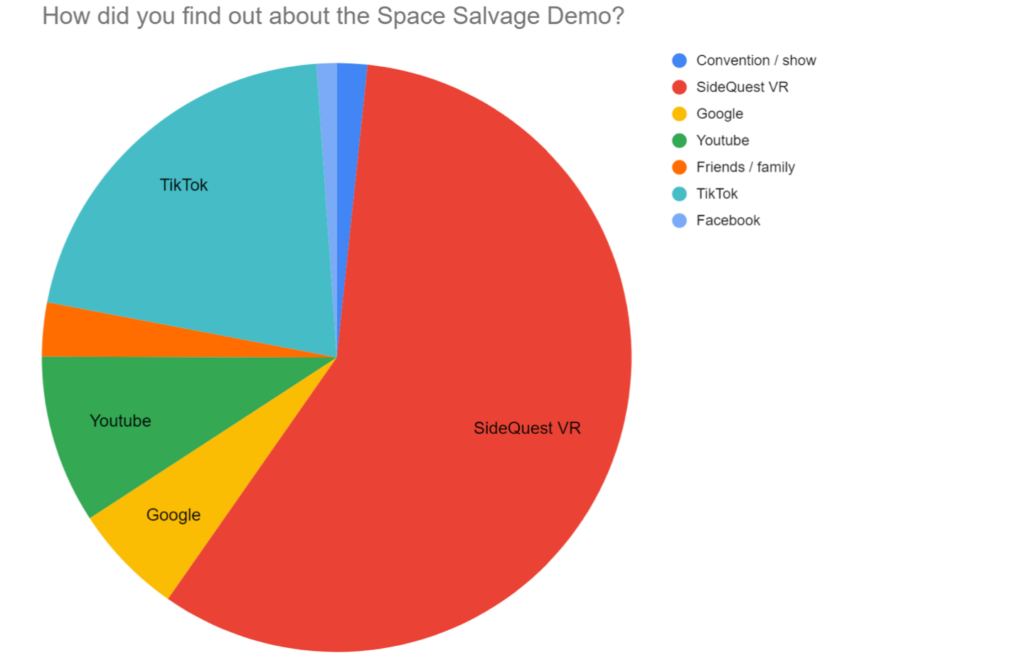 TikTok content feels like it's aiming at short attention spans, but this data is telling
us about the most engaged parts of our audience, who have downloaded the demo, played
it, and then bothered to fill in the feedback form, so it felt surprising that TikTok traffic was
that engaged.
We also included a free text entry which resulted in some cool game design ideas, some of which we plan to include, and a lot of crazy stuff, which at least made us chuckle. Additionally we asked people to leave a rating in the Quest Store, which has increased our rate of, and average score ratings.
Public evidence
On top of all this, the demo has effectively been a prolonged beta test, which gives us confidence in the stability of our code base, and consistent frame rates (as monitored by the Oculus Developer Dashboard). Also, by collecting in-game metrics (using Unity Game Services) we can see how far players progress through the level, and get a feel for if there are particular places that people get stuck on.
The publicly visible metrics on SideQuest VR for number of downloads, and also the number or ratings and overall average rating, have provided public evidence that the demo is 'successful', which I think has helped a few times in conversations to provide proof that we've made something which is at least interesting.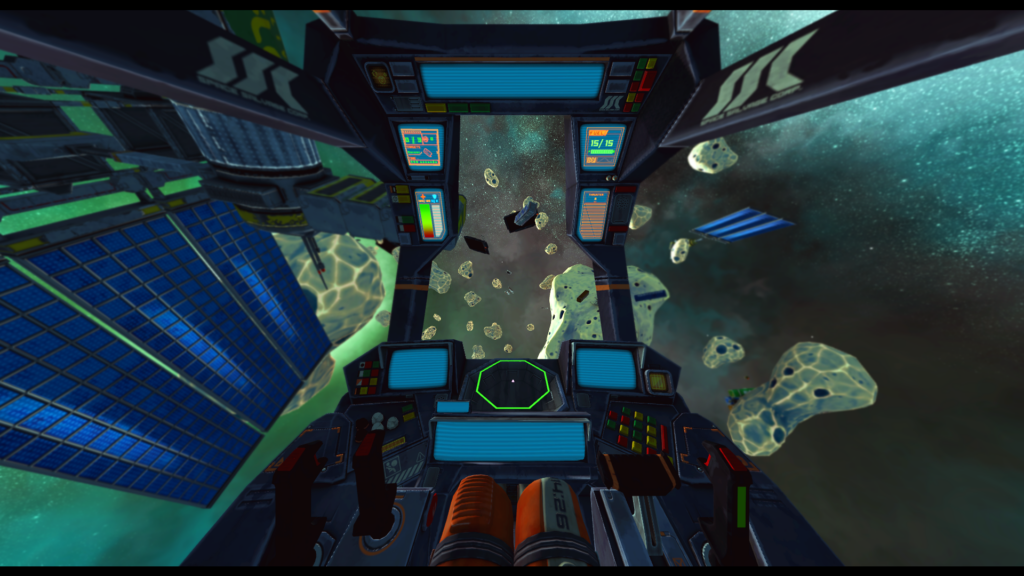 The demo also provides an easily accessible "vertical slice" which we have used when pitching to publishers, and talking to hardware manufacturers. In the end, I believe the demo was absolutely key to us securing a publishing deal, and I look forward to imagining other ways we can make use of it in the future.