Top image: PUBG Chinese New Year update – via Tencent.
China's game market is the biggest in the world, accounting for almost a quarter of all game revenues through consumer spending. However, the Chinese government has a firm grip on the market and upholds strict rules and regulations, both on companies and consumers. 
A new report from Newzoo looks at the situation in the Chinese Games market. We learn that the Chinese government started regulating the market in early 2000s. It introduced a law requiring all online games with monetization to acquire licenses to operate. It's the start of a process in which the rules to comply became stricter and often more unclear. 
Freeze license approval
As recent as April 2021 saw the strictest version of the rules, outlining that only games that fit certain criteria can be approved. These criteria include original game design, product and game quality, but also whether the game fits the societal value of the government and if the content educates players on China's culture and science.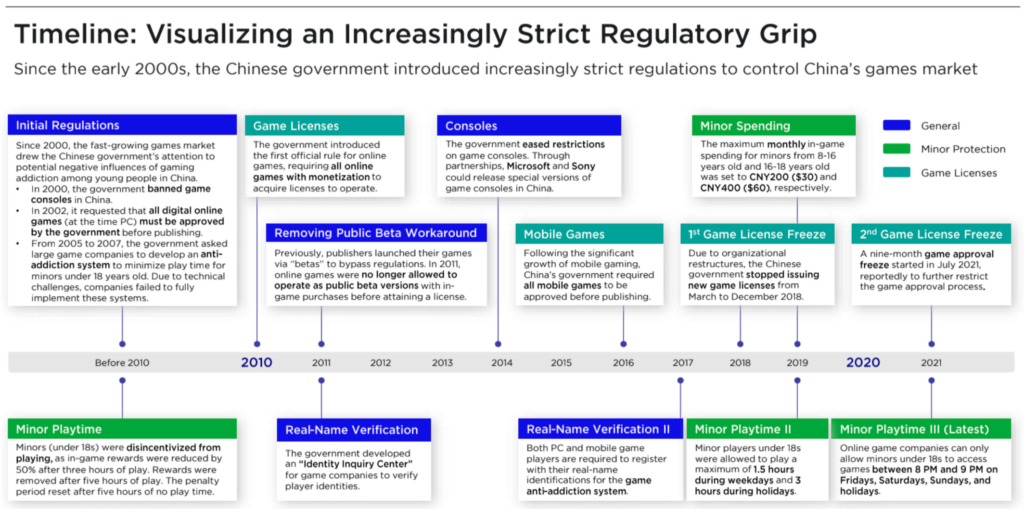 Acquiring a game license is a slow process, and the government can just freeze license approvals for a long period of time. It did so in 2018 and 2021 and in that time 14,000 game studios reportedly ceased operations in China, according to data service company Tianyacha. However, the government issued game licenses for NetEase and Tencent in Q3 (the first since the freeze of August 2021), which could signal the restart of licensing.
Looking for loopholes
Because of the restrictions, many publishers actively search for loopholes to get their games launched in China. Grey markets are prevalent across mobile, PC, and console. One loophole is that games that are purely monetized via in-game advertisements do not need to go through the approval process, until regulators catch up, at least. Data from Airnow shows that 7 of China's top 24 new games by downloads in 2021 are in-app advertising games without game licenses.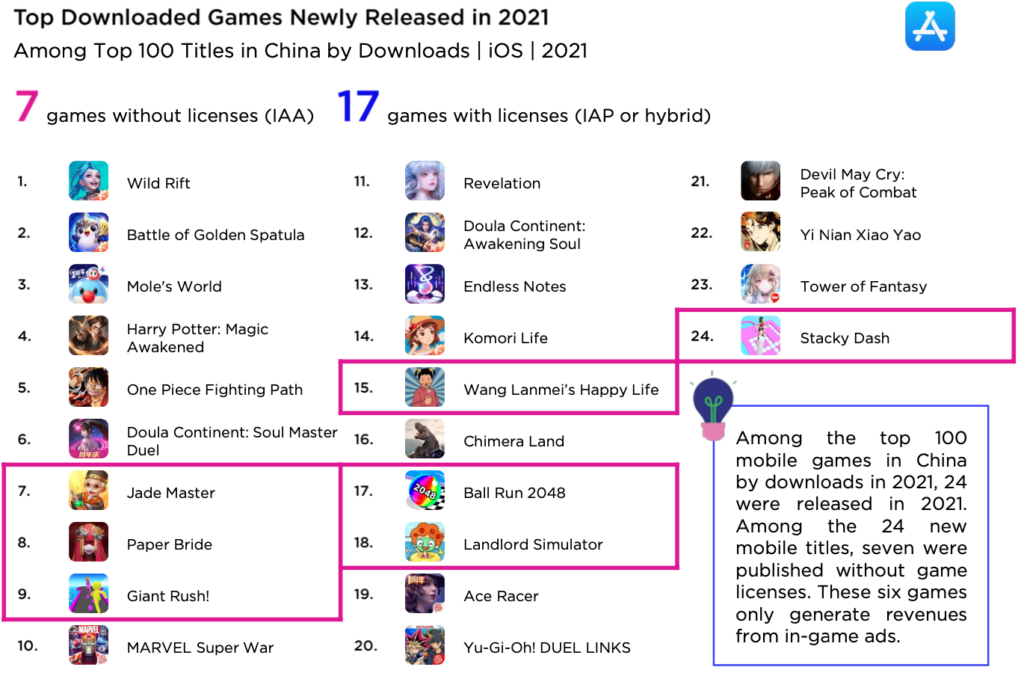 For PC games, Steam remains the largest grey market in China. Chinese players can still access games on Steam via game accelerators or VPNs. Since 2018, multiple games developed by Chinese companies achievied massive success on Steam.
Console manufacturers need to partner with local companies in China to release special Chinese console editions. Many Chinese players still acquire unapproved games via backdoors though.
Spiritual Opium
The Chinese government also has restrictions and regulations for consumers, mostly aimed at minors (under 18). These rules are in place to guard the young from what is labeled as 'spiritual opium'. Restricting play time should result in less problematic behavior like game addiction.
To that end, since August 2021, to officially play a game in China players must fill in real-name identification to play games. Minors' play time is limited to only three hours per week and the under 18s are banned from watching live streams after 10 pm and tipping streamers.
Global audience
With the regulatory pressure mounting, many Chinese publishers are diversifying their revenues to new markets, genres, and platforms. Through investments and acquisitions Chinese game companies cater increasingly for a global audience. Especially in the West, the opportunity for Chinese companies to enter PC and console markets with ports of their mobile games is a valid option.
China's gaming regulations are often strict and unclear, but publishers and gamers alike have found, and will continue to find, workarounds to play and release games. Newzoo still believes in the future growth of China's gaming market despite the uncertainty.