Last year the top 10 public game companies generated a combined $126 billion, a year on-year growth of +10.2%.  According to research by Newzoo the total revenues generated by the games market in 2021 was $192.7 billion. That means that about 65% of all revenues are generated by only 10 companies. 
Joost van Dreunen, lecturer at NYU Stern, advisor and investor, sees the disproportional revenue distribution in the games industry as part of a larger trend. "It's a fundamental principle in all entertainment markets. Winners are huge. That means game publishers that manage to deliver not one, but several blockbuster franchises generally capture most of the market value and consumer spending. Which gives them a lot of market share."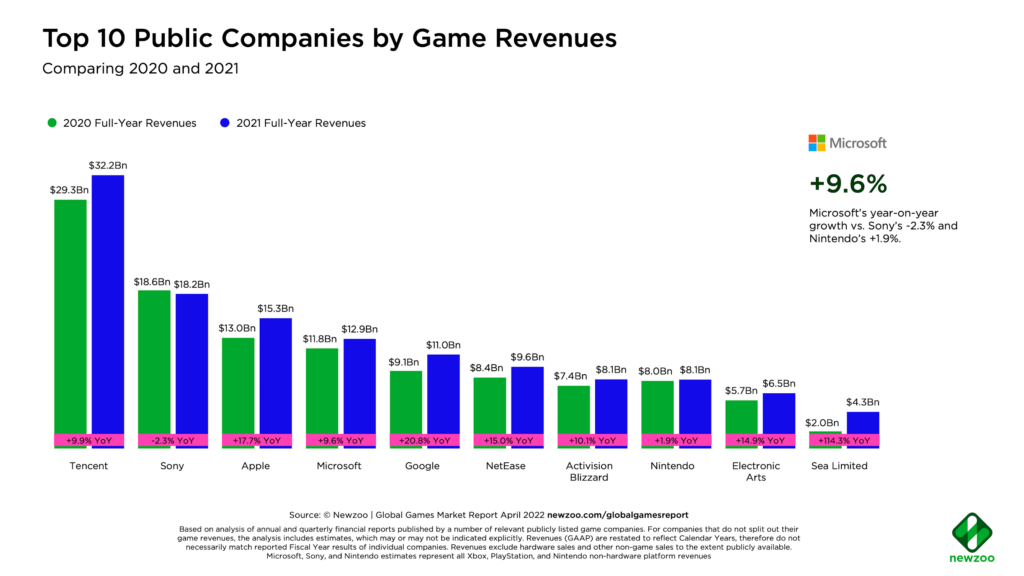 Juggernaut today, loser tomorrow
Tencent remains the absolute number 1 games company by revenues by a huge  margin. The Chinese tech giant's game revenues grew +9.9% year on year to $32.2 billion in 2021. The key live-service franchises, like Honor of Kings and Clash Royale, were the biggest drivers. Most of Tencent's growth came from international games, which Newzoo expects to continue into 2022 with the opening of a new Western publishing division, Level Infinite, in late Q4. 
To give Tencent's dominance some historic perspective, Van Dreunen argues that it has always been just a handful of companies that take the lion's share. "It is important to remember that the juggernauts of today can be the losers of tomorrow. A decade ago, firms like Ubisoft, Square Enix, and Bandai Namco were among the top 10 game makers, but today those firms rank in the 20 – 30 range."
More money at the top
The start of 2022 saw two of gaming's biggest-ever public-company acquisitions. Take-Two is in the process of acquiring Zynga, while Microsoft is doing the same for Activision Blizzard. If these acquisitions don't get blocked they will have a noticeable impact on the top 10 in the coming years.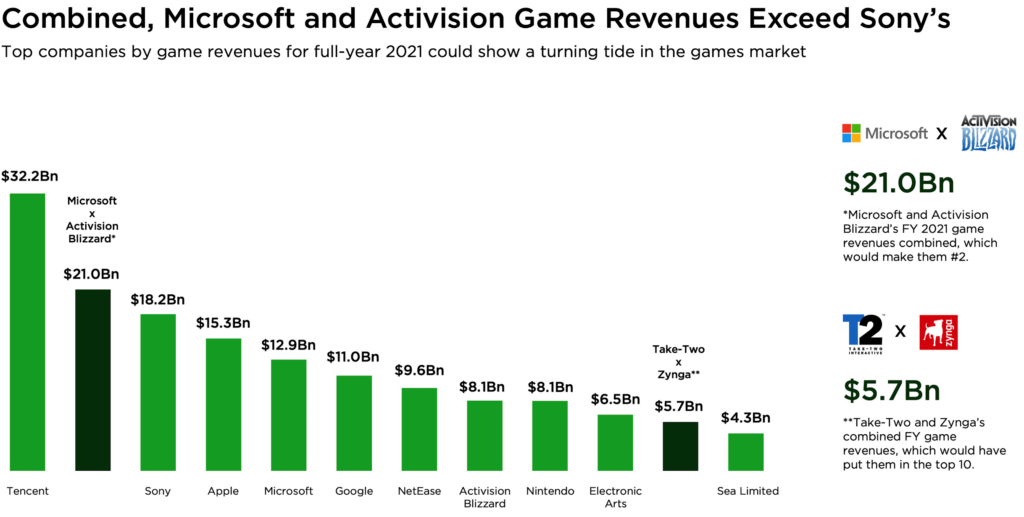 Because the games industry has become mainstream, it takes more money to participate at the top, according to Van Dreunen. "Consolidation trends tend to fluctuate. It is true that parts of the industry are becoming more concentrated, especially in the console market. The type of interactive experiences that are popular (like cross-category entertainment) require large budgets and are capital-intensive."
So where does that leave the smaller companies? Van Dreunen: "Small and medium-sized developers will have a more difficult time, but thrive in newly emerging markets (e.g., VR/AR, blockchain, Metaverse) where large apex predators are still absent."