Making games is hard. No matter if you do it by yourself or as part of a team, it can be quite a stressful endeavour. So, to undertake such a project as husband and wife, working from home during the pandemic, you better be aware of the possible pitfalls.
Kelly and James Howard have been together for more than 10 years, so when they decided to start a studio, they felt confident they could make it work. And they did! Purple Yonder will release their debut VR game Little Cities tomorrow for Meta Quest 1 and 2. 
Kelly Howard immediately saw the potential when her husband James showed her an early prototype of the game he was working on in his spare time. It only had the essential elements in place, but she quickly started looking into how they could work together to build out the game. "I approached the folks at the UK Games Fund for early phase support. They loved our project and awarded us a grant which helped us to kickstart the studio." 
First time colleagues
And so they started the indie studio Purple Yonder. "Our relationship spans more than a decade, but this is the first time we've worked together", says Kelly. Their debut game Little Cities is very much a co-production. James did all of the programming on the game. He was responsible for designing the simulation algorithms and the systemic gameplay aspects. Kelly worked on the UI/UX elements, level design and the functions of each of the different buildings. A small group of contractors worked on artwork and audio. Kelly: "This turned out to be a great way to divide the work as it played to both of our strengths!"
"Little Cities is a very personal project for us, not only because we're married, but because the entire game was developed from home", says Kelly. The majority of the game was made during the pandemic, so during periods of lockdown there was no way of escaping the work. But the Howards stayed positive: "Yes, work and life does blend together but we've invested a lot of our love into this game so naturally, it all blends together."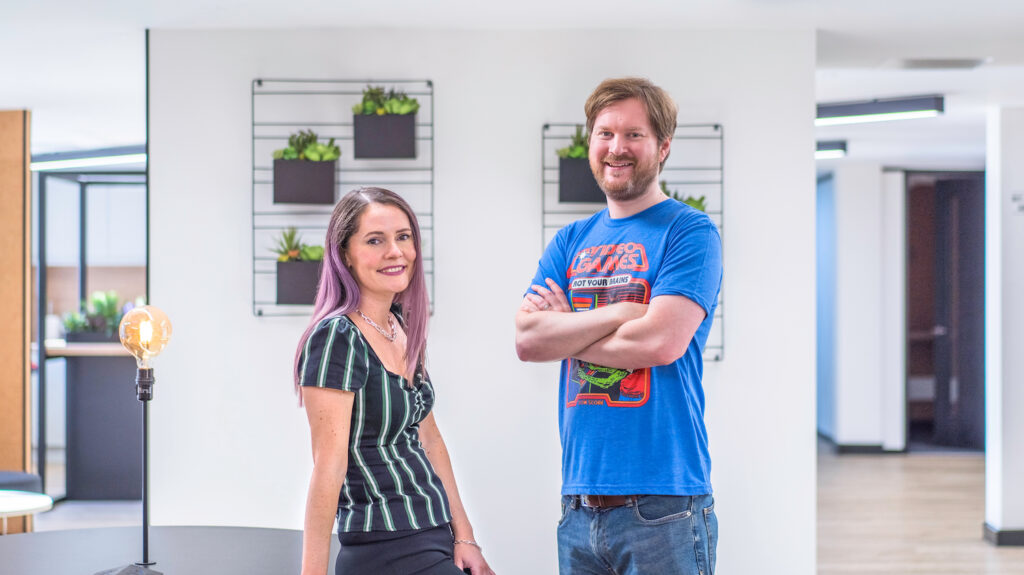 Cozy, positive space
The pandemic inadvertently influenced the design of the game as well. Kelly: "Our vision for Little Cities was to be a relaxing escape from reality. We wanted the game to be a cozy, positive space, set on idyllic islands that were reminiscent of a picturesque holiday."
The idea behind Little Cities was to explore how other genres can be adapted to virtual reality and bring something new to the platform. "We're both big fans of city builders and it was an interesting challenge to build a game like this from the ground up specifically for VR. James had several years of experience developing for VR and that helped us to really hit the ground running and to make the most of the Quest and Quest 2 as we got further into the game's development", explains Kelly.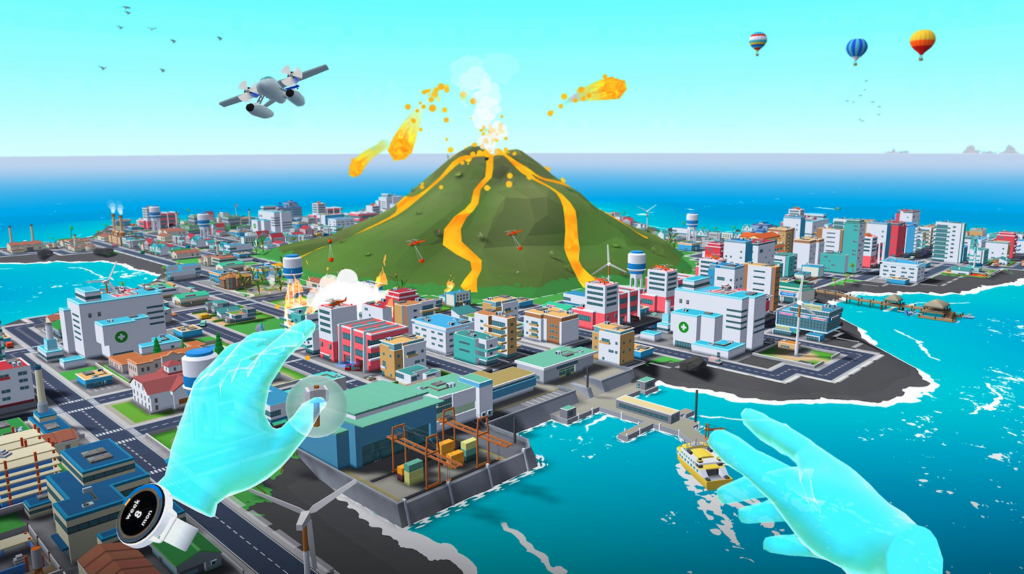 Future plans
With the release of their debut game coming up, it's too early to talk about the future plans of Purple Yonder. "We were fortunate enough to partner with nDreams and be the first title that's published via their third-party publishing initiative", says Kelly. "Let's concentrate on Little Cities first. We planned lots of post-launch content. Next month, we'll bring hand tracking to the game which will really enhance the immersion of creating your city. And much more soon."
Looking back on the development of Little Cities, the experience has been mostly positive for the couple. "We created a game together and that creative process is very rewarding! As a small team there were some difficult moments, but we worked together to help each other out. Also having someone that knows you really well and understands your needs helps a lot! The only downside is that it is hard to switch off completely from work."