Now that the dust finally settled on what we -without exaggeration- can call Super Size January, let's take a look at how these high profile deals and the subsequent consolidation will affect the industry.
To recap the biggest deals in the action packed start of the year: Take-Two Interactive buys Zynga for $12.7 billion, Microsoft spends a record-breaking $68.7 billion on Activision Blizzard and this week, PlayStation announced it buys Bungie for $3.6 billion. All the champagne involved in successfully closing these deals made this a particularly tough Dry January.
Together, these three deals account for at least $85 billion in games mergers & acquisitions (M&A) activity. This means that the games industry already surpassed 2021's annual M&A total in the first month of 2022 alone! (There were 299 M&A deals announced in 2021, worth $85 billion and that was already a record breaking year.)
Joost van Dreunen, lecturer at NYU Stern, advisor and investor, conveniently sums up the reasons behind all three deals: "Take-Two acquired Zynga to expand its footprint in mobile and to gain access to a more casual audience. And, maybe CEO Zelnick is assembling a springboard into media mogul-dom. Next, Microsoft acquired Activision Blizzard to bolster its digital service offerings like xCloud and Game Pass and instantly redefined the boundaries of the global games market. And, as for Sony, it has been on an acquisition spree to bolster its digital offering and compete with Microsoft's Game Pass service."
He continues: "According to its most recent earnings, PlayStation relies on services for two-thirds of its income. Accordingly, the Bungie acquisition sets the company up for a strong offering when it launches its revamped gaming subscription in March, and insulates it from current supply chain issues that have made it virtually impossible for average consumers to get their hands on a PS5."
Each of the acquisitions has something in common: content and diversifying revenue streams are at the forefront.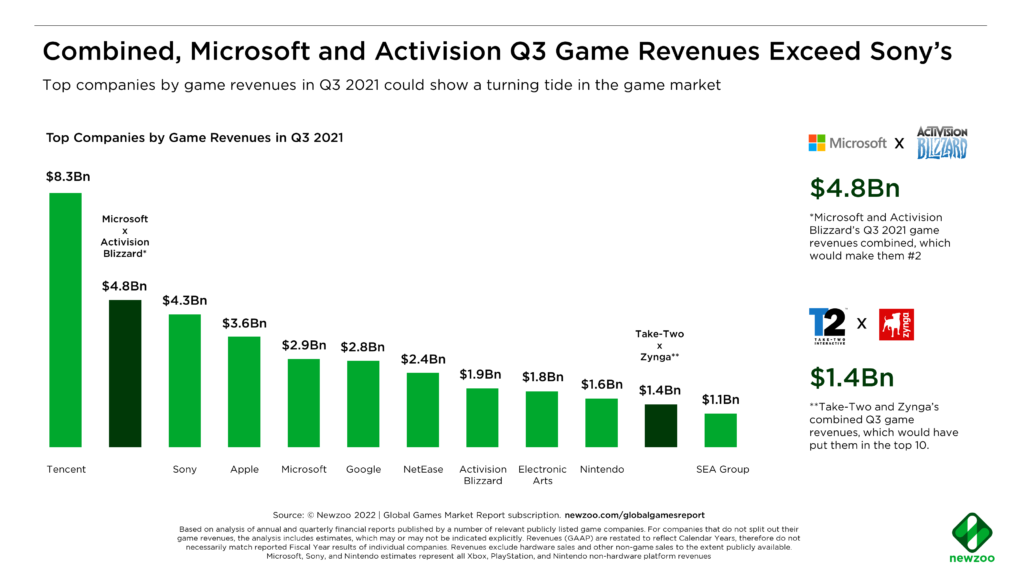 According to Newzoo, if we look at Q3 2021's top 10 companies by game revenues we see that Sony was the #2 company with around $4.3 billion (waaaay behind Tencent's $8.3 billion), while Microsoft was #4 with $2.9 billion. However, if we combine Activision Blizzard's $1.9 billion with Microsoft's total, it would have surpassed Sony as #2 with $4.8 billion.
Microsoft
But Microsoft's pending Activision Blizzard deal goes far beyond gaining an extra revenue stream. While it has long found success in the enterprise sector, Microsoft has sometimes faced challenges with its consumer-facing products, losing out to companies like Google (search), Apple and Samsung (mobile hardware), and Amazon (game live streaming).
Xbox is the clear market leader in game subscriptions. The company wants to strengthen its lead as it faces increasing competition from other tech giants. Cloud and streaming also appear to be key opportunities that Microsoft wants to capture to create a full Xbox ecosystem that isn't constrained by hardware requirements. Microsoft is playing the long game, and game content and services are at the heart of it.
Take-Two
Take-Two's acquisition of Zynga will significantly boost the company's revenues. Together, both company's revenues would be enough to push Take-Two into Q3's top 10 game companies by revenue. The Zynga acquisition makes sense for Take-Two. In terms of consumer spending, mobile game revenues exceed console and PC combined.
Therefore, Take-Two's goals here are obvious: to diversify its revenue streams and grow its  presence in gaming's most lucrative segment. Zynga's mobile infrastructure, connections, and knowledge will help Take-Two bring its IP to mobile. Take-Two has sold more than 155 million copies of Grand Theft Auto V, so developing a mobile touchstone for the franchise is a smart strategy for Take-Two.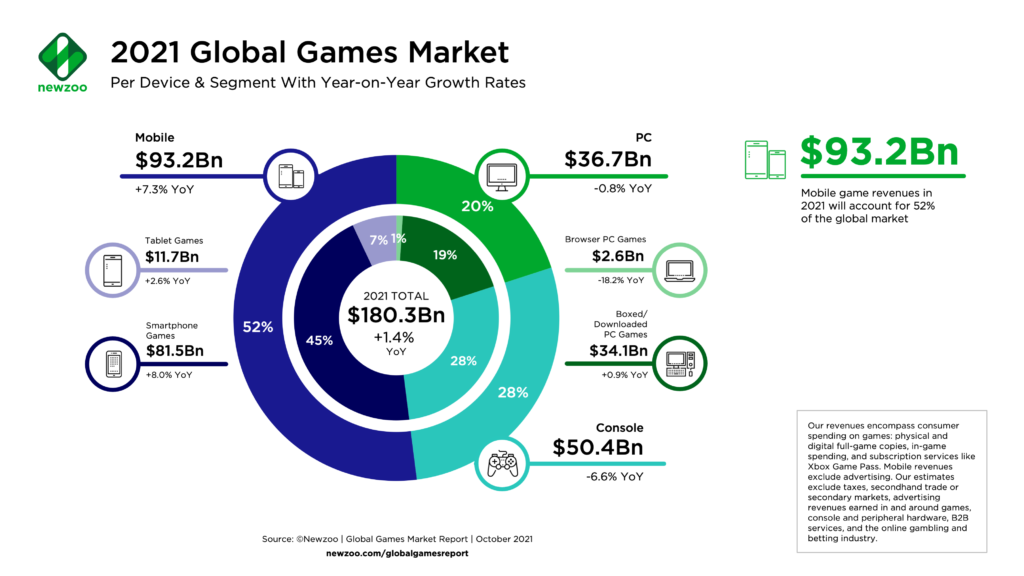 Sony
Buying Bungie contributes toward two goals Sony outlined last year to investors: developing more service-led content in their own ecosystem and expanding beyond consoles and onto different platforms.
Bungie could utilize Sony Pictures expertise to push its Destiny IP into film and movies. This also fits PlayStation's cross-media strategy. The fact that Bungie will remain an independent publisher and will release current and upcoming games on multiple platforms, aligns with Sony's multi-platform strategy.
Industry professionals
Van Dreunen adds an important side note:  "What doesn't get discussed much is the imminent shortage of talent in the industry. Headlines cover the IP and valuations, but humans are arguably an equally important component. The industry has grown four-fold but it takes time to become a seasoned dev. The games industry is increasingly cash-rich and talent-poor."
That's why Sony offers Bungie employees a $1.2 billion retention incentive plan. The bonus is aimed at keeping Bungie's current staff after the acquisition. Deferred payments are planned across multiple years following the buyout closure.
Newzoo thinks that the impact of the deals will ripple throughout the industry for years to come. "Services, revenue diversification, and consolidation are on the rise for the games market. Inflation, big tech's metaverse gold rush, and many other factors will only accelerate these trends further."