In October 2021, the world was introduced to the rather cute-looking, blue monster Huggy Wuggy in the survival horror game Poppy Playtime by MOB Games. When the character went viral it didn't take long for hypercasual game developers to try and get a piece of the action.
Huggy Wuggy and its bloody antics in Poppy Playtime generated millions of views on YouTube, Twitch and TikTok, winning over the hearts of adults and kids alike. Although the game isn't meant -or even suitable- for kids, the blue furry monster won over a young demographic. The setting of an abandoned toy factory where killer toys are out to get you, did the rest. Just as Squid Game before it, the mysterious lore and gory imagery proved irresistible.   
Squid Game
Earlier research into the Squid Game phenomenon revealed that if something goes viral, it's only a matter of time before it permeates other markets, including the mobile games industry. And especially hypercasual games. AppMagic drew a list of all apps featuring Huggy Wuggy in any way. In total there were 1935 apps released. Only 322 of them continue to generate downloads. 
The apps can be split into several categories: mods, tips, guides, wallpapers, fake calls, coloring books, drawings, walkthroughs, and games. The latter can be further divided into several sub-segments.
1) games inspired by Poppy Playtime, games in various genres where Huggy Wuggy is one of the main characters (hero games, hide & seek, and escape).
2) games inspired by well-known titles with the addition of Huggy Wuggy's character (Minecraft, FNF, Squid Game, Granny, Tiles Hop).
Data shows that the largest number of games released in one day was recorded on November 16, 2021—almost a month after the release of the original game Poppy Playtime. Hypercasual games are simple to both play and produce, and their speed of development is high. They mostly have quick-timed levels with very simple character controls, low digitalization and very basic 3D graphics. From January 10, 2022 the number of new titles released has steadily been approaching 0.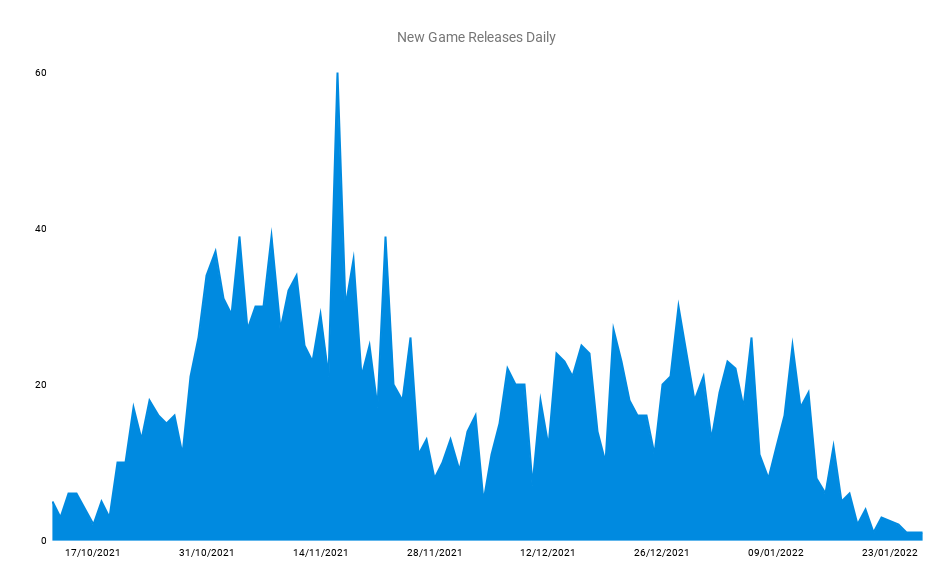 So, apparently releasing new games featuring Huggy Wuggy is not that hot anymore, but does that mean the games are no longer popular? It turns out that they still are! January 1st, 2022 saw the largest number of cumulative downloads of hypercasual games featuring Huggy Wuggy. It seems players still care for the little monster.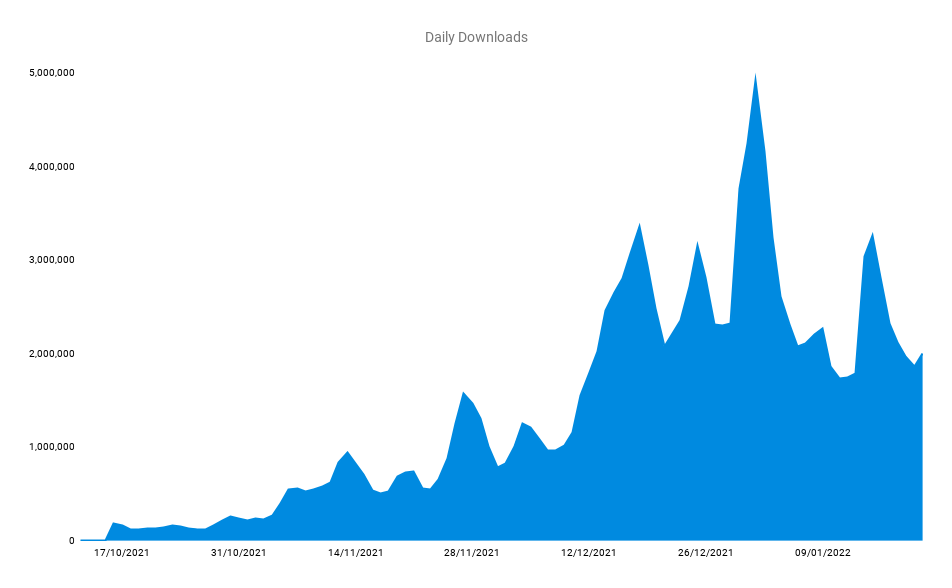 So, let's find out which games are downloaded the most. Check the App Comparison Dashboard to see how the 5 most popular games are doing.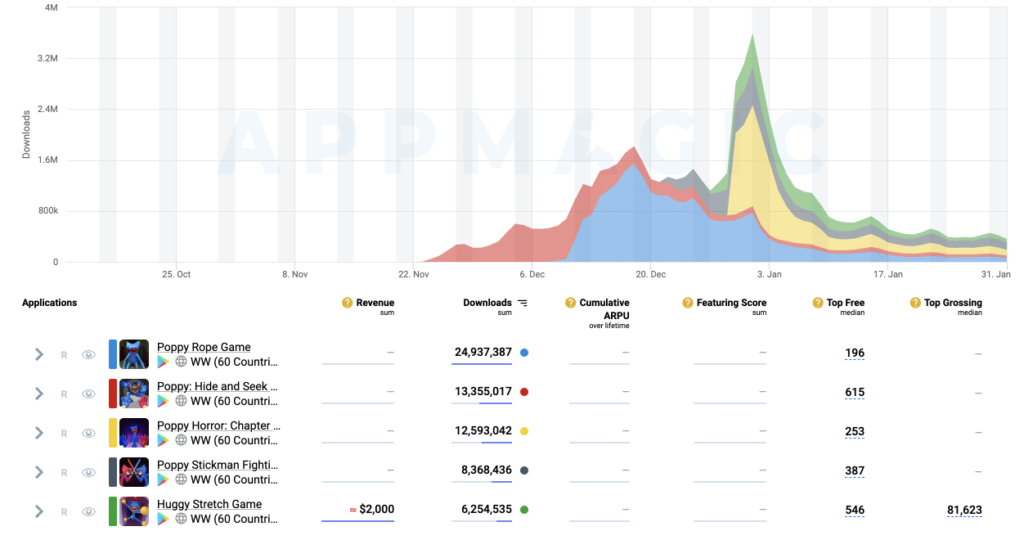 As previously demonstrated in the Squid Game market madness overview, quite a few hypercasual game developers manage to ride the hype wave of a global media phenomena rather successfully. Apart from the obvious lack of creativity and possible copyright infringement, it seems like this approach is actually quite justified and, given the right conditions and circumstances, certainly worth considering.
The top 5 games
1) Poppy Rope Game by Zego Global Publishing, 24.9M downloads. A GTA-style open world and stylized 3D graphics, where the user plays as a character inspired by Huggy Wuggy with several superpowers.
2) Poppy: Hide and Seek Playtime by Zego Global Publishing, 13M downloads. A simple arcade game with low-detail 3D graphics, where the player's main goal is to survive and not get caught by Huggy Wuggy. Or players can switch roles and play as the furry monster itself.
3) Poppy Horror: Chapter One created by ABI Global LTD, 12.59M downloads since its release on January 4 2022. A first-person adventure with players solving puzzles in order to escape the abandoned factory where Huggy Wuggy is lurking.
4) Poppy Stickman Fighting developed (again!) by Zego Global Publishing with 8M downloads. An arcade where Huggy Wuggy fights various superheroes with different weapons. The graphics are simple and the levels are small.
5) Huggy Stretch Game by Azura Global, 6M downloads. A hypercasual puzzle with 2D graphics in which Huggy Wuggy tries to reach his destination by stretching his limbs and working around different obstacles.