Hold on to your vintage game collection as some games have the potential to rake in the big bucks later. It helps if the games are in mint condition and still wrapped in the original seal. Oh and first in a series. Like the first ever copy of EA's 1990 John Madden Football for the Sega Genesis that sold for $480,000 this weekend, setting a world record for the most ever paid for a sports video game.
The success of the first Madden game ushered in a new wave of licensed sports games, like NHL and FIFA. For more than three decades, the Madden franchise has generated more than $7 billion in revenue, according to the New York Times. The record breaking copy belonged to John Madden himself, as noted by third-party authentication service Wata Games, which gave it a 9.2 A+ rating. (On a side note, Wata Games came under fire last year when one of its founders was accused of running a side business on eBay selling Wata-rated Atari 2600 games.)
First Xbox game over $100.000
More games were sold for groundbreaking prices during Heritage Auctions' Video Games Signature Auction. In total 13 lots topped the $100,000 mark. Among them was Bungie's 2001 Halo: Combat Evolved which became the first Xbox game ever to reach six figures when it sold for $108,000. The box has 'Not for resale' printed on the front and was handed out only to employees of Microsoft, developer Bungie and to a select few game stores as a promotional disc.
Sonic & Mario making money
Also enjoying exceptional popularity was Sega's 1991 Sonic the Hedgehog which drew 34 bids before finishing at $240,000. This particular version is a factory sealed early production copy. Sonic's old rival Mario did quite good as well. The 1985 NES game Super Mario Bros. sold for $186,000. Why? Well, 'the box bears a yellow 'Nintendo Products' sticker that features the Nintendo service hotline number and shows the exact date of purchase: January 11, 1992. This copy is from the last production run of the game, as indicated by the presence of the registered trademark symbol by the oval seal of quality'. That's why…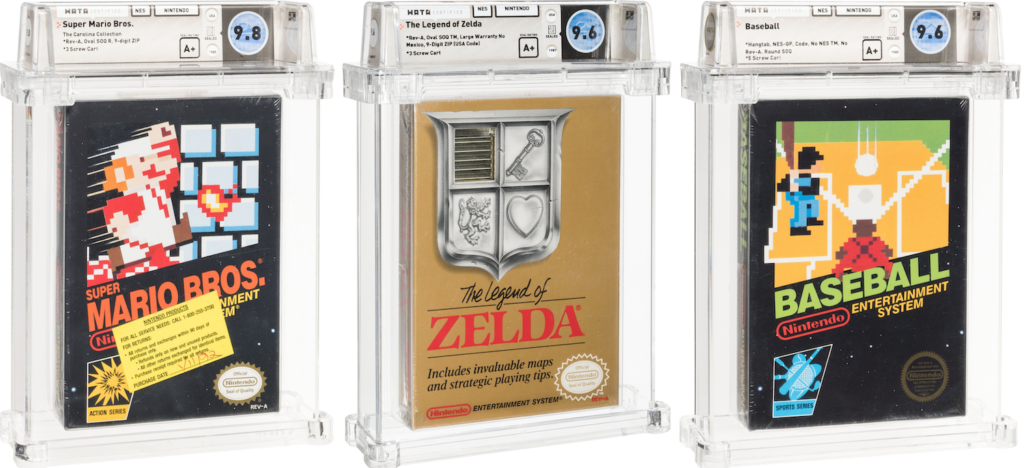 Other games that were sold for crazy amounts of money: