Top image: Genshin Impact
The biggest genre on mobile, in terms of revenues, are Role Playing Games (RPG). According to the Mobile Game Genre Report: Role-Playing Games by Newzoo and Pangle, RPGs generated $18,5 billion in revenues in 2020. That's 21.3% of all mobile game revenues.
While the genre is gaining popularity in the West (mainly on pc and console though), it's notably more popular and influential in Eastern Asia. Over 70% of worldwide mobile RPG revenue comes from just three countries: China, Japan, and South Korea. That's a cool $13,3 billion, with China alone generating an impressive $7.8 billion. RPGs on mobile now account for more RPG revenues than any other gaming platform.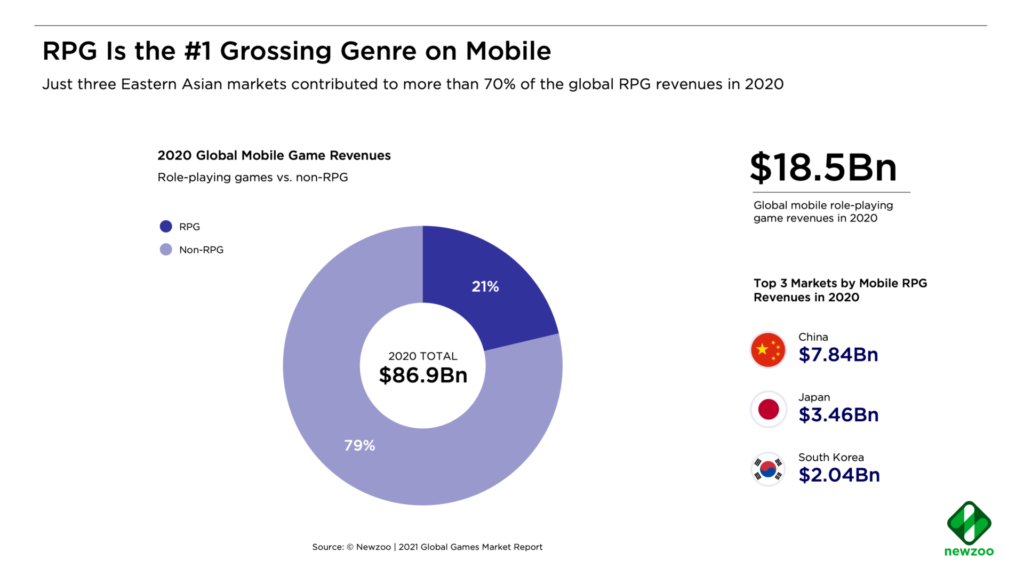 The reasons why mobile RPGs are so popular and lucrative according to Newzoo Consumer Insights come down to player preferences and a keen strategy of regular content updates, live operations like in-game events and brand collaborations and in-app purchases (IAP). Earlier research in Japan already showed that RPGs are the genre of choice among all platforms, breaking with the worldwide trend of shooters as the number 1 genre.
Monetisation strategy
IAPs were the most important revenue stream for RPGs. The report names Chinese RPG Genshin Impact as a prime example of having an effective monetisation strategy with regular new events and limited-time gacha pools (random draw from pool of characters for in-game currencies). But RPG players appear to be open to other types of monetisation as well, most notably in-app advertising. As long as the video's and native ads don't break the immersion of the gaming experience, the vast majority of mobile RPG players (73%) say they accept in-game ads if it helps them get in-game currency or items for free.