Top image: Final Fantasy XVI
Japan is the third-biggest market in the world behind China and the US with revenues of $22.1 billion in 2021. But it's wildly different from any other market in the world. Understanding the unique taste of the 75.6 million gamers in the country is vital for success in that market
Most popular
So what do you need to know when trying to break into the Japanese market? According to new consumer insight research by Newzoo the number one genre across all platforms is RPGs. Anyone who knows anything about Japan may not be surprised. Since the 80s, RPGs have been massively popular in the country. In fact, new releases of beloved franchises like Final Fantasy, Dragon Quest, and Pokémon are seen as cultural events in the market.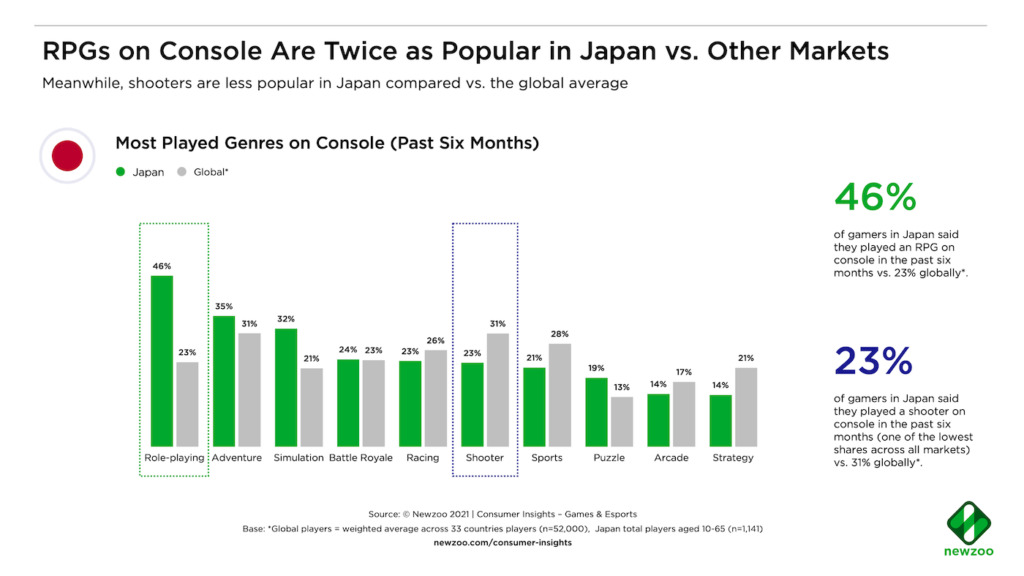 The most popular genre worldwide is shooters. In Japan however, gamers are quite indifferent to that genre, placing shooters at number 6 of most played genres on console. The console associated most with shooters, the Xbox, is less successful in Japan than PlayStation and especially Nintendo Switch. The Switch has sold more than 22 million consoles in Japan which accounts for over a fifth of all Switches worldwide. The Switch has a massive library of popular single-player Japanese RPG franchises like Pokémon, Fire Emblem, Bravely Default and Octopath Traveler.
Single player
In terms of number of players and revenues, consoles come second to mobile. And RPGs are the most popular genre on mobile as well. Even the market's popular puzzle games—like Puzzle & Dragons—include core RPG mechanics. This explains why the data shows that Japan's gamers gravitate towards single-player titles.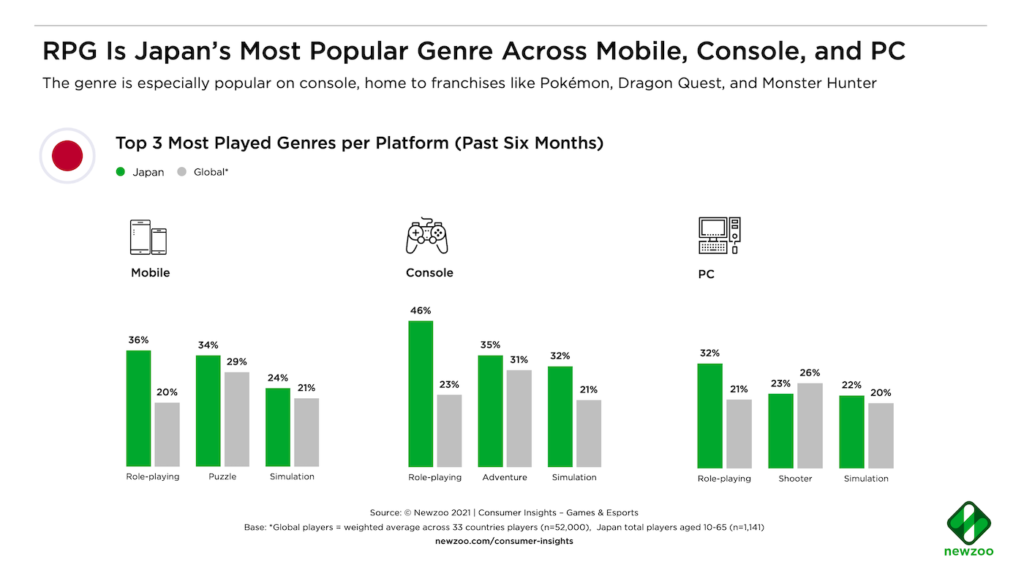 Less than half of respondents in Japan say multiplayer is one of the modes they play most on console and PC. Even less (below a third) chose multiplayer on mobile. These shares are far below the average across all 33 markets covered. Simply put, Japan's gamers are less motivated by competition and social factors and more motivated by exploration.