Top image by Freepik
In their latest report, Newzoo looks at how different generations engage with gaming. It will come as no surprise that across all age groups people play games, but there are some significant differences between the older and newer generations.
To make sure you're up to date with the terminology, here's a quick recap of the names the different generations go by. (Newzoo only covers ages 10 – 65 years old in this report.)
Gen Alpha (born 2010 or later / 10-13 y.o.)
Gen Z (born 1995-2009 / 14-28 y.o.)
Millennials (born 1981-1994/29-42 y.o.)
Gen X (born 1965-1980 / 43-58 y.o.)
Baby Boomers (born 1946-1964 / 59-65 y.o.)
With each passing generation, gaming becomes more popular. For Generation Alpha, video games are the number one source of entertainment, with 22% of their leisure time spent on gaming. Baby Boomers, in comparison, only allocate 11% of their spare time for gaming. Still, 40% of this group engages with games, and 43% consider themselves as game enthusiasts. That percentage jumps to 94% for Gen Alpha and 90% for Gen Z (with 93% and 88% engagement respectively).
Dedicated game console
Across every generation, mobile is the most used platform for playing games. Meanwhile, console and PC gaming are significantly popular among younger generations. Baby Boomers usually don't buy a dedicated game console. Only 5% of them play on all 3 platforms. Gen Z has the highest number of multi-platformers with 18%. Closely followed by Gen Z and Millennials (17%). Younger generations tend to be more used to hopping between different devices.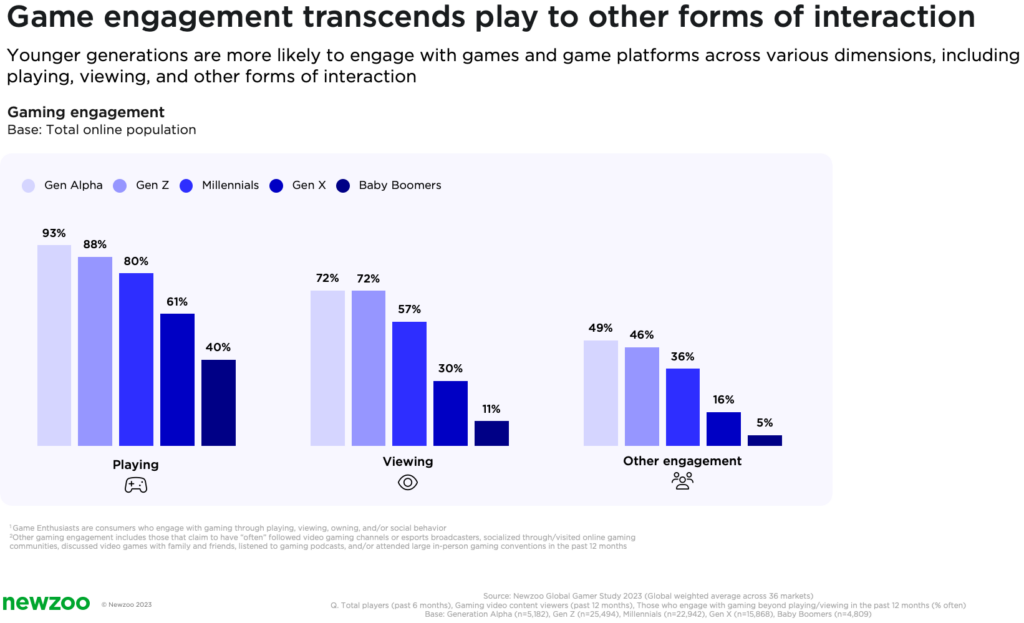 So, what kind of games is everyone playing? Different generations prefer different genres, so it seems. Older gamers tend to play more Puzzle and Match games, while Gen Alpha, Gen Z, and Millennials all lean towards Adventure titles most frequently. On average, younger generations play a wider number of genres than older players do. Gen Alpha takes the top spot with 6 different genres played. Baby Boomers only get to 2.8.
Big Spenders
While all generations tend to spend money on games, it's the younger ones that spend the most. Roughly six out of ten of Gen Alpha, Gen Z, and Millennials have spent money on video games in the past six months. Only three out of ten Baby Boomers have. Spending is most common in mobile gaming, with 38% of Gen Alpha, Gen Z, and Millennial gamers saying they spend on mobile. Console gaming has the highest share of 'big spenders' (€25 or more per month), especially among younger players.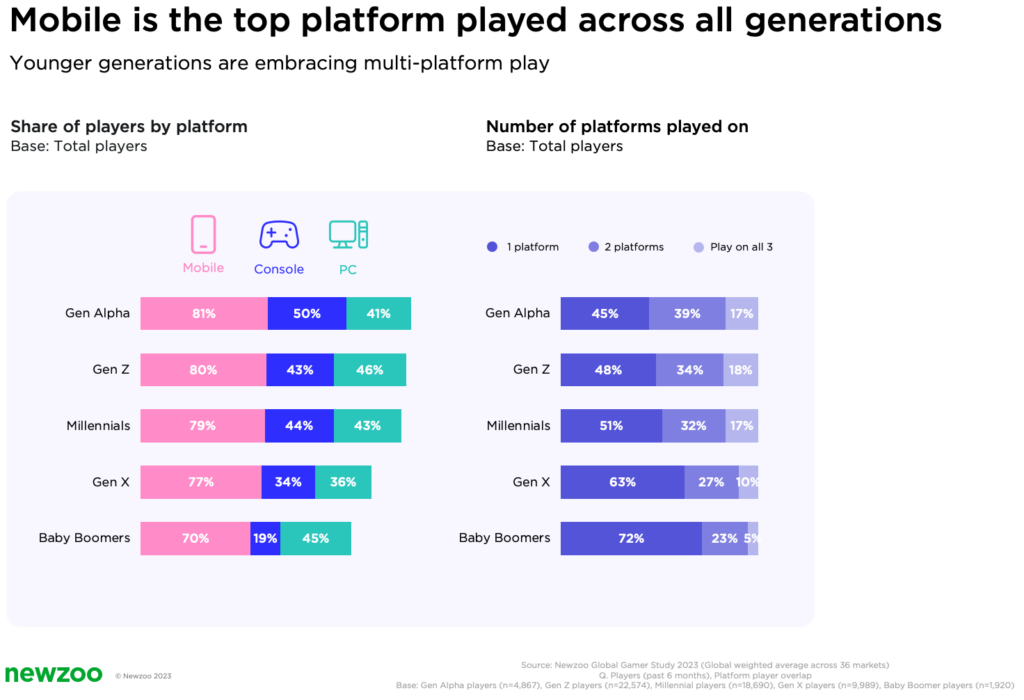 Where do we spend our money on? Again there are some differences among the different generations. While every age group spends money on in-game currencies, younger generations tend to pay their (or their parent's) cash on playable characters. Older players spend more on handy purchases like gear and content packs.
Download the full report here.