Dutch indie game developer Abbey Games has been on quite the journey since the release of their breakout hit, Reus, a decade ago. The studio has experienced the sweet taste of critical and commercial success but also suffered through disappointing sales results. Now, after a long wait, Abbey Games is back in action with the sequel Reus 2. 
Co-founder Adriaan Jansen reflects on the journey Abbey Games has taken since the release of the original Reus, stating, "We created 3 games in 10 years: Reus, Renowned Explorers: International Society, which was a critical success, and Godhood, our latest game. We went from working with 12 people, down to 3, and now we're back up to 10 working on Reus 2."
So, why did it take a whole decade to bring Reus 2 to life? According to Jansen, there were several reasons why it took them this long. He explains, "The dumbest one is that after the success of Reus we had more money and opportunities than ever before, which meant we all wanted to do what we wanted individually. We no longer chased a common goal like we did with Reus nor did we have a specific plan for the company." 
Much more relaxed
However, the most compelling reason for the delay was the team's struggle to find a fresh and distinctive direction for the sequel. "The best reason was that we simply didn't have the ideas of what would make Reus 2 so different from Reus", says Jansen. "That is definitely not the case anymore, as anyone who has played the demo can tell!"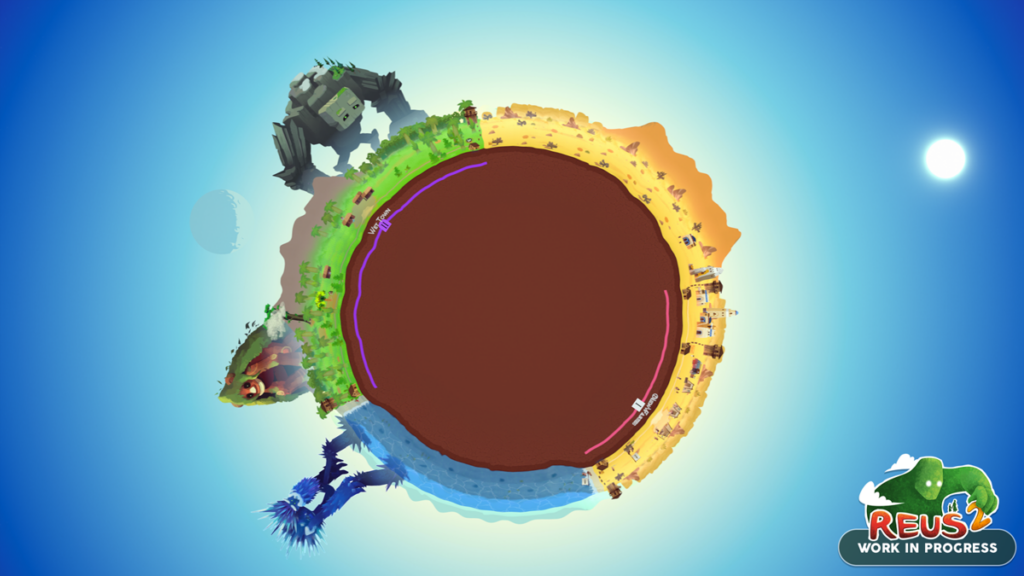 One of the standout features of Reus 2 that has the team excited is the 'faux-Turn Based system'. Jansen describes it as a game-changer: "The world only significantly changes when you do your actions. This makes the game much more relaxed, but there is still this living aspect to it that we know from simulation games."
Core identity
In addition to the faux-Turn Based system, Reus 2 introduces a completely new upgrade system. Jansen explains: "It still keeps the fun of trying to combine sets of the old Reus, but is now actually navigable and makes sense." This enhancement promises to add depth and strategy to the gameplay, giving players even more ways to shape their worlds.
The visual style of Reus 2 was a critical decision for the team. They grappled with whether to stick with the iconic round 2D look of the planet or make significant changes. Jansen explains the struggle: "It was hard to determine whether the round 2D look of the planet was a core identity of the IP. Or was it something we needed to change drastically? In the end, we decided to keep going for that 2D look, in the hope we could make it look much better too." While Reus is instantly recognizable for anyone who played the original, Jansen still has his doubts: "It's still difficult to assess whether this is working to our benefit or not!"
Ideas are cheap
Abbey Games' development philosophy is centered around the idea that execution matters more than ideas. Jansen elaborates, "Ideas are cheap, execution is what matters. Everyone has good ideas, it just depends on where you use them and if you can actually pull it off." The team takes a pragmatic approach by not planning ahead more than two months and building on the foundation of what they have. This 'more grounded' form of development, as Jansen calls it, allows them to stay focused on tangible progress.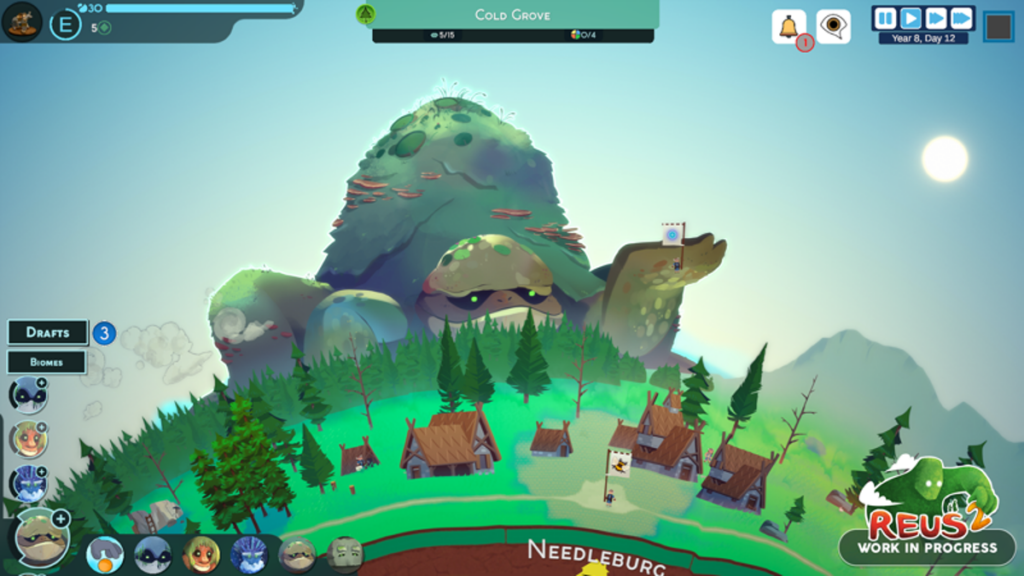 Reflecting on their growth over the years, Jansen acknowledges the need for the team to evolve and avoid becoming rigid. He says: "We might be doing this for 10 years, but we still have a lot to learn. Sometimes the game struggles to move forward, because years of working together can make you rigid and slow." To combat this, the team has embraced a more enthusiastic and agile approach, with Jansen even honing his programming skills to experiment without the need for lengthy meetings.
Resounding success
Through their journey, Abbey Games has learned valuable lessons, with 'proportionality' becoming a keyword in their development process. Jansen emphasizes, "Is the work you're putting in worth the effort? All ideas are great until you have to start making them. And all process philosophies are flawless until you must put in the effort to uphold them. It's something we try to be more thoughtful of."
As for the future of Reus 2, Jansen has high hopes. "The demo has shown that we're very much on the right track, so I have high expectations for the quality of the game", he says. "We truly believe the game is heaps and bounds better than the original from a gameplay perspective. We're aware that it's no longer 2013, but even if Reus 2 does 20% of what the original Reus did, we would consider it a resounding success."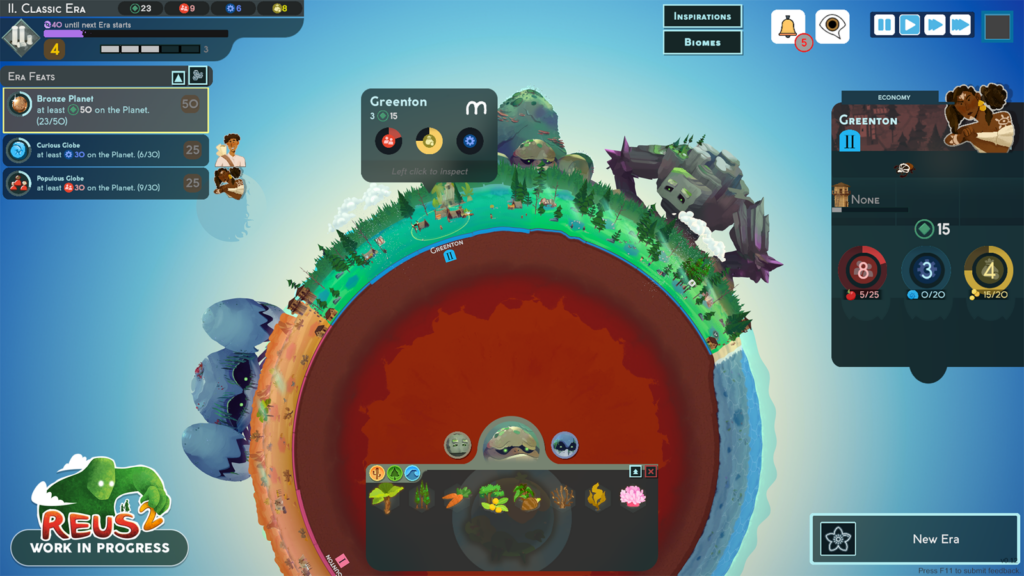 "We have years worth of ideas; ways in which shaping your planet leads to weird new human outcomes. So we're excited to work on that, but it's also going to be a challenge to get enough of that in, before release. The game will be much more replayable and expandable, so we're looking forward to working on Reus 2 for the years to come!"