With the discussions over the use of AI in game development raging on, Jussi-Petteri Kemppainen, Lead VFX Artist at Mainframe Industries and founder of Dinosaurs Are Better, spends his spare time to see what all the fuss really is about. With his free, experimental 2.5D point-and-click adventure game anthology series titled Echoes of Somewhere he's exploring AI-assisted game development. His preliminary conclusion? "It is 100% the future, but it is not what people think it is."
Echoes of Somewhere emerged as a labor of love, originating as a personal project to explore the boundaries of creative expression beyond the constraints of big team collaborations. Kemppainen explains, "I started this project years and years ago as a creative outlet. I wanted to make a game completely on my own to balance my professional life as a game developer working with big teams." The project's development has been marked by a decade of twists and turns, encompassing periods of pivoting, reshaping, and even stalling before eventually starting up again.
AI affects game design
The project's trajectory shifted with the integration of AI tools. It became a public AI research project. "So now, there are two goals", Kemppainen reflects. "To produce a point and click game, and to document the creation of a partly AI-generated game." All the questions that arise from his work, like 'What it feels like, how do people react to it and what compromises need to be made?' are answered in his regularly updated dev blog. 
The creative process behind Echoes of Somewhere is a combination of human imagination and AI assistance. Kemppainen details the journey: "It starts with writing and coming up with a general outline of the story and the main puzzles. Next, I start generating assets for the game with AI, like locations, character designs etc." However, he notes that AI has a hard time getting things right and that he is constantly experimenting with his story and puzzle designs in order to actually achieve something useful.
"So, the AI does affect the game design, but mainly by its limitations", Kemppainen says.  "Sometimes for the better, sometimes for the worse. Sometimes I can work around the limitations of AI by spending time creating the impossible elements by hand, but this naturally takes time. For absolutely key puzzles or story beats this must be done, but for less important things I usually just change the script."
Biggest bottleneck
The project's biggest bottleneck according to Kemppainen is AI trying its hand on 3D modeling. "AI 3D generation tools are not really good at this point, especially for weird characters", he says. "As this project is a hobby for me, spending all that time modeling 3D characters is really hard when all I want to do is focus on making the game. So in a sense, it would be best for this project if I could replace myself as the 3D artist with AI tools."
While Kemppainen is the driving force behind the project, he has some team members listed on the website. "Those are some friends and colleagues consulting. Day-to-day, the team is only me. I'm doing all the work" However, recently, a composer joined the team, ensuring that the music in the game remains distinctly human-crafted. "I'm just not happy with AI generated music."
Future in the industry
As a seasoned 3D artist himself, Kemppainen empathizes with the aversion some artists and developers have towards AI. "Big part of committing to AI for this project was to learn first hand what it could mean for my future in the industry. I do not fully share the same fears that some people have of AI, as I know the tools pretty well already and know their limitations."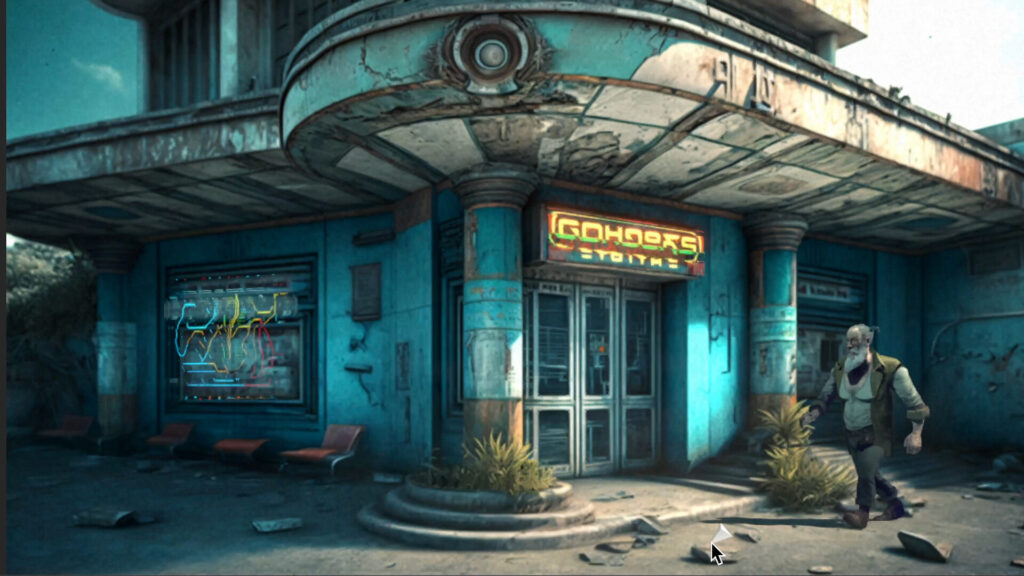 He views AI as a tool that can enhance creative potential rather than replace it entirely. "As a producer on a few large projects, I can not see myself scoping the workforce down because of AI, but instead scaling projects up. Which is a positive. I believe that project budgets will stay the same, but the scope will be the one to balloon up."
Unlock the superpower
Kemppainen's experience with Echoes of Somewhere has solidified his belief in AI-assisted development's inevitability. "It is 100% the future", he proclaims. However, he emphasizes that AI's role is complementary, not substitutional. "AI tools – in my experience – cannot replace humans. AI can power human artists. It's like a superpower you can unlock, if you so choose." He envisions a future where all game development is AI-assisted. "Ethical tools will get made and people will learn how much easier their work becomes when AI does all the tedious bits. There is no going back."