Image: pikisuperstar on Freepik
Newzoo's Global Gamer Study 2023 is a true treasure trove of interesting facts about the people out there that hopefully end up with your game in their hands. Nearly 75.000 people in 36 markets participated in this study. Did you know that more than half of all people with an internet connection play games? Or that 87% of players spend money on in-game items? Here are some more insights. 
More than just playing
In the last six months, approximately 8 out of 10 individuals in the online community have participated in gaming activities. Interestingly, more than 50% of the online population embraces multiple modes of gaming. Plus, gamers engage with games in diverse ways.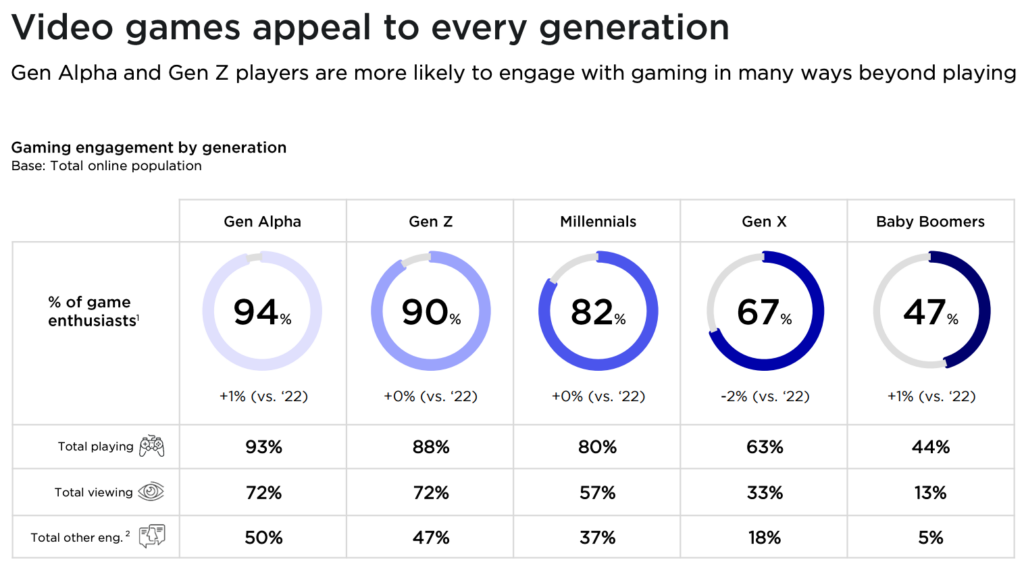 Younger generations are increasingly exploring various avenues of interaction with games, extending beyond traditional gameplay. These emerging players are at the forefront of consuming game-related content alongside their active involvement, emphasizing the growing trend of watching gaming-related media alongside playing.
More than one platform
Almost half of all gamers actively play on more than one platform. And this trend will likely grow in the coming years. A particularly appealing segment is the tri-platform players, who have played games across all three platforms within the past six months. They are likely to have higher levels of engagement, increased spending on gaming, and a greater inclination towards consuming gaming content.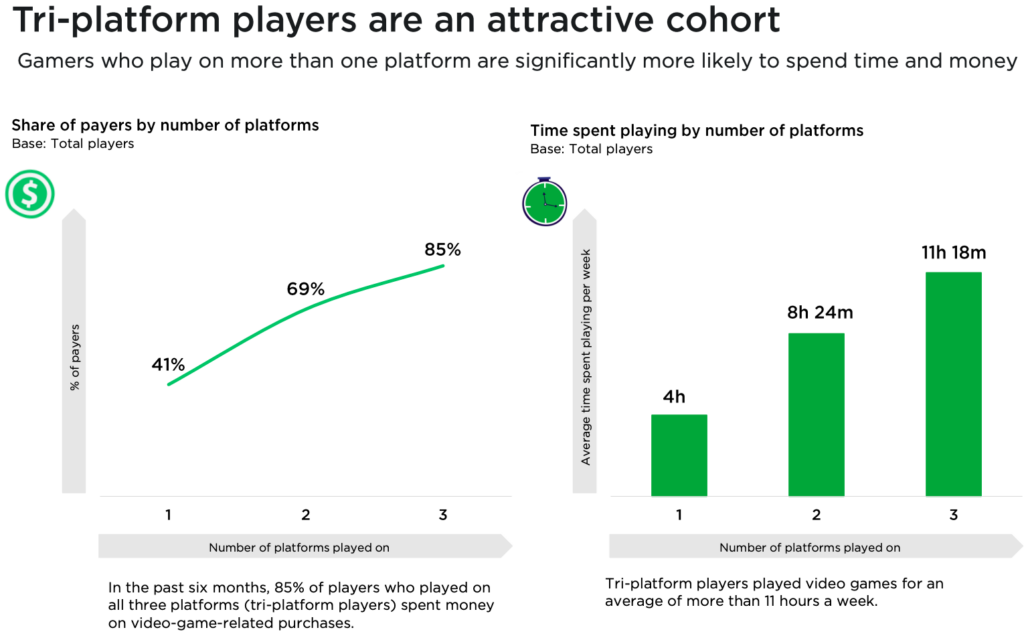 Technological advancements, especially in mobile and 5G technology, along with the emergence of cloud gaming services, are playing a pivotal role in enhancing the overall player experience. Moreover, notable AAA PC and console games are now expanding their reach to mobile platforms, seeking to attract a broader player base, while simultaneously exploring opportunities for cross-platform integration.
Money spent on games
In the last six months, more than half of the player base has spent money on video games. Console gaming has the highest players-to-payers conversion, mobile gaming has the lowest. The primary drivers for player spending revolve around the potential to unlock additional or exclusive content and customization options.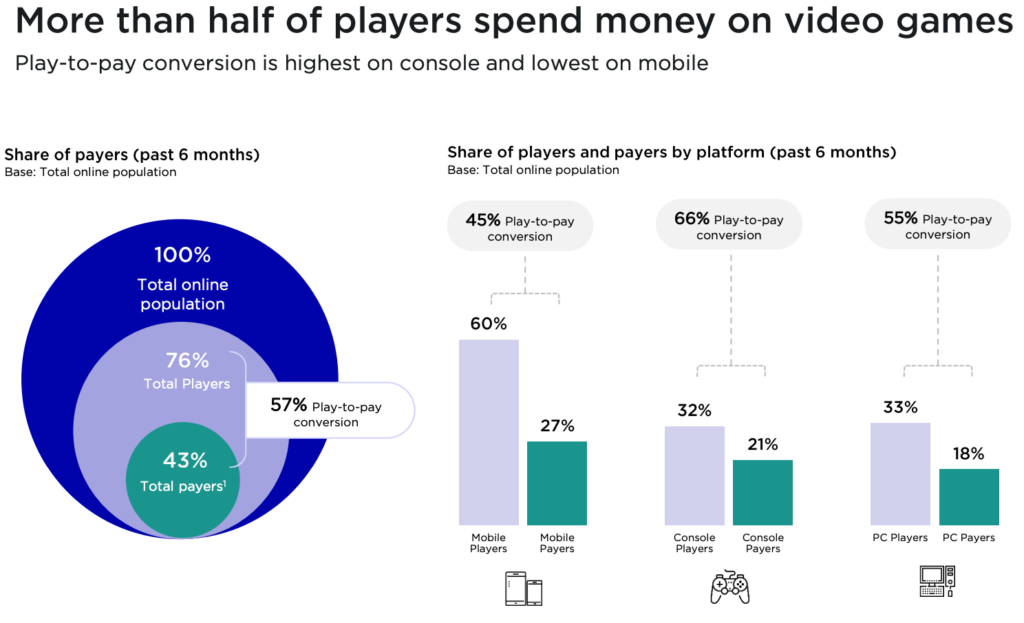 An overwhelming majority of paying players allocate funds towards in-game items, underscoring the significance of publishers and developers optimizing these offerings. It is imperative for them to continually enhance and refine these in-game purchases, as they are instrumental in attracting sustained player investment.
Games as marketing
In recent years, video games have emerged as valuable marketing tools for numerous companies. They offer unique opportunities for brands to engage with their target audiences in ways that go beyond conventional advertising methods.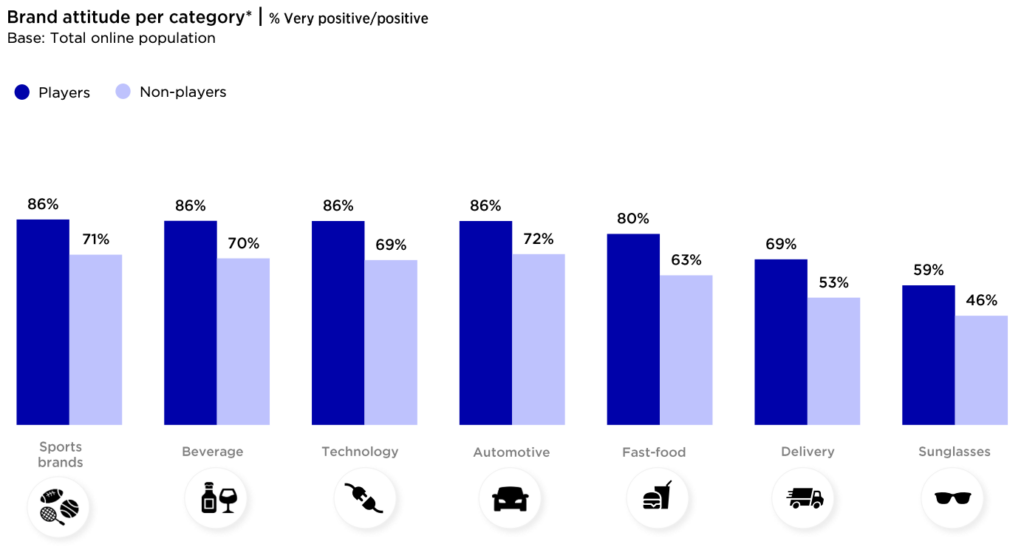 Interestingly, players tend to respond more favorably to brands compared to non-players. Engaging with video games often leads players and viewers to discover new brands, presenting an avenue for companies to introduce themselves to a receptive audience. According to Newzoo, gaming is a great marketing opportunity for brands.