Top image: Europa Universalis IV expansion, Lions of the North
Downloadable content (DLC) has become an essential tool for game developers and publishers. It enhances the gameplay experience, provides additional content, and attracts new players. With the rise of live-service games, releasing constant new content has become crucial. Successful DLC prolongs a game's lifespan and generates additional revenue beyond the initial release. Newzoo analyzed over 1,600 DLC releases on PC and console from April 2020 to April 2023 and found out what DLC can do for your game. 
By 2022, premium transactions accounted for more than 50% of the total spending on console and PC games in the US. However, across the three in-game revenue streams, it becomes evident that the expenditure on DLC plays a significant role in differentiating PC and console revenues. PC players spent nearly double the amount on DLC compared to console players in 2022.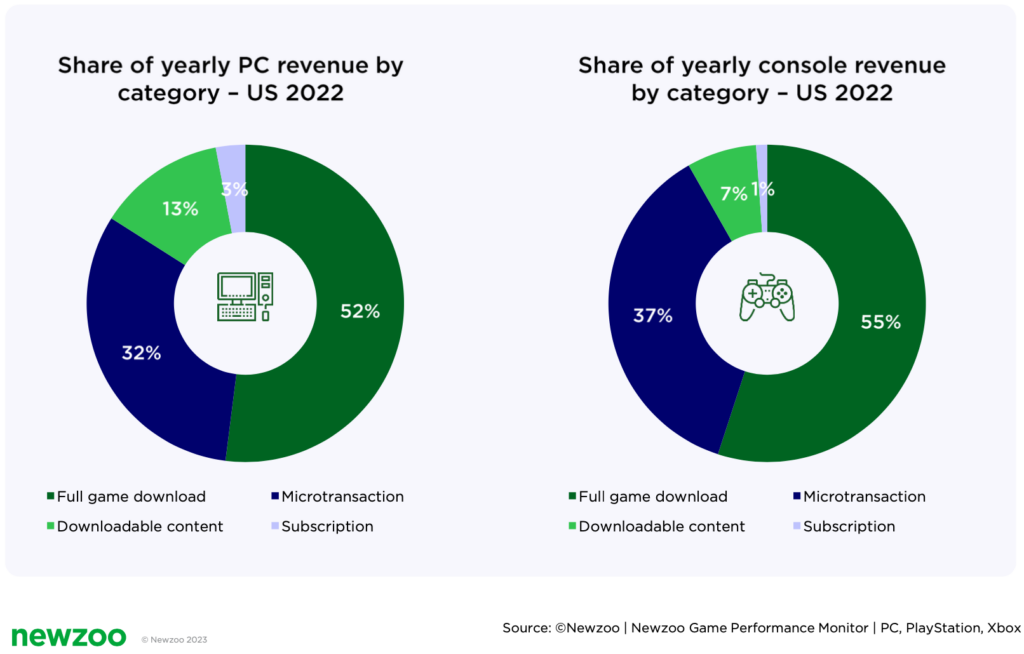 In 2022, DLC releases increased the monthly active users (MAU) by an average of 11% in the major PC and console markets. Particularly, medium-sized games experienced the highest growth, with an average month-on-month MAU increase of +22%.
Significant impact
DLC had a significant impact on boosting monthly active users (MAU) for strategy games compared to other genres. On average, the 56 DLC releases for strategy games increased MAU by +30.5% in the month following their release. Keeping players engaged for a longer duration is crucial in a competitive live-service game market. Meaningful additional content attracts new and returning players, leading to increased spending.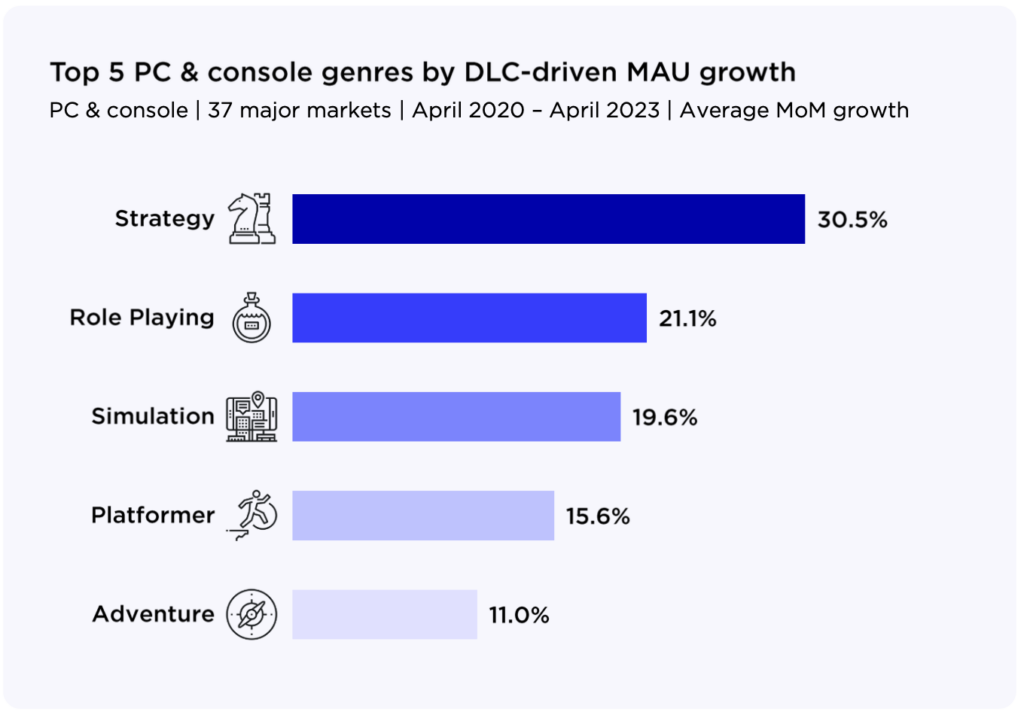 Paradox Interactive serves as an example of a strategy game publisher that has effectively utilized content releases to engage its audience. Through frequent updates, their Europa Universalis IV expansion, Lions of the North, accompanied by a free content update, achieved substantial MAU growth and performed exceptionally well within its genre.
Romantic storyline
In the role-playing genre, DLC releases ranked second in attracting MAU, with an average month-on-month increase of +21.1%. This highlights the significance and success of DLC in this genre. Notable releases like Elder Scrolls Online: High Isle and Warframe's The New War were particularly successful.
For adventure genre DLC releases, which comprised nearly 200 items in the sample, they garnered an average MAU increase of +11.0%. The most significant growth in MAU was seen with the release of Horizon Forbidden West: Burning Shores DLC, which received positive responses from critics and gamers alike for its new region and romantic storyline.
Read all about the importance of DLC in the free Report by Newzoo.