Top image by Freepik
The games industry has been one of the most resilient and profitable sectors in the entertainment industry. According to Newzoo's PC & Console Gaming Report, the PC and console market still outperformed previous forecasts despite a slight decline of revenue (-2,2% year over year) in 2022. With over one billion PC players and 611 million console players, there are still plenty of opportunities for growth and expansion.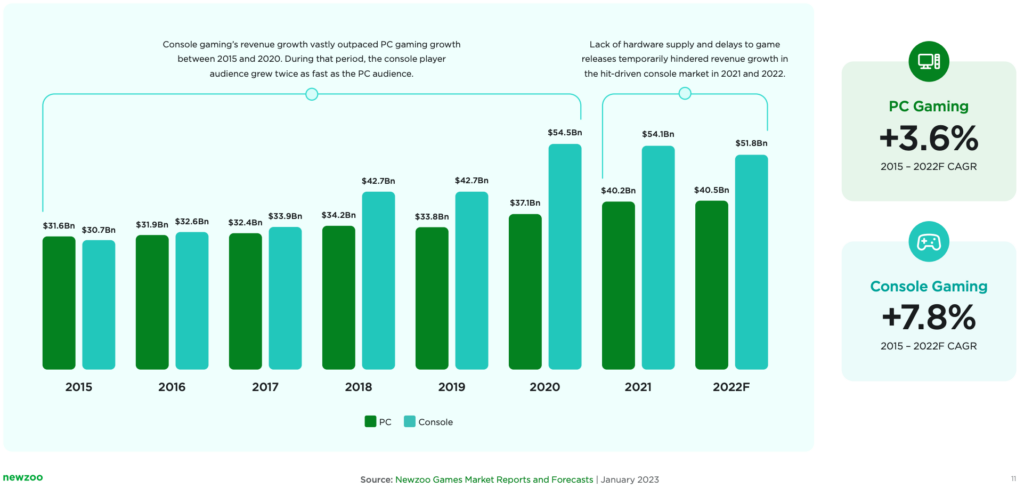 As the pandemic recedes, average playtime across Steam, Xbox, and PlayStation dropped by 23% from 2021 to 2022. This trend suggests that the market is leveling out to pre-pandemic activity. With the pandemic as a contributing factor, many companies delayed their major title releases from 2022 to at least 2023. That's why this year has a packed release schedule, including highly anticipated titles like The Legend of Zelda: Tears of a Kingdom, which is sure to increase player engagement.
Service-based and subscription model
One essential business model trend in the gaming industry is the shift towards service-based and subscription models. That's why Newzoo expects fewer new releases in the coming years. More AAA and AA publishers are pivoting their main franchises towards these models to extend the lifespan of existing franchises. Games like Fortnite, Minecraft, and Roblox have achieved great success by adopting this approach, which focuses on providing players with regular updates and new content.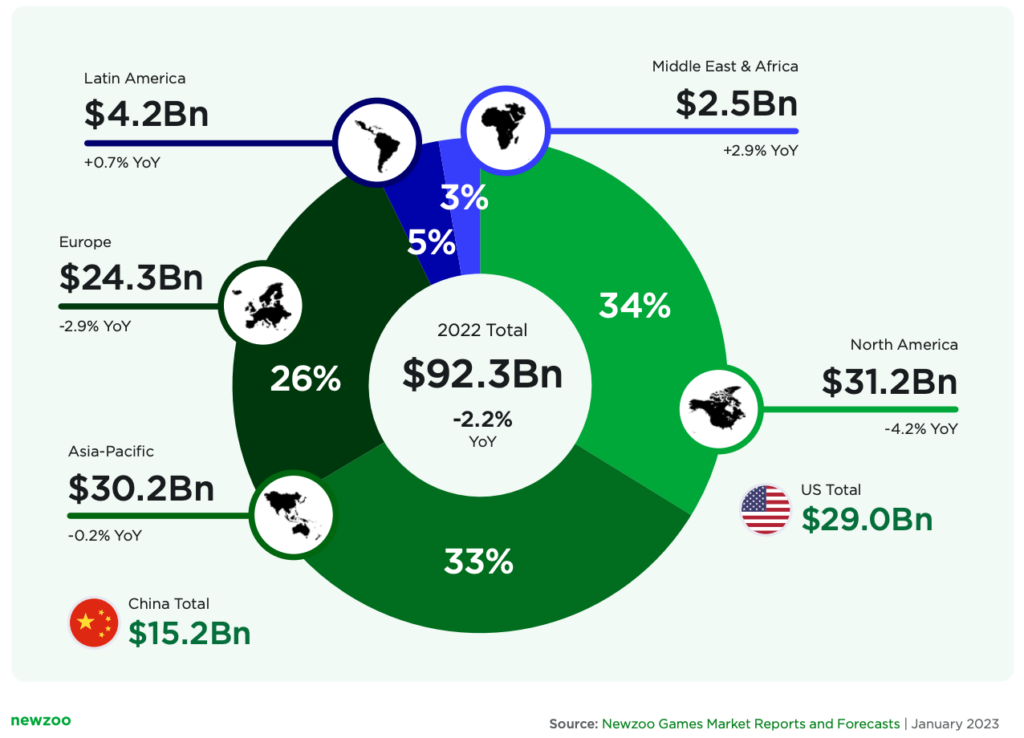 Transmedia strategies have also become a major trend in the gaming industry. Remakes and remasters continue to drive engagement for older IPs, but 2022 was a turning point for transmedia strategies. The HBO adaptation of The Last of Us was a massive hit and helped to increase the game's popularity. The Cyberpunk: Edgerunners anime also had a similar impact on the franchise.
Two platforms
In terms of demographics, the gaming market has become more equitable, with women gamers accounting for 40% of the total PC and console player base. Moreover, 72% of PC and/or console players use at least two platforms. In the past six months, 66% of PC and/or console players spent money on video games. Download the full report here.