Top image: Andrea Piacquadio – Pexels
The latest free report by Newzoo tackles some persistent misconceptions about how different generations engage with media and entertainment. Have millennials really stopped watching tv? Are children no longer playing outside? And are video games the reason why kids are increasingly overweight? You can download A New Era of Engagement in Media & Entertainment, here.
The report uses insights from a research study Newzoo conducted in July 2022 in the US. It covers consumers (gamers and non-gamers) aged 10-50, with a sample representing approximately 180 million people spanning Gen Z, Millennials, and Gen X. Just to refresh your knowledge on the naming, Gen Z are the 10-25 years olds, Millennials are the 26-40 years olds and Gen X are the 41-50 years olds.
Impressive engagement
On average it's clear that social media and video-sharing platforms have the highest levels of engagement. Broadcast TV and subscription services trail slightly by 2%, though people tend to spend more time fixed to this media type. Video games take third place with a still impressive 12 hours of engagement per week.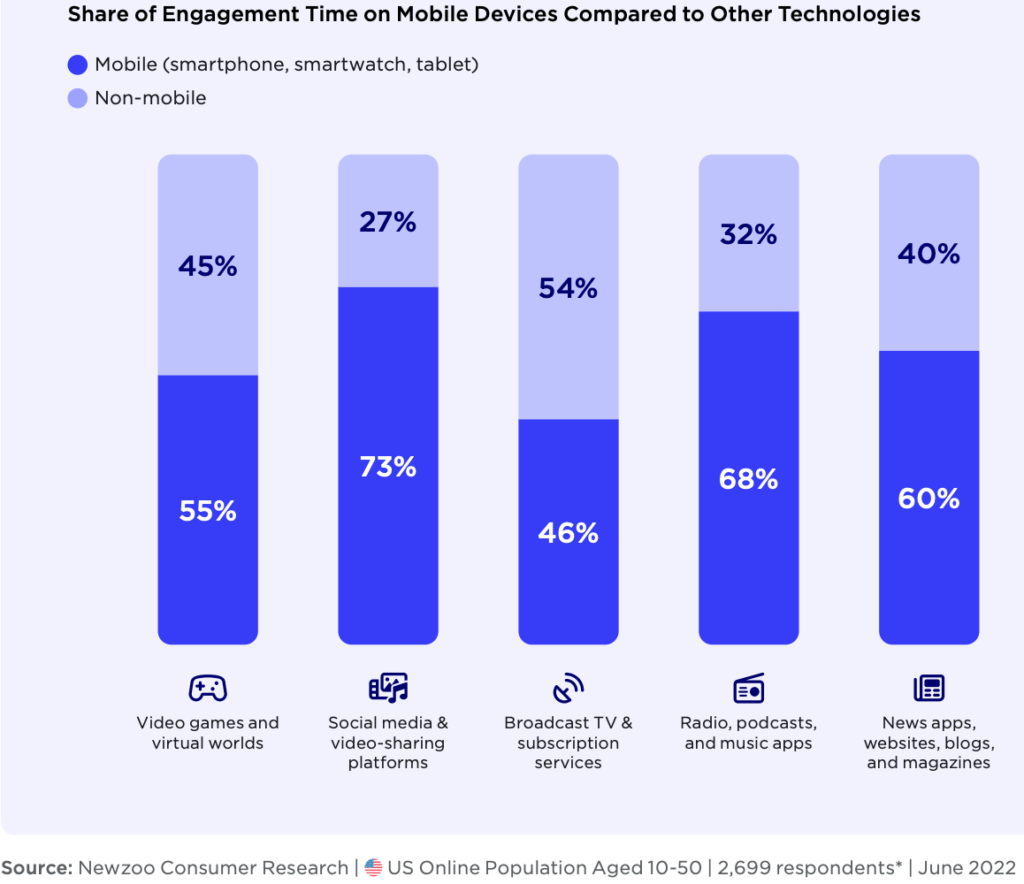 By the way- and this will come as a shock to absolutely no one- 60% of all media consumption happens on mobile devices. On average people spend about 4,3 hours per day engaging with the tiny screen in their hands.
Sports vs gaming
More time spent gaming doesn't mean that younger generations are more averse to physical sports. In fact 74% of Gen Z participates in sports/fitness activities and almost 70% combine sports and gaming. Compared to the (older) Gen X it's a pretty decent score as only 60% of that generation participate in sports.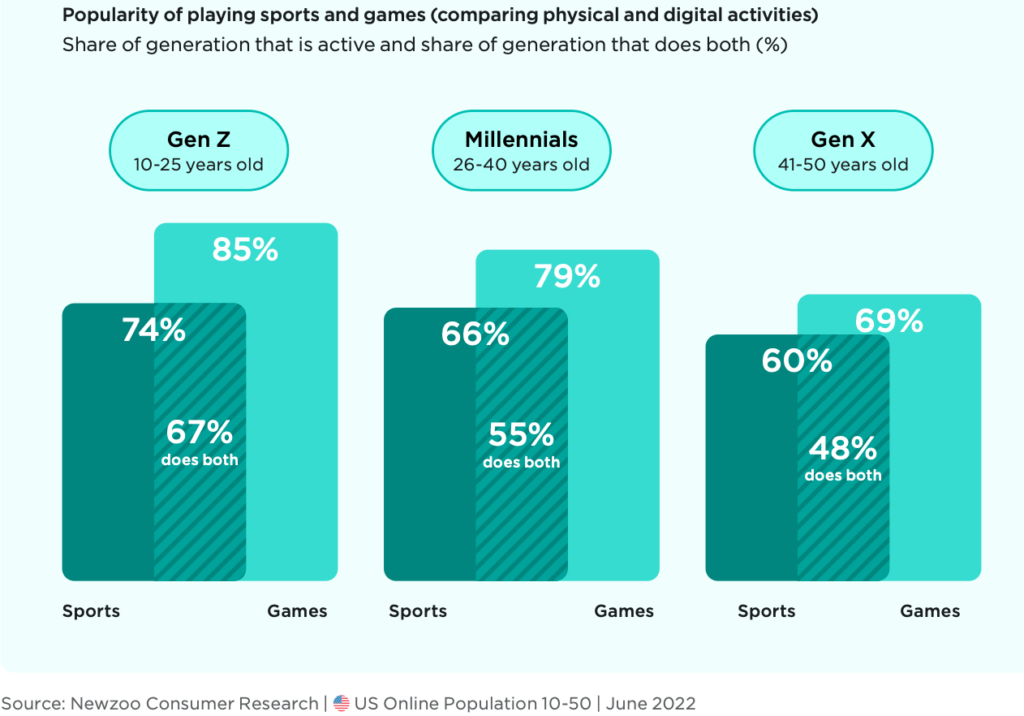 So, what's the deal with millennials no longer watching tv? Well that's not really true. It appears that on average the 26-40 years old spend about 14,7 hours per week staring at their screens for tv and streaming services. That is above the average of 13,9 hours.
Game content
A slightly higher share of Gen Z consumers engage with social/video platforms than engage with TV: 96% vs. 95%. But more surprising is that they spend more time per week within video games and virtual worlds than they do with TV. This includes on-demand services like Netflix. Gen Z spends an average of 12.2 hours per week on video game/virtual world platforms.
Game content has become popular across non-gaming media platforms. The HBO adaptation of  The Last of Us is one of the most-watched shows on TV. Fortnite and Roblox have both hosted huge live events and created successful branding partnerships. More than half of the time consumers spend engaging with game IP is spent in other ways than playing, including creating or reading game-related content.