It's easy for solo developers to lose track of their project and spend years on the development of a single game. Indie developer Paul Schnepf recognises the dangers of overscoping and deliberately keeps his solo projects short and sweet. "For me, the biggest threat to any project is giving up along the way", he says. "So I try to take great care with finding the right scope."
His latest game The Block neatly fits within the tight constraint Schnepf set for himself. "I knew I only had four weeks to finish it, before my new project would start." And so he came up with 'the world's smallest city builder – a bite sized experience for city builder fans short on time / money / attention / all of the above'. More of a digital toy than a full fledged game, The Block is exactly the kind of project that keeps Schnepf motivated to pursue his occasional solo projects: "I love how light-footed solo working can feel."
Why did you become a solo developer?
"I got into it out of necessity first, because the people I was used to working with were busy with other projects. When I started taking the development of my first solo game The Ramp seriously, I realised that I actually really enjoyed the process. Before I always had thought it would be too stressful to handle *all* the things that need to be done over the course of development."
What are the biggest advantages of working solo? 
"I really like how fast you can move. Making decisions in a team can be a very time-consuming process, and It also gives you the chance to make games about things that have a very distinct value to you personally. Skateboarding for example is something dear to my heart, but it didn't interest my former co-devs at all. So going solo, I could focus on personal expression really."
…and the biggest pitfalls? 
"Definitely the light-footedness I praised above haha. Unfortunately, it also makes it easy to make a lot of stupid decisions. In a team, you have to justify your decisions to other people, and that usually keeps things from going completely out of bounds. When making decisions alone all too often you're blinded by your own excitement, ending up with stuff you regret later. I also found it a lot harder to keep things healthily scoped alone."
What's your creative process?
"It greatly varies from project to project and doesn't really follow a certain scheme. Most of the time I just try to follow my inspiration, but I found it important to share my ideas early on to test how other people react to them. I also do regular feedback sessions with Friedemann Allmenröder and Jonas Tyroller. We founded Grizzly Games together and I value their feedback a lot."
How do you stay motivated during (years of) development? 
"I don't! Hahaha. That's the reason why I work on very small games. For me, the biggest threat to any project is giving up along the way, so I try to take great care with finding the right scope. But even with small-scoped games you periodically hit a dry spell of course. I always found it very motivating to share your work with some kind of community – mostly Twitter for me – just to get some other people than yourself excited about the game."
You made a couple of games already as a solo dev. Will you ever work in a team or is it only solo for you?
"No, I enjoy making games with other people a lot! Right now, I'm actually working on a game with my Grizzly Games buddy Jonas."
Your new game The Block seems like a 'nice little game', but the development of any game is a lot of hard work. How did you keep the project manageable?
"Well, for The Block it was quite simple. When I started working on the game I knew I only had four weeks to finish it, because after that my project with Jonas would start. But that's how I usually work. I try to set really tight constraints. I found myself thriving inside those constraints as they force you to really focus on the essence of the product."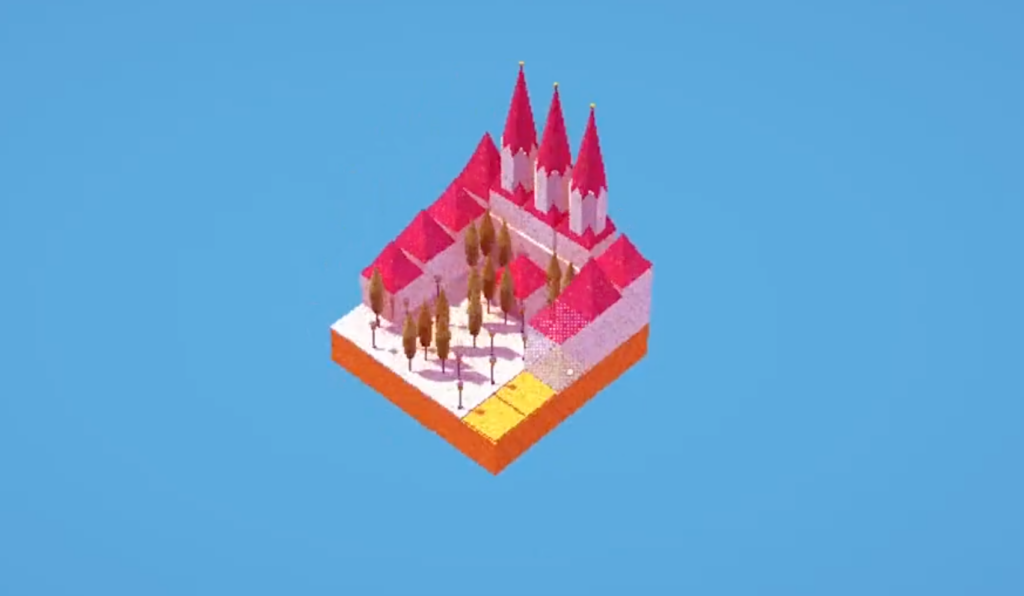 The toll on your mental health can be quite high. How do you deal with that? 
"Yeah, making solo games is definitely a mental challenge. There are several things for me that make coping with it a little easier: I really try to take some time off every now and then (*much* harder than it sounds). Keeping the development cycle short (aka small scope) ensures that I have some actual off-time regularly. Also for me it's really helpful to not be solo all the time but also work on games with other people."
The Block releases on Steam on 16 December.