Mobile gaming accounts for more than half (53% to be exact) of the global games market revenues this year, that's over $100 billion according to Newzoo. So it's interesting to see what kind of games are the biggest hitters. From all the new iOS games from 2021 that hit the top 100 download chart, only one game (Soccer Super Star) is not based on an existing franchise.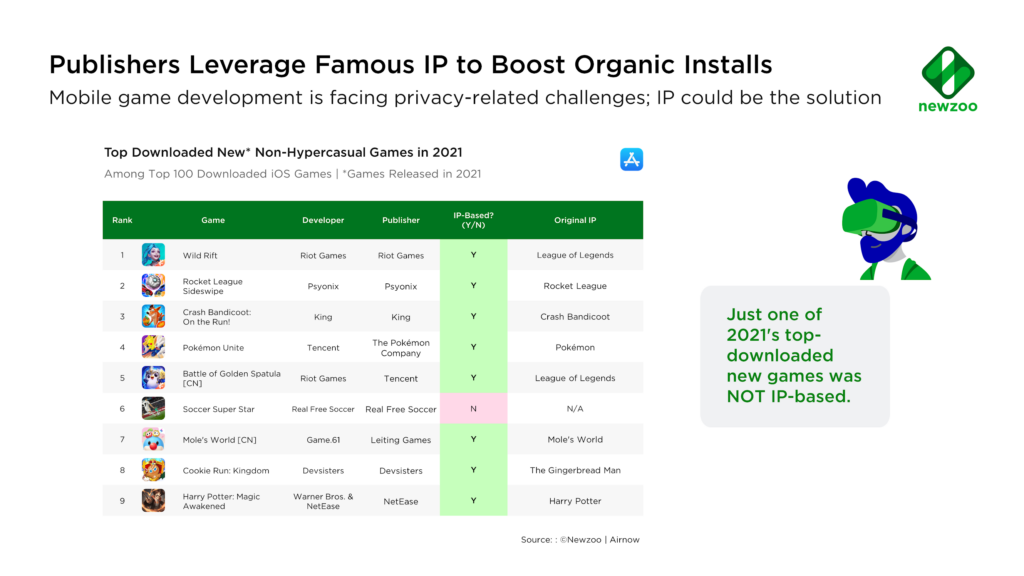 Many developers leverage well-known entertainment franchises to create IP-based games, aiming to boost organic installs and lifetime revenues. For years, successful mobile developers relied on user tracking data to operate their live games and acquire audiences for new games. Yet, tracking and targeting are limited under Apple's ATT (App Tracking Transparency) policies, forcing publishers to find alternative ways to market their games. IP seems to be the answer.
Most downloads in the West
For a report about IP-based games Newzoo analyzed 650 IP-based mobile games based on data from their partner Airnow. They found that global and Western franchises attract more downloads, thanks to their huge fan bases across the world. The 10 most downloaded franchises in 2021 were originally TV series, movies, or (comic) book properties.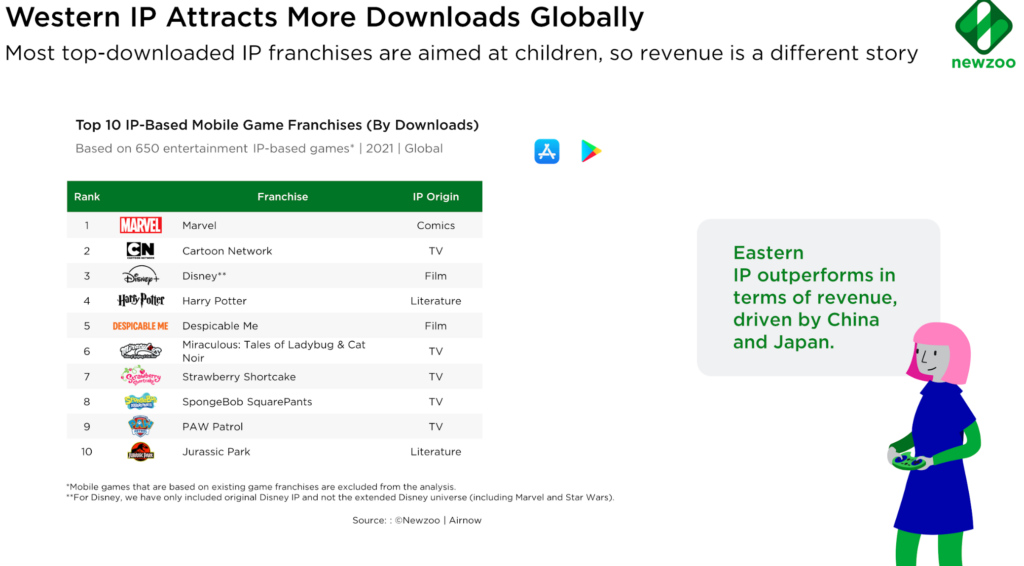 But downloads and even engagement do not necessarily translate directly to spending. That's why the top 10 franchises in terms of revenues are markedly different. Five out of the top 10 grossing franchises in 2021 originated from Japan and China, including the #1 (Umamusume: Pretty Derby), #3 (Romance of the Three Kingdoms), and #5 (Journey to the West) spots. This shows just how receptive gamers in the East are to spending on their favorite franchises.
Big spenders in Asia
Strong IP plays a key role in attracting high spenders, potentially leading to higher revenues for IP-based mobile games. Newzoo Consumer Insights in the U.S., Germany, Japan, and China suggest big spenders (who spend >$25/month on mobile games) and average spenders ($5-$25/month) are more likely to download a game if it's based on an existing franchise or IP/universe that they like.
One of the few franchises to show true global popularity is Marvel. Marvel-based mobile games have found success in most regions globally.