Cloud Gaming has been around for more than a decade in one form or another, but the last couple of years it finally seems to really catch on. Newzoo estimates that last year 21.7 million paying users spent $1.5 billion on cloud  gaming services. According to a new Cloud Gaming report revenues will quadruple to $6.3 billion in 2024 with the number of paying users almost tripling to 58.6 million.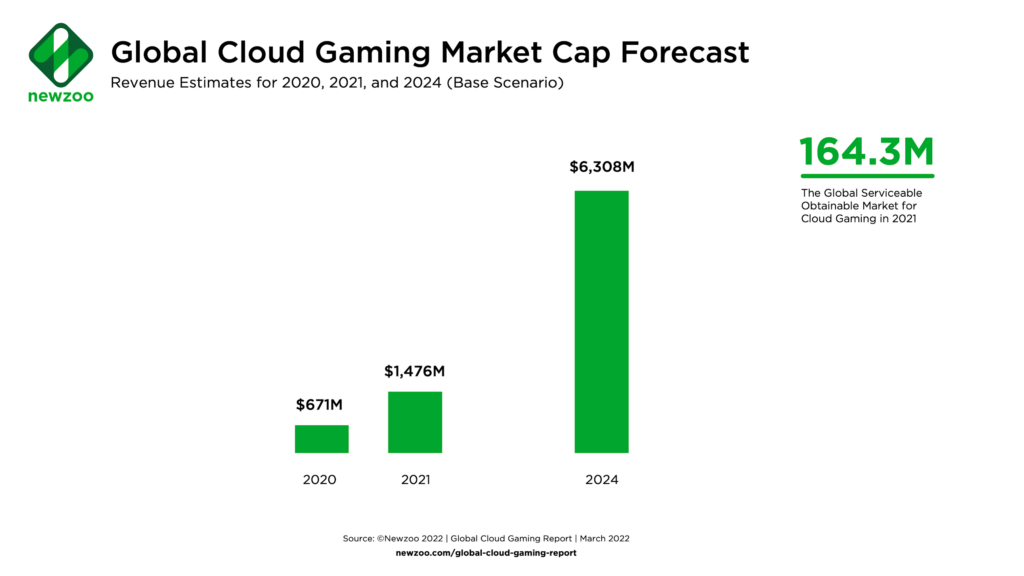 Newzoo identifies several trends for the coming years. Cloud gaming will see considerable growth in markets across Southeast Asia and Latin America. While players don't need to invest in expensive hardware to play the latest titles, data centers will have to keep upgrading the hardware to run cloud gaming services on. Microsoft and Nvidia already took big steps in this direction. 
Small and innovative
TV manufacturers will add cloud gaming services to more TV models. Tencent START will run on TVs by several different brands and GeForce NOW and Google Stadia are featured on Samsung and LG. More partnerships are on the way. Not only with the large Cloud Gaming providers, but also smaller services. Their innovative approaches make them interesting partners.
Just as we see in the global games industry, the market for cloud gaming will continue to consolidate through acquisitions and mergers. And with large media and entertainment companies likely to get involved, the future for cloud gaming looks bright. 
OnLive & GaiKai
Cloud gaming is a classic example of a service that always looked ahead of its time. Subscription-based gaming was a hard sell for publishers that were used to making money on every physical copy sold. So when QuickTime creator Steve Perlman announced OnLive at GDC in 2009, publishers weren't exactly lining up to support it. The technology was there though, OnLive would stream games to multiple platforms in a 720p resolution at up to 60 fps. But when the service launched in 2010 it had only 10 games. 
At the same time another cloud service surfaced, led by industry veteran David Perry. GaiKai did pretty much the same thing as their competitor, but mainly focused on game demos. Publishers viewed that as an extension of their marketing efforts and not as a threat to the business. So while OnLive struggled to get industry support and a solid user base, Sony bought GaiKai in 2012. It resurfaced as PlayStation Now in 2014. 
GeForce Now
Nvidia entered this market in 2013 with its own streaming service GeForce Now. It allowed the streaming of games that were purchased on other storefronts, like Steam. Despite its fair share of problems, GeForce Now officially launched in 2020 and is one of the biggest out there. 
In the meantime, Google, Microsoft and Amazon have all launched their own versions of a cloud gaming service. Google Stadia (2019), Microsoft xCloud (2020) and Amazon Luna (2020) now all benefit from the work that came before. Consumers and publishers have grown accustomed to the subscription model on tv and music. And that's why we see more than 40 Cloud Gaming Services today.