Top image: It takes two by Hazelight – Game of the Year at The Game Awards 2021
With this year almost over we find ourselves in pretty much the same position as last year. Only this time it's a new variant of the Corona virus that is forcing everyone to stay indoors and keep our distance. So, gaming is still exactly what the doctor ordered and it shows according to an overview of the games market in 2021 by Newzoo.  
Although we saw some Triple A game releases slip and ongoing supply shortages for new gaming hardware made it hard for people to spend, consumer spending on games has been resilient to the longer-term consequences of the pandemic. The 2021 games market will generate revenues of $180.3 billion, up +1.4% over last year.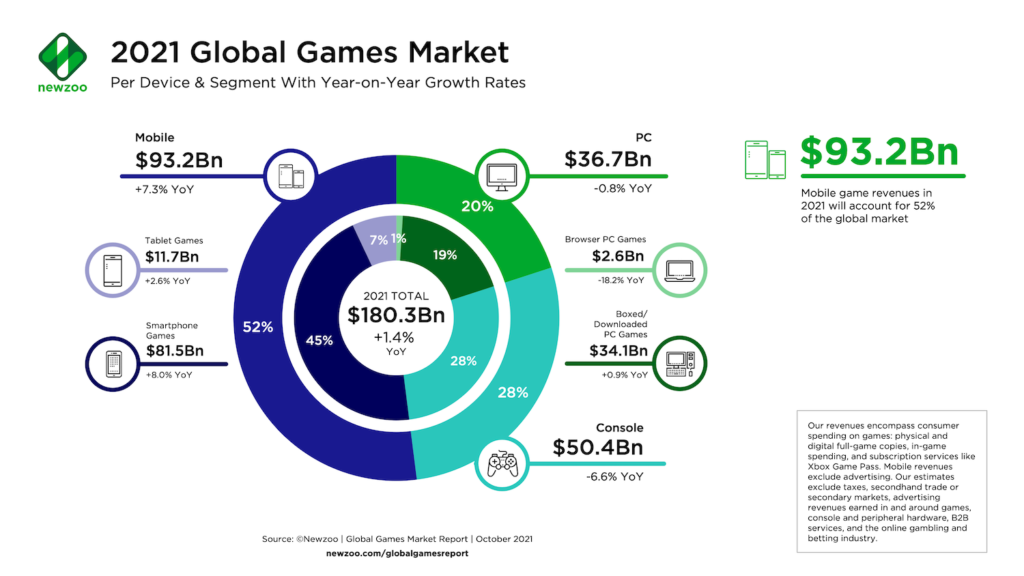 Mobile continues to grow
While console and PC will see slight declines due to thinner release calendars, mobile's performance has secured another growth year for the overall market. Also the audiences for games and gaming content have continued to grow, even following 2020's unprecedented addition of new gamers. The number of active gamers has risen 5.3% to 3 billion worldwide. 55% of these players are based in Asia-Pacific. In 2021, the global number of active smartphones reached 4.6 billion (+5.7% year on year), among which 15.4%, or 703.5 million, are 5G-ready. This represents a year-on year growth of +230.9% in the number of active 5G-ready smartphones worldwide.
Cloud gaming
Cloud gaming starts to pick up momentum with many consumers searching for alternative ways to play new releases, as hardware and new components will be hard to come by until late 2022 at least. The cloud gaming market generated more than twice as many revenues in 2021 than it did in 2020 and more growth is expected next year.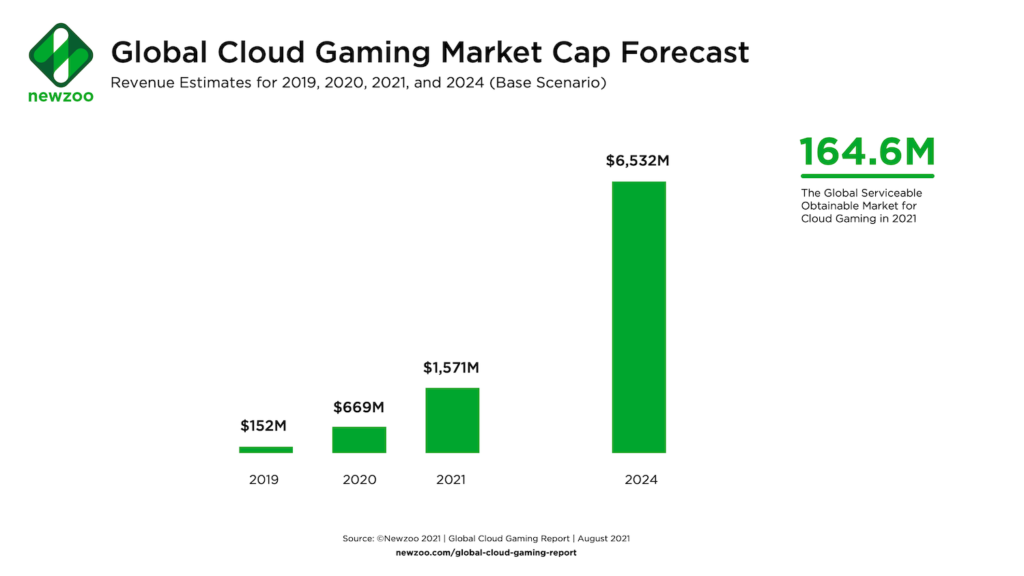 Live streaming
Last year was a particularly big year for watching live-streamed gaming content due to the pandemic. But the audience continued to grow in 2021, +12.7% year on year to 747 million people. As expected Twitch was the absolute king with an all time high of 23.3 billion hours of live viewership so far in 2021. YouTube and Facebook Gaming lagged far behind with 4.5 billion hours and 3.5 billion hours.
Metaverse & Hollywood
One of the hottest games market topics in 2021 has been the metaverse. Newzoo includes the continued success of virtual concerts in Fortnite and other games, Roblox's IPO debut with a market cap of $40.6 billion and of course Facebook's rebrand into Meta. Many are pegging the metaverse as the future of entertainment, but gaming is also conquering more traditional forms of entertainment: movies and TV. If the successes of Arcane (Riot Games' Netflix series based on the League of Legends universe) and season 2 of The Witcher are any indication, we will see a lot more game content across different media next year. Starting with the already announced The Last of Us series, Sonic movie sequel and Uncharted movie.
Crystal ball
So what does the future hold according to Newzoo? Not just next year but further ahead, let's say… 2024? Well, the global games market will generate revenues of $218.8 billion. Mobile games alone will generate $116.4 billion via consumer spending. Cloud gaming will generate $6.5 billion and Esports will generate $1.6 billion. We'll be back at the end of 2024 to check if they were right. Maybe.