In early 2021, Cukia Kimani, co-founder of South Africa's renowned studio Nyamakop, and a close-knit circle of four friends embarked on an extraordinary challenge that involved making 12 games in 12 months. What made their daring endeavour truly exceptional was not just the ambitious nature of their quest, but also the ingenious three-step process they implemented each month.
Kimani went a step further and used TikTok and Twitter to document his game development process in a fun, funny, and utterly captivating way. He had no idea, his lighthearted antics and behind-the-scenes glimpses would soon ignite a viral sensation. In fact, one of his creations proved so irresistible that Kimani found himself with an unexpected job opportunity.
And although his schedule did not allow him to take it up, he still ended up selling the unfinished game code that had piqued the company's interest. Let's delve into Kimani's game development journey, his departure from Nyamakop and why he decided to challenge himself with 12 in 12.
The Magic within
When Kimani was 7 years old back in Nairobi, Kenya his parents bought him a PlayStation. He recalls booting it up and as soon as he saw the magic within, asking his mum if people create games for a living. He adds, "Somewhere along the line, someone told me I had to learn how to program. And coincidentally at that moment. I was going to be moving to South Africa. So when I saw a programming class in my new school, I was like, there we go, video games. Let's do that."
Kimani went on to pursue a degree in Computer Science at Wits University. However, he says "In my final year when I was just about to graduate, I think it was 6 months before I graduated, it hit me that I'm still not making video games. That's when I called my friend Kevin, and I was like, look, we need to figure out how to make video games ASAP."
Driven by his desire
Kimani regrets taking too long to do his own research. "I typed into Google how to make a video game. I don't know why I never did that all along. It felt like I was just waiting for someone to show me the way." Driven by his desire to immerse himself in game design, Kimani rejoined Wits University.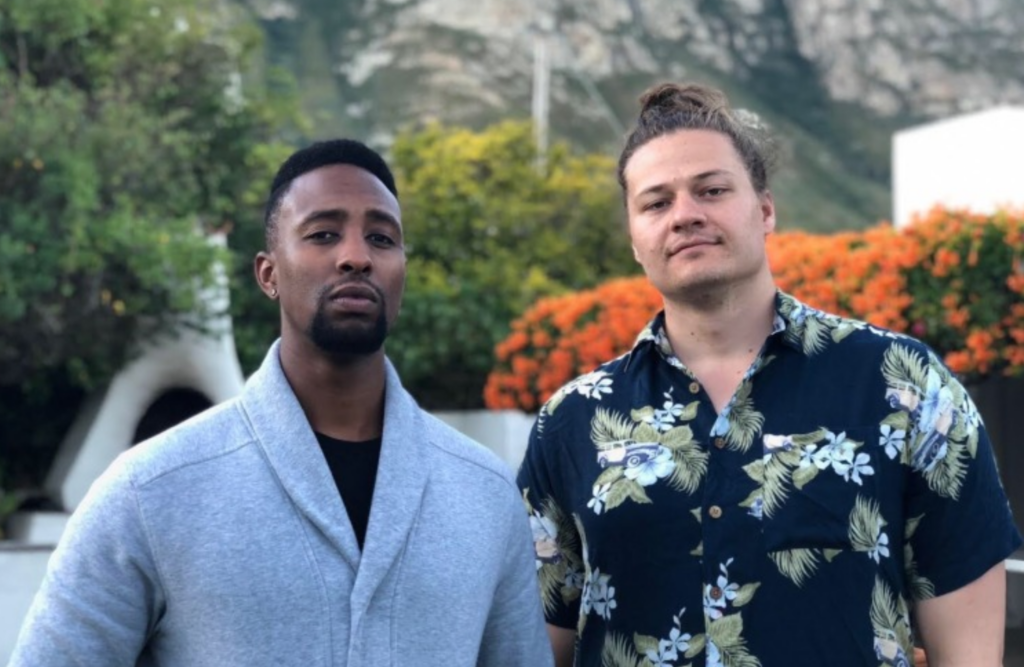 He explains, "The reason for me to go back to Wits and do a post-grad in Game Design, to be honest, was the community. Being around those people was great. I remember watching Ben Myres lead a community meetup. And being like, this guy seems to know what he's talking about." Myres and Kimani would soon afterwards establish Nyamakop and launch their debut title Semblance to critical acclaim.
Not a bug!
Fun fact: Semblance was Kimani and Myres' graduation project and a bug in it morphed into the game's main mechanic.
Kimani recalls "I had a nugget of something I was working on and when Ben joined, he built levels. The deformable terrain was a bug. We were trying to create a soft platform that would bend a bit when you land on it. The bug caused the platform to go lower and lower every time you landed on it. And as soon as Ben saw that, he was like, that's it, let's do that. It was a happy accident."
Upon presentation of the project at Wits University, an impressed external examiner previously from Naughty Dog approached the duo. Due to certain IP restrictions, they quickly pivoted, submitted something else for school and pursued Semblance as a commercial project.
In a Funk
Right after Semblance, Kimani recalls that he felt lost as an artist. "I wasn't really sure what I wanted to do. But Ben had a very strong vision for the next game he wanted to work on and I respect him and the work he wanted to do that I was like, get on. Let me not hold you back with my ambiguity of where I want to go. So you do your thing, all the best."
Kimani would later find work porting games. He admitted "It didn't really feel like I was actually making a video game. And so I decided to go independent. In 2020 when I quit my job. I was reflecting a lot and towards the end of the year, I talked to my partner Riker and told her that I felt like I was in a funk and I needed a little bit of a shake-up. So that's when we birthed the idea of 12 in 12."
Changed my life
He continues "Each month in 2021 we would meet up as a group. And everyone would go around the table and set an intention." The three-step approach started with setting an intention, it was then followed by production and ended with a group reflection. Kimani adds, "I learned so much about making games through that process that it actually changed my life. The way I think about problems and how long it takes to do a thing changed. I realized when you focus and put in a bit of effort in a singular direction, you can get a lot done."
When asked about the great performance of his social media content Kimani said "If I could toot my horn a little bit. It was the way I told the story. I was not just like, 'hey guys, I made a video game.' I really tried to put in a narrative arc. In fact, writing those 20 seconds or minute-long things took a lot of time because I was always trying to see what the hook and the story was."
Some watchable, some playable
He added " I've got to work with people internationally because of just sharing projects that are unfinished but that are kind of quirky and funny. Some of my content is watchable and some of it is playable. A lot of that thought process came when I realised my Mum was not going to play all my video games. But she will watch my videos and there might be millions of people who might not play my games, but watch my videos."
The unwavering support of Kimani's parents and partner played an instrumental role in his pursuit of game development. Their belief in his abilities and encouragement to follow his passion not only bolstered his confidence but also provided a solid foundation for his dreams to flourish.
Share your work
Kimani's final remarks were "Just keep trying new things. Make things, share things. It might not be on the internet if you're too scared but share it with close friends. Get feedback. If you do that enough times. You're gonna win the lottery. So just share your work, and learn from that."