Meet the creative mind behind AKOIA & Company, Nyambura M. Waruingi and her spectacular innovation. She is not just developing a new game, she's creating an entirely new experience that challenges everything we thought we knew about gaming. The Ground Screams To Whisper is not your typical game and neither is it just one thing, it's a graphic novel, a puzzle game, a VR game and an album. It's a constellation of projects that represents how Nyambura looks at gaming.
As Chimamanda Ngozi Adichie famously said, "The single story creates stereotypes, and the problem with stereotypes is not that they aren't true, but that they are incomplete. They make one story become the only story." Nyambura shares this sentiment and believes the Non-Governmental Organisation (NGO) based funding which insists on people fitting into the Sustainable Development Goals (SDGs) limits the stories that can be explored. Her projects break free from these constraints, offering a new perspective and a fresh take on the gaming industry.
Her creative journey began in Kenya during the 90s, where she was exposed to theatre productions, family members in big media houses, and teachers who encouraged her to question everything. After several unpaid internships and part-time contracts. Her first full-time contract job in the industry was working at an Inuit production company in Canada, where she learned to make films that celebrated indigenous culture and legends in a way that was entirely different from mainstream productions. These experiences continue to influence Nyambura's work today. She brings unique and meaningful perspectives to everything she creates. Now, buckle up friend and let's enjoy the epic ride that is Nyambura's incredible creative and producing journey.
African Heroes
One of Nyambura's most significant projects is the extended reality (XR) experience, NOMA! As the producer, artistic director and curator, she and her team transformed the Nairobi-based Goethe Institut's Auditorium into a space filled with bright teal textured murals, artist quotes, hidden items, and incredible artwork on African heroes. The audience used tablets, AR apps, and VR headsets to immerse themselves in the experience and reveal the hidden stories behind the art.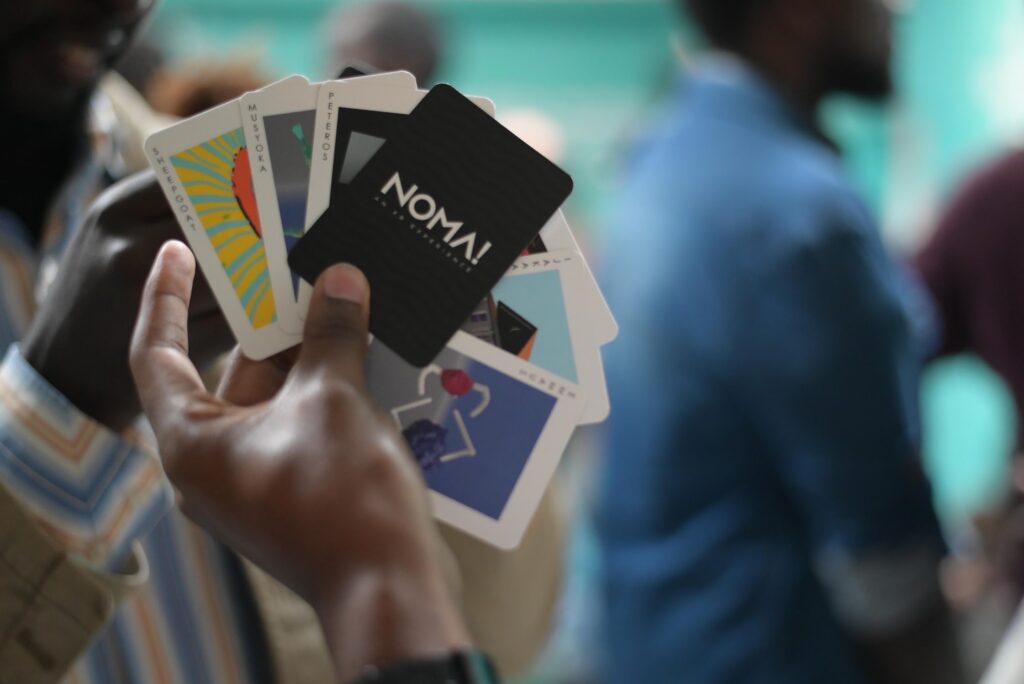 Nyambura is known for bringing stunning works of art to life. From building captivating stories to curating mesmerizing artistic elements, she pours her heart and soul into every project. But that's not all – Nyambura also brings her genius to the business side of things, managing the financing structure and return on investment. And to ensure her projects reach their full potential, she takes the reins on audience engagement and outreach strategy. It's no wonder that Nyambura's creations are always top-notch, she effortlessly brings together creativity, business acumen and strategic planning to deliver outstanding results.
Universal Appeal
"We have consistently been able to enter different festivals to pitch our work while leveraging the experience of the creative director, which is me, as well as that of the partners that I bring on board to access funding. We are an Onside Gaming Grantee from Women Win. This is the biggest achievement." said Nyambura when asked about AKOIA's biggest achievements in the gaming world so far.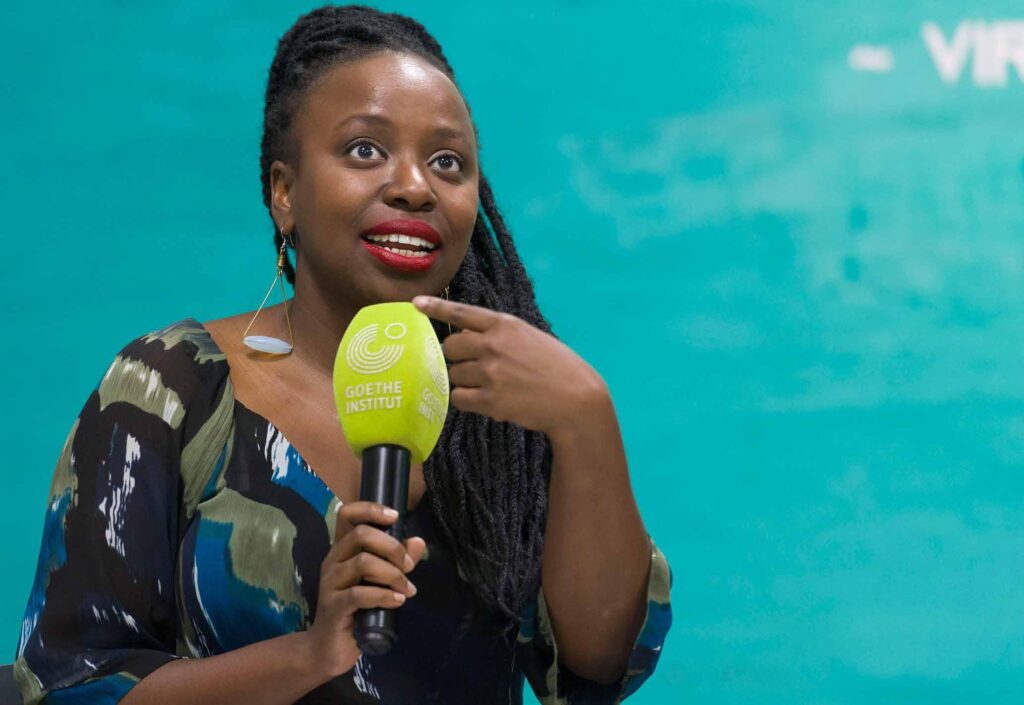 Nyambura's journey in creating her constellation of projects was not without challenges. One of the major obstacles she faced was funding her African projects based purely on creativity and production excellence, without fitting into the theme of SDGs. Therefore, instead of conforming to this type of funding that forces people to tell just one type of story, she took the initiative to explore alternative funding sources and showed up in various spaces, making people curious about her work and how it could impact society. She firmly believes that her projects have intrinsic value because they make money, employ people, and have universal appeal.
Female Freedom Fighter
When asked about her creative process, Nyambura emphasized the importance of a great story. For her, the idea of exploring Kenya's plantation culture, its colonial history and its impact on different communities was the starting point for The Ground Screams To Whisper.
The Ground Screams To Whisper is a trans-media XR experience about the resilience, courage, and triumph of being a female freedom fighter, re-living their often-erased stories, which shaped Kenya's independence struggle. Inspired by Afro-gothic motifs and drawing from Eastern African cosmologies, it merges the world of the living with that of the ancestors. This is an immersive experience that invites Eastern Africans to heal their lineages and embrace freedom.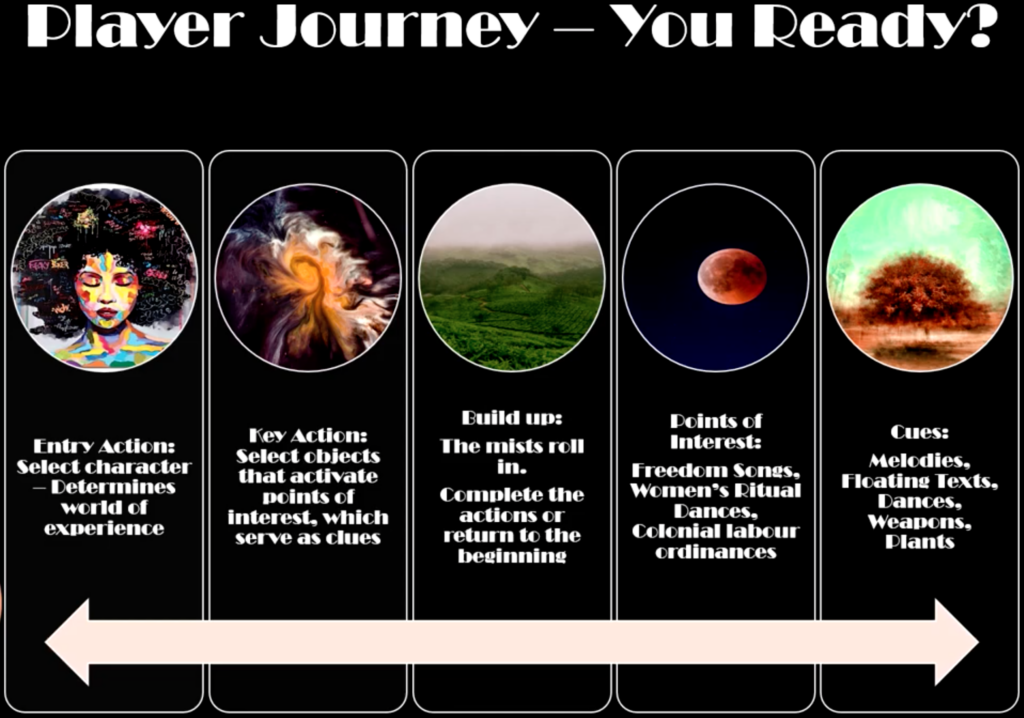 Nyambura wanted to create a fully immersive XR project, which led her to explore VR as a medium. The beauty of the artwork was crucial to her vision, drawing inspiration from the Lord of the Rings franchise, where she discovered the different ways of engaging with a story beyond just the film itself. Thus, the idea of sharing the art direction of The Ground Screams To Whisper in different elements of the graphic novel was born.
Curiosity and Collaboration
Nyambura's creative process also involves curiosity and collaboration. She stresses the importance of being open, humble, and curious while listening to ideas and deciding if they work for you. For example, she did not initially consider incorporating a puzzle game into The Ground Screams To Whisper until she collaborated with Ghanaian-based Games Studio Leti Arts. Nyambura emphasizes that collaborations are key in pushing the limits of what is possible and that imagining radically is at the core of AKOIA's values. Her work in Canada also exposed her to co-productions with France, Greenland, and the USA, as well as festival circuits around the world, which gave her a global view of the creative industry.
The future of XR content and games is full of endless possibilities, according to Nyambura. With applications in healthcare, architecture, and even geographical exploration, countless avenues are waiting to be explored. But it's important not to get stuck in one thing. As a company, you need to be open to creating new use cases, experimenting, and finding ways to implement XR content and games as teaching tools.
Socially conscious
For aspiring game developers just starting out, Nyambura has some valuable advice, "Don't let the lack of a tech background scare you off. While technology is important, game development is ultimately about telling stories. Don't get caught up in the technical details of the tools and engines like Unreal and Unity. Instead, focus on learning how to design a game and find people to work with you from the technical side." The future of XR content and games is bright, and with determination, creativity, and a willingness to learn, anyone can be a part of it.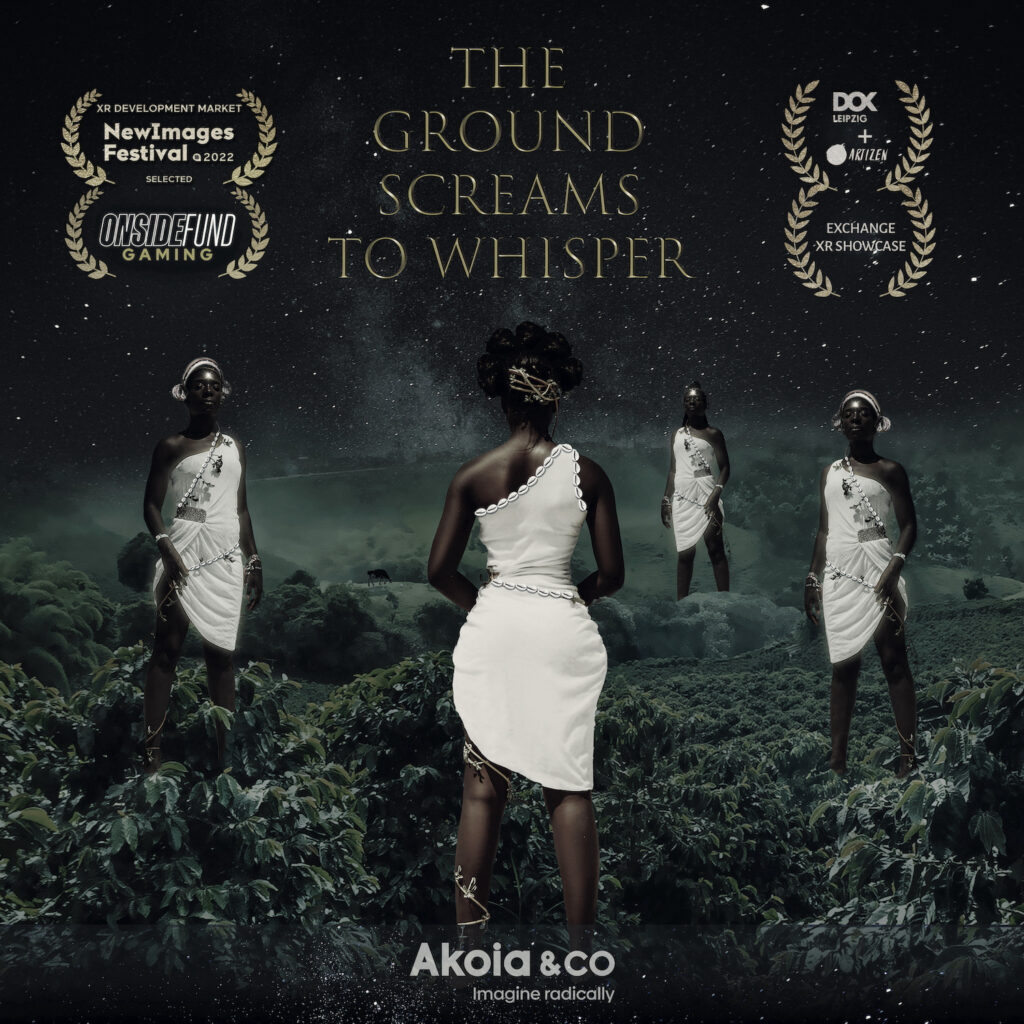 Nyambura M. Waruingi's unique approach to gaming and immersive storytelling is redefining the gaming industry. The Ground Screams To Whisper is a constellation of projects that challenges how we define games and their potential to create social impact. With NOMA! and other groundbreaking projects, Nyambura is paving the way for a new era of gaming that is both innovative and socially conscious. You can follow AKOIA & Company on Instagram and subscribe to their YouTube channel to stay updated on their latest projects and see how they are making a positive impact in the gaming industry and beyond.