Hiwarp is an indie game studio based in Spain, run by solo game developer Elwin Gorman. He is known for the charming black and white game PiAwk, about a caged bird that's looking for freedom. His next game is called Naiad. In it you guide a freshwater nymph down a river and explore all its beauty and secrets at your own pace. That premise has a lot in common with the way Gorman likes to work. "I spend a lot of time going with my instinct, flowing. Make decisions as I go along, day by day."
And it's this mindset that keeps him motivated to keep creating what he believes. "I've been very conscious of taking care of that important energy every day", he says. "That's probably one of my greatest qualities. It's very difficult for me to lose my motivation because everything I do comes from my heart." That's why Gorman loves working by himself. "My focus is on developing unique and personal games. I love to make everything myself, using only my own or custom assets and my own shaders. I record sounds, compose music and even the typeface in my games is made by me!"
Why did you become a solo developer?
"Ever since I played my first video game, when I was a child, I've always been fascinated by understanding how they were created. For a long time it seemed impossible and unattainable for me. I didn't know what to study or what career path to choose. Should I be a designer? A 3D modeler? A programmer? Over time, I explored paths close to video-games such as graphic design, programming, learning on my own and discovering that I really enjoyed too many different disciplines. I've always been excited by the idea of creating something interactive, something 'alive'."
Working solo has always come naturally to me
"What I like most about games is what they can make you feel. I love creating a little universe that players can enter, play with, be part of, get excited and leave. Video games are a way of expressing things that I can't do in any other way. When I discovered the indie movement, with games like Machinarium, Braid, Fez, Limbo, I saw that there was a way to achieve this. I started to follow indie developers I admired on Twitter. Then I started to make my own experiments. I shared on social networks what I was doing and the reaction of people was nice. That motivated me to continue. At that point I realized that all this is what I do best."
What are the biggest advantages of working solo?
"Working solo has always come naturally to me. I also like the idea of collaborating with other people on projects. I tried it a few times but it didn't work out. Probably due to the difficulty of sharing a vision. So I'm working on my own. I find working alone very comfortable, agile, and it gives me total freedom. I can experiment, throw things away without fear or guilt. Most of my decisions would make any partner give up. I believe in my vision the most, and I'm clear where I'm going when I make a difficult or really risky decision. I think this has led me to achieve amazing things."
And the biggest pitfalls?
"When working alone, for a long time, the most valuable thing becomes getting feedback, opinions, things that help to choose between various solutions. Sometimes just talking to someone close to you, talking about ideas, problems that arise, has been fundamental to be able to continue at some point. Telling someone else about these things has been a really great support. I need to show them my work, see their faces, and listen to them."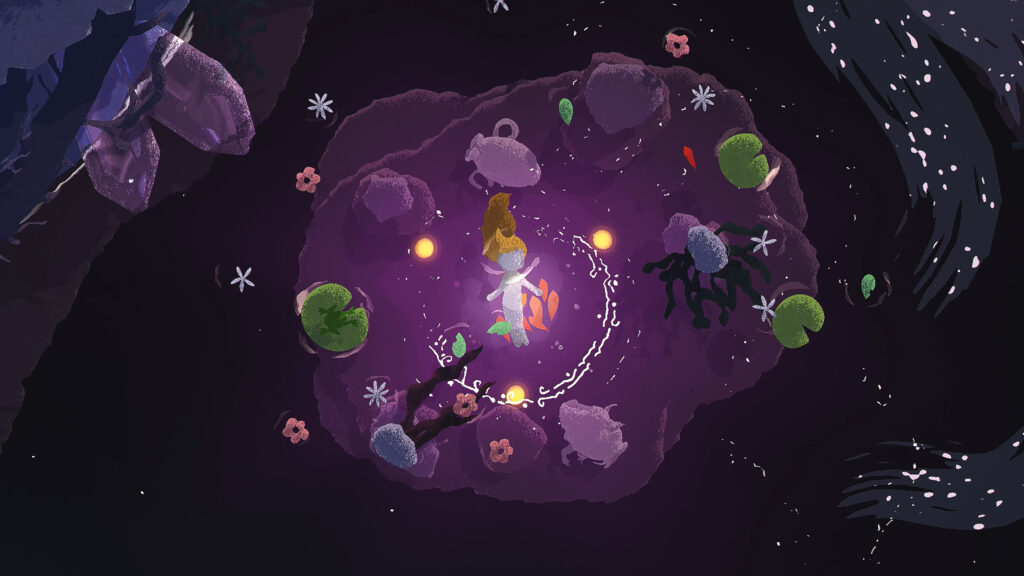 "The economic issue is always important when you are alone. I think I've been very lucky because I've been able to work on what I want, on my own, freely, thanks to some financial support and opportunities that have come by themselves, thanks to showing and sharing my work on social networks."
What's your creative process?
"There is no formula to success at all. You need to create your own. I always think that my creative process can seem chaotic to others. It's actually quite the opposite. I spend a lot of time going with my instinct, flowing. I'm not rigid when it comes to my work. I make decisions as I go along, day by day. 'Step by step' is my first rule."
I love to make everything by hand
"My focus is on developing unique and personal games. I love to handmade everything, using only my own or custom assets. I spend a lot of time working on my own shaders, recording sounds, and composing music. Even the typeface in my games is made by me. Also, looking back, I've discovered that I love to delve into complex problems, such as optimizing or bug fixing. Solving a problem has sometimes been really hard, but the result is always rewarding."
How do you stay motivated through (years of) development?
"The most important thing during these years has been precisely that: Motivation. I've been very conscious of taking care of that important energy every day. That's probably one of my greatest qualities. It's very difficult for me to lose my motivation because everything I do comes from my heart. I put a lot of enthusiasm and love into every detail. I'm not creating a game with the idea of making money or fame, so my mood doesn't depend on the number of followers or searching for big publishers / funding. I'm trying to create something original, meaningful, personal. Success for me depends on players enjoying my game."
Will you ever work in a team or is it only solo for you?
"The truth is that I don't have an answer to that. I don't know what will happen in the future because I'm on a path where the next step is unexplored. My focus is to continue working as before, learning and improving, getting stability. I'll see how I feel about it later, when I publish the games I'm working on right now. But both ways seem equally possible to me."
How did you come up with the concept for Naiad?
"I've always felt something special with water. I think it's one of the best sensations I've ever felt. Years ago, I was a swimmer. Of all the sports I tried it has always been my favorite. I've also always loved free diving. My father has worked for many years in the river as an environmental agent. Sometimes I've accompanied him in his work and he explained a lot of things about nature to me. My mother comes from a family of lighthouse keepers, very close to the sea."
"Naiad is a game that seeks to express that feeling of connecting with nature through water. It also contains an environmental message. The river represents a path, the cycle of water, from when it's born pure and full of life in the spring, through its development facing all kinds of obstacles, until it reaches the sea. The player accompanies Naiad, a freshwater nymph, whose name means 'to flow'. You will be able to explore the river at your own pace and discover its secrets."
What's the biggest lesson learned from this project?
"The most important thing for me has been to find out 'what kind of developer I want to be'. Learning to say no to really great opportunities was not easy. I took the decision to self-publish and do the porting to consoles. Sometimes you have to reject things that take you out of your way and go back to your vision. It's enough to listen to what makes you feel good."
I want to be happy with the game I'm sharing with the world
"Even more difficult it's to define when the game is finished or not. There are indie games created by a single developer that take some weeks to finish and others that take more than 5 years. There is no simple answer, it depends on many things. The biggest mistake is to think that your indie game created by just one person should work like any big game release. In the end, I want to be happy with the game I'm sharing with the world. The rush is for the big companies at war."
The toll on your mental health can be quite high as a solo developer. How do you deal with that?
"Developing alone can be very exigent and hard. No one but yourself is going to tell you: 'hey! it's time to go to sleep'. Stop whatever you're doing and take a break. Have a rest day at the beach, meet up with friends, or just stop putting mental pressure on yourself. When I started to experiment with game development years ago that was a hobby. I was still working as a designer for other companies and it was in my free time that I did what I wanted, without much knowledge of anything, at the cost of a few hours of sleep or going out."
"When I started seriously to create my games, I already knew of other developers telling their hard stories. A friend told me I had to see 'IndieGame: The Movie'. This was somewhat demotivating to me. 'The great adventure, drama and sacrifice of making indie games'. I didn't want that for myself. That had already been done by others. I like to try avoiding things other people do."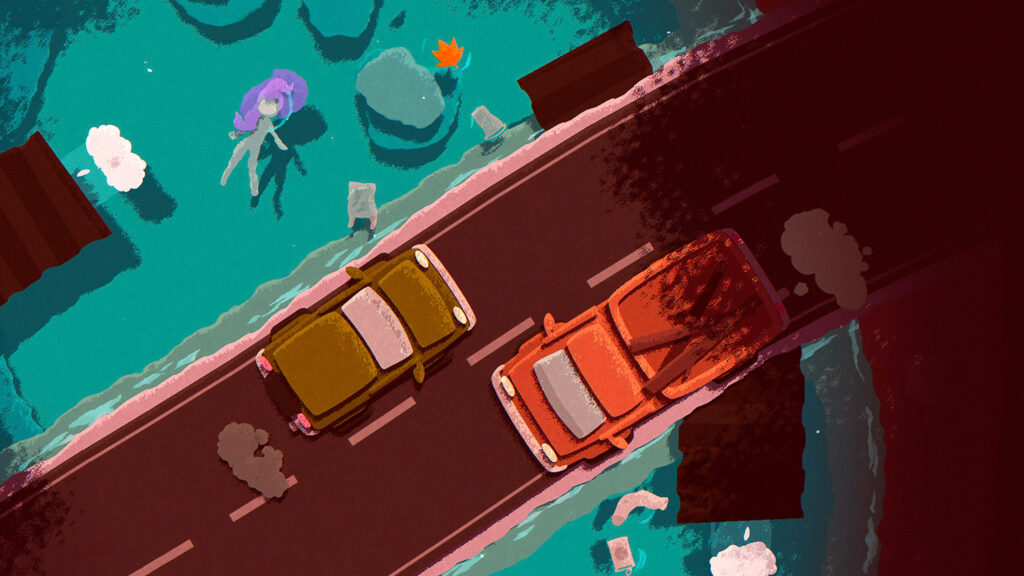 "I wanted to innovate, to do something new, to discover 'my own way of making games'. All this work, all these years shouldn't be something to look back on someday with suffering or sadness. I was at the beginning of a long road and I didn't even know if I was going to get anywhere. So, I set out to enjoy every step I took, to make it fun, healthy and exciting. Besides, what is the point of creating a relaxing and natural game like Naiad? At the cost of my health? At the cost of not seeing my friends? And taking time every day for myself to live?"
"Naiad is a project that has taken me out into nature a lot. I've gone for walks in nature to get inspired. I've recorded and included in the game a lot of sounds of birds, river water…"
take care of yourself and live Then create lovely games
"When you start to not feel good, anxious, stressed or tired, you're not productive. It's harder or even impossible to see the solution to what you're trying to fix. You're not inspired at all. So then I leave work and go skating, swimming or walking in the mountains. I try to cook something good. Spend time with friends, with the family. I take time for painting, drawing, playing the guitar, or just sunbathe and doing nothing more. I always have a big repertoire of this kind of thing that I know helps me to recharge myself with joy. And when I go back to work later, everything is easier and better. First, take care of yourself and live! Then create lovely games!"