Top image by Lalesh Aldarwis – Pexels.com
2022 was a rough year for gaming. Coming off from the Pandemic induced highs it was inevitable that something had to give once the situation went back to normal. It turned out that the games market faced its first downturn in over a decade. Compared to 2021, overall playtime dropped by almost 15%, and spending decreased year on-year. 
So, how (relatively) bad did the PC and console market do in 2022? And what does it mean for the future? In the first ever PC & Console Gaming Report Newzoo dives into this section of the market. 
Pandemic gaming
Last year, the combined revenue from the PC and console market reached $92.3 billion, a decline of -2.2% year on year. Average playtime also took a hit, with a -23% drop across Steam, Xbox, and PlayStation from 2021 and 2022.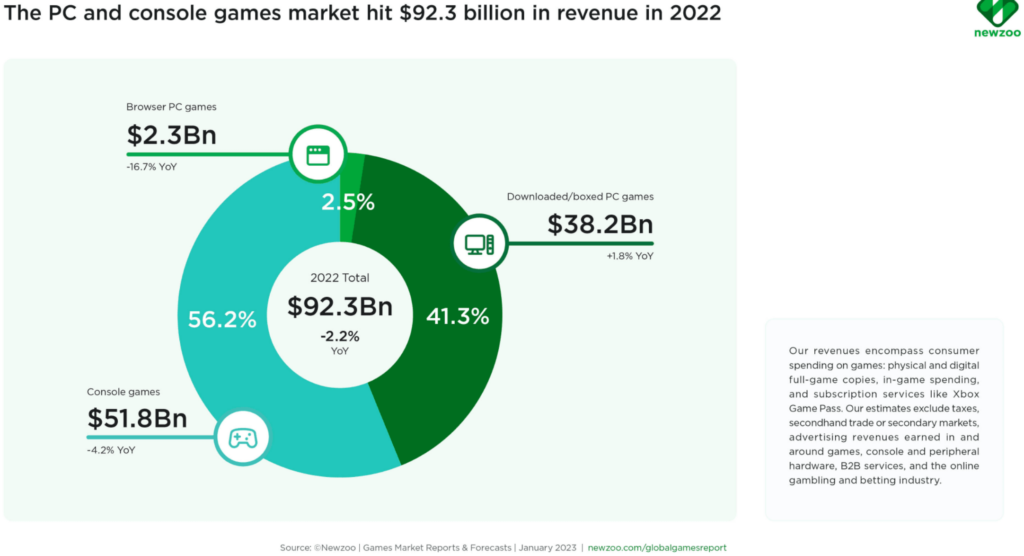 Let's put this into perspective, shall we? The pandemic energized the PC and console market, as people picked up gaming during lockdowns and quarantine. Now that most parts of the world have reopened it's no surprise that sales dropped as live entertainment options returned. Also, many companies delayed their highly anticipated titles from 2022 to 2023 and later, factoring into the loss of playtime and revenue.
Significant growth
These trends don't spell doom and gloom for the industry though. Instead, we see a correction toward pre-COVID engagement levels. In many segments, there may be significant growth. Games that should have dropped in 2022 will make a splash this year, boosting engagement across all major platforms. Live-service business models, better access to hardware, and hybrid monetization strategies will ensure that developing solely for PC or console platforms will remain viable.
The battle for attention in the PC and console market is heating up. This increasingly complex market landscape has inspired developers and publishers to try new business models to ensure players stay connected to an IP, platform, or company. Last year, people spent over 100 billion hours playing on PCs and/or consoles, and the average amount that players spent in the US reached $200. In-game spending accounted for nearly 50% of PC and console revenue in the US, showing that top-performing titles are doubling down on new ways to monetize and leverage the games-as-a-service model.
More diverse
This past year, the PC and console player base became more diverse in varying ways. PC and console gaming is attracting a more balanced audience in terms of gender and age, and players are becoming more varied in what drives them to games. Women gamers represented 40% of the total PC and console player base in 2022, a significant step in a traditionally more male-driven industry.