Joanna Keler is a freelance Marketing Manager who worked on titles like This War of Mine and Frostpunk by 11 bit Studios and Best Month Ever by Klabater. During her talk at IndieGameBusiness Sessions she talked about incorporating social media as a vital marketing tool.  
According to Keler it's important to set goals for yourself. There are various ways to make sure social media plays a vital role in your overall marketing plan. Some of the key goals for social media marketing are game discovery, sales lifecycle, community building and direct communications. "Social media is just one of the available channels for marketing. It's definitely not the one cure for all. It's part of the customer journey. It covers everything from interest & awareness to search and research. In the end you try to get the conversion to paying customers."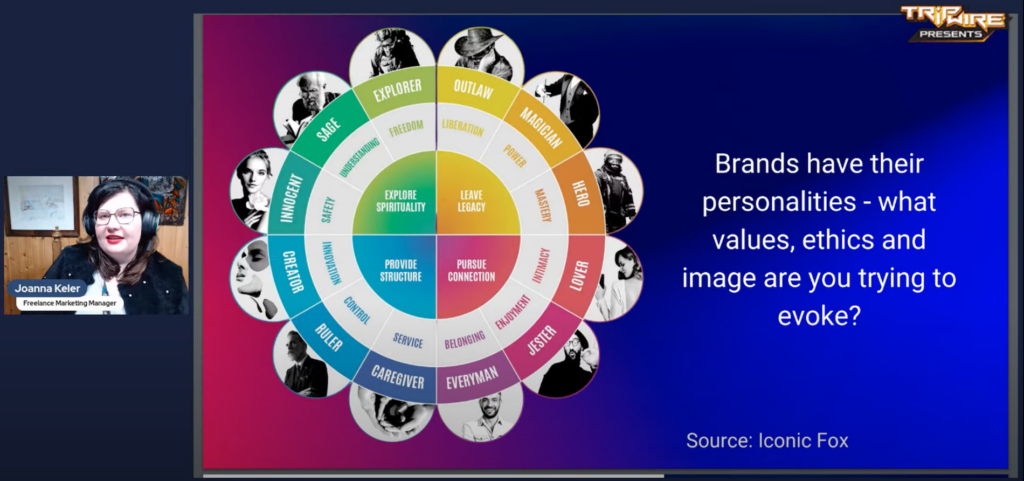 Social media allows you to set up a brand persona. "That's a really interesting corporate thing that not many people in video games utilize. You can set up a tone for your game or studio. Are you daring? Are you one of the good guys? Do you look after your community? This all dictates what channels you will use, how often you post and what you will talk about. Deciding on the right persona comes down to understanding your game and your audience."
Life cycle stages
Marketing through social media channels deals with several life cycle stages. There's the Announcement, when you introduce your game or studio to the world. Setting up a hype and informing people about what it is you do. Then there's the Everyday Studio Work, when you're already in the market, but want to make sure people don't forget about you. You've got development going but the game is not announced yet. You have to keep the interest of the audience up. Next is Catalogue Showcase when you already have a couple of games out and want to make sure these are not forgotten. It's obviously different for an indie developer with one or two games than for a publisher with several titles out there. Finally it's all about the Release when you are trying to get as many eyeballs on your game as possible. You want to get those wishlists going and the press and influencers to pay attention.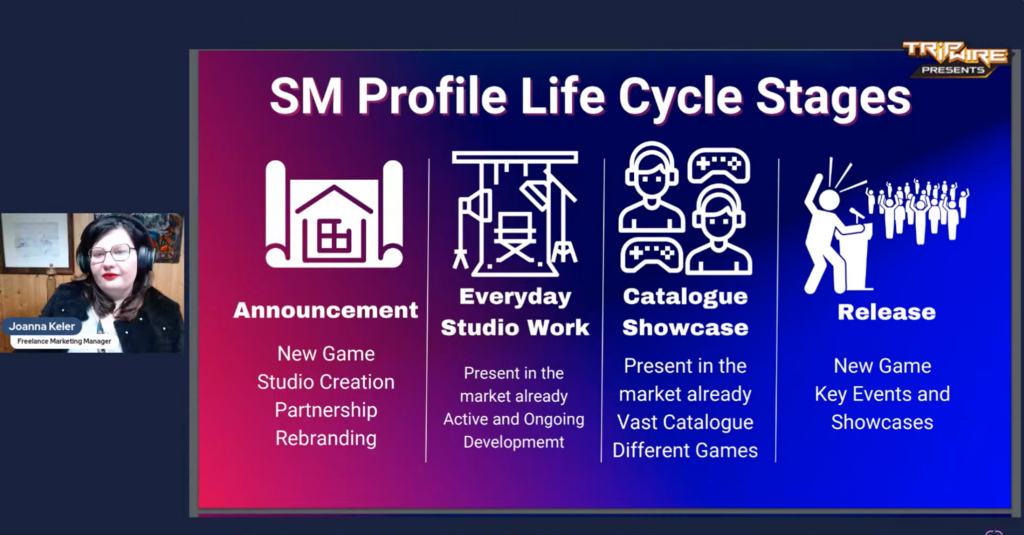 Social media is a great tool for building communities. It can be used as a conversation starter. By introducing your new game you can bring new players together and guide them to your store page. It's also a perfect way to interact with your fans and share their love for your game with the world through fan art, fan fiction and cosplay. Get influencers on board by sharing their posts and making it easy to apply for keys. Overall, it's the perfect way to make connections with the players. Give them a sense of belonging by striking the right tone of voice. 
TikTok Highlight
Keler highlighted TikTok as an important channel for game developers to find new players. "Around 75% of people on TikTok that identify as games claim they discovered new games on the platform", says Keler. "Mobile gamers on TikTok are 70% more likely to talk about games on social media. And perhaps the most interesting fact for developers is that when TikTok is part of the journey of discovery, 41% of users downloaded the game and 26% purchased to play."
She went on to share some interesting tips for sharing your content on TikTok. "Content on the platform is all about authenticity, so showcase the process of creating the game. Don't worry about pretty pictures or slick movies. Be sure to pick one spokesperson to become the face for your game or company. And if you're on a personal account use well known songs." But she's quick to admit that TikTok is a notoriously fickle platform. "I think it's the most frustrating channel because you may not see an immediate response. Or any response at all. But you can also go viral for no clear reason."
Check out the complete talk by Joanna Keler below: