'Harold Halibut started life as a conversation over dinner about our love of stop-motion and story games.' It sounds like the opening line of a documentary about one of the most remarkable games ever made. And who knows, one day it might be. Truth is, that conversation was over 10 years ago and Harold Halibut is still in development by the German indie team Slow Bros. From what we've seen it's worth the wait though.
"It's such an odd project", says Art Director Ole Tillmann. "None of us would have expected to be making an elaborate, ten year, puppet based game opus. But we did!" And although Tillmann doesn't want to talk about a release date, he doesn't mind musing on the future: "I just hope that people may enjoy what we made and maybe receive some sense of all that went into it. If a little bit of that positive oddity gets to reach someone out there that's excellent."
What went into making this beautiful game was a lot of love, skill and hard work. Most of the sets, characters and props were built by hand over a period of 3 years. "There are 40+ individual characters and around 60 locations", Tillmann says." We used metal, wood, plaster and several pounds of clay in the square footage range of a small house, probably. Yeah, it's a lot! All the sets and characters except for a few details like glass surfaces are built and 3D scanned to go into the game."
Alien sea
All the hard work really shows, because the game looks like a genuine 3D stop motion movie. But Tillmann is quick to set the record straight: "We don't use stop motion technology to make the game. We experimented with it in the beginning but ended up passing on it because it felt like its restrictions would be in the way of interactivity. So our solution was to 3D scan all the things we built in order to then process them in a more conventional game dev sense."
Harold Halibut tells the story of a group of people aboard a spaceship that left earth 250 years ago in fear of war and extinction. The group finds itself submerged in an alien sea though, trapped in their sunken ship. The titular hero is a young lab assistant for the ship's lead scientist, Jeanne Mareaux. who works tirelessly to find a way for the ship to leave the planet and find a new, dryer home. The intricate decors, outlandish characters and dry conversations make it feel like Wes Anderson tried his luck at game development. 
Elemental cornerstones
Building on that conversation 10 years ago when the 4 friends Onat Hekimoglu, Fabian Preuschoff, Daniel Beckmanns and Ole Tillmann confessed their love for stop motion and story games, the narrative developed. "It all grew from a few elemental cornerstones our group quickly agreed on. Water as a theme, a fairly small and confined community of people and their relationships to name a few. We then continued to weave between general world building and story writing."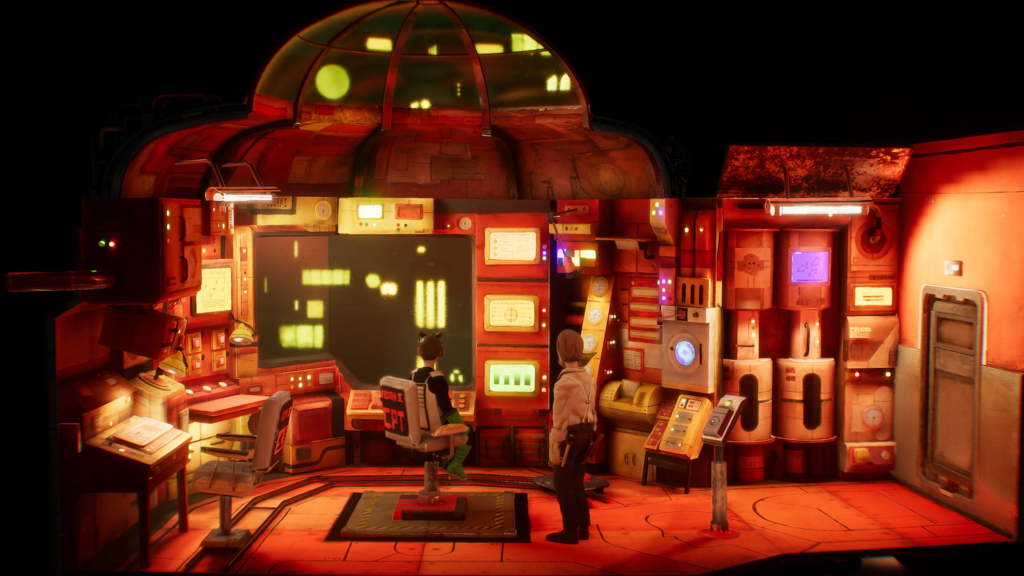 "We thought about the place that the characters live in and started visualising it on paper", continues Tillmann. "Then we took one summer to write a big outline and collect and sort all the individual pieces of information we had come up with up until that point. From then everything just kept getting finer grained but stayed, essentially, the same over time. The communication paths between characters were part of the outline but dialogue was written a little bit later along the way by Danny Wadeson." 
Every round of financing
Although the core idea of the game started with those 4 friends, development has always been the effort of a larger collective. Over the 10 years a 'bunch of people' have worked on it but moved on to other projects as well. Currently  4 people are doing full-time work and about 5 or 6 people are working part-time or freelance. It begs the question of how the Slow Bros are financing this project all this time.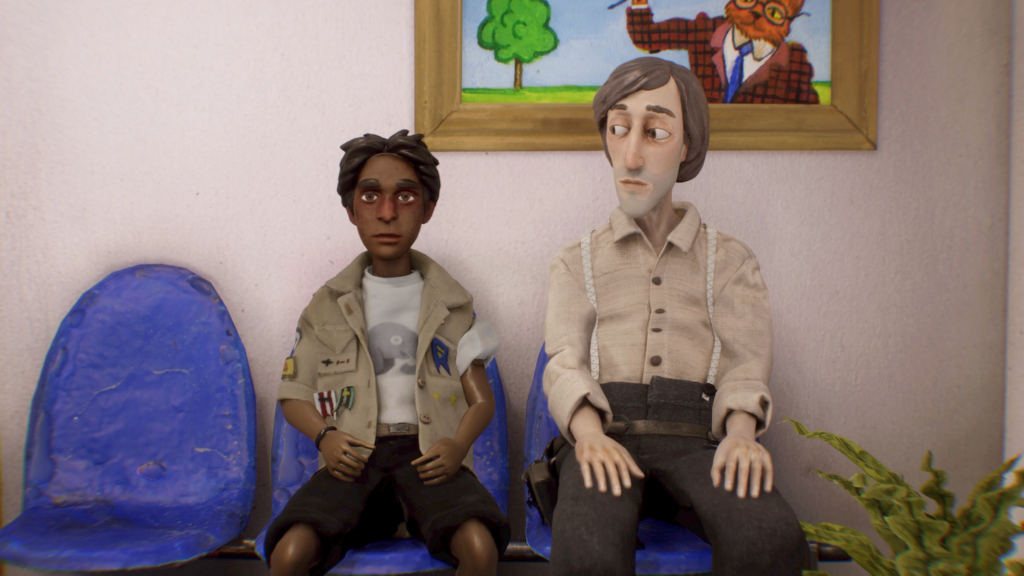 "Lots of luck and privilege and distributing every round of financing super thinly", says Tillmann. "It felt ok to offer what little we could to the people continually involved with the project if they agreed to share the eventual profits of the game. We also stayed quite consistent with what we wanted to make from the get go and pitched this idea to a whole lot of different audiences, institutions, etc. We went from a government film and game fund (Film- und Medienstiftung NRW) over to some art funds to a publishing deal that ultimately did not pan out to a final round of funding that we aren't allowed to talk about yet."
Phases of doubt
And so, 10 years after conversation over dinner has anyone ever lost faith in the project? "I think most people that have worked on the game have had phases of doubt", Tillmann says.  "But I'm under the impression that no one ever doubted the 'legitimacy' of the game itself or the idea of making it. The number one issue was the longevity of the labor mixed with being broke a lot. Our way of dealing with it was usually the group picking them back up again. I'd say it helped tremendously to have one person in the team that was quite unrelenting about the game's worth in the world. Plus all the enthusiasm for the collaborative mountain climbing it took."